The undisputed behemoth of Corroseum-specials! Veteran forum member and manic HM-collector Prowler has taken on the massive task of building the most comprehensive guide to the olde (1978-1993) German HR/HM scene.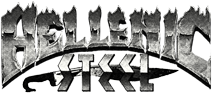 Our 2nd largest country-specific project is this extremely detailed sub-site, created by Johan Pettersson and solely dedicated to Greek and Cypriot Metal of the 80's, 90's and 00's.





The 3rd and most ambitious of The Corroseum's rare 7"-guides focuses on the much collectible US and Canadian Heavy Metal and Hard Rock scenes. Written and researched by Kristian "Khnud" Knutsson.





What it says. Almost. 172 Metal and Hard Rock singles from Bulgaria, Czechoslovakia, East Germany, Hungary, Poland, The Soviet Union and former Yugoslavia presented with pictures, release info and short reviews. Don't miss out on the awesome sampler!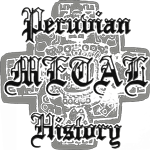 A detailed deep-dive into the Peruvian Metal scene of the 80's and 90's, including detailed band-bios, pics and even YouTube-clips, created by forum-member Andres "MetalizeR" Vargas.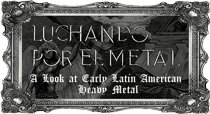 An extensive guide to the early years of the Latin-American Heavy Metal scene and the vinyl releases that broke the ice, written by Xecotcovach. Also includes interviews of Acido, Khaos and Resistencia.





Your ultimate guide to all them rare Swedish Metal 7"s you never knew you needed. Time to update that wantlist.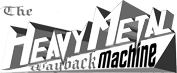 The Corroseum puts down the shovel for a moment and becomes your trusty vat of formaldehyde in the Heavy Metal morgue.




Here's that missing insert you've been looking for..





A guide to Albanian Metal (including Kosovo and Macedonia) and its roots, researched & written by forum member jnfernal.





An article and index over the most infamous and mind-boggling label in Metal history. A must-read for all self-proclaimed know-it-alls of 80's underground Metal.




A most comprehensive guide to old Italian Hard Rock & Heavy Metal vinyls and CDs, brought to you by Marco "Nonseinormale" Gulino.





Here's where to get a pretty good idea of my Metal preferences. 100 of the most important Metal-releases ever in my book. Everybody loves reading other people's favelists, right? Well, go on then!
These are older features that could be considered obsolete for various reasons or not entirely connected to The Corroseum.


Since no one else has bothered with cataloguing the culty Rockmapa 7"-series of former Czechoslovakia, The Corroseum steps up! (Note that all Metal-releases are featured in more detail in The Corroseum's Complete* Encyclopedia of FirstWaveOfHeavyMetal Singels.)


SWEDISH MIXED COMPILATIONS
My old article/list of Swedish local compilations with assorted Metallic content, now slowly getting obsolete and overlapped by The Great Olde Metal Compilation Encyclopedia.

The olde Flash-intro from The Corroseum 2.0
No longer in use because.. well, no-one uses flash anymore. Archived for nostalgic reasons. (Not that it would actually display on most modern browser anyway...).