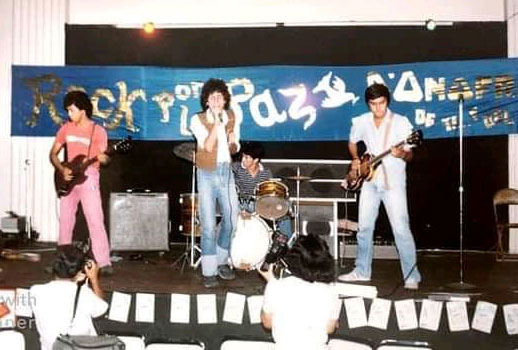 Temporal was one the first Hard Rock and Heavy Metal bands from the 80s. Formed in 1982 by Stuart Rochabrunt on vocals, Toño Infantes on guitars, Pancho Muller on bass and Toño Arias on drums as a Prog Rock band with influences of Yes, Genesis and Led Zeppelin. They were part of the AMUSI (Asociación de Músicos Integrados) organization with bands as Kotosh, Abiosis and Leusemia. They played in 1983 in the San Martín cinema, Santa Lucia Stadium and Bellas Artes with this new rock movement who claimed to support the new bands who sung in spanish and were not part of the commercial rock scene.
In 1984 they started to play with a young band called
Óxido
in the San Antonio de Padua Auditorium. Later that year Temporal split up and Toño Infantes with Toño Arias formed a Heavy Metal band called 666 with Eduardo Cisneros on bass and Eduardo Tamaris on vocals. In 1985 they played in the first Rock in Rio Rimac festival with bands like Leusemia, Narcosis and Fuga (with Arturo Muente on vocals). After the show Eduardo Tamaris left the band to sing in
Praxis
. Temporal then reunites with Toño Infantes, Eduardo Cisneros, Toño Arias and now with Arturo Muente on vocals, now with a more heavy/hard rock sound influenced by Van Halen and Baron Rojo. They played shows with Oxido like the Rock por la Paz in the Concha Acustica of the Campo de Marte and with
Orgus
in the Denuncia por la Vida in San Marcos University who end the show in the house of the Leusemia brothers.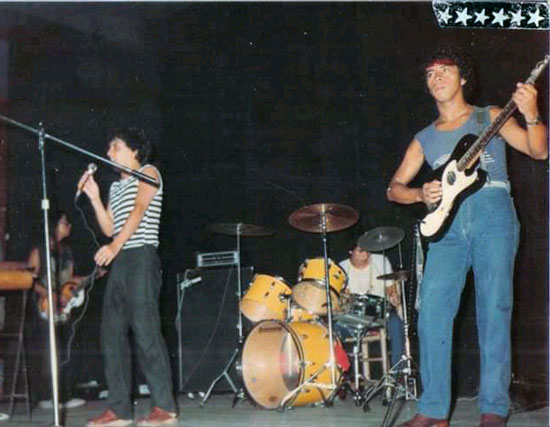 In 1986 Temporal recorded two tracks called "Grito Desconocido" and "Racismo" who got airplay in radio doble nueve with the help of Pepe "Fumarola" Coronado and on the TV show Tiempos de Rock conduced by Gerardo Manuel. That year they played a lot of shows like the concierto frente al mar in the Magdalena stadium, the Metal I in the Saenz Peña Theater and in the mythic Rockacho in the Plaza de Acho with Masacre. They also played in Ayacucho who was the capital of the terrorist movement who threatened the band to expload a bomb if they played the anti-terrorist song "Grito Desconocido". Of course they played it anyway, gaining all the people in the show who shouted the chorus of the song. Later that year they recorded a demo of 6 songs in the Gerald Paz studio. After that they took a little break for work and studies but sadly Toño Infante got sick and died in 1993. To a lot of people he was one of the best guitarists of the 80s. The band reunited with Oscar Verti on guitars with plans of finally release all the old tracks.