Adramelch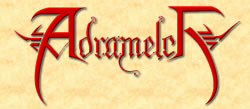 You are one of the most legendary and cult bands in the history of epic power / progressive metal. Nowadays, a lot of new musicians / bands have regarded Adramelch as one of their main influences (e.g. Doomsword, White Skull, and Emerald). Tell me a few words about the history of Adramelch. When was the band created and by who? What does "Adramelch" mean and who had the idea for the name? Who were the initial members and how old were you back then?
Vittorio: Well, first of all THANX for your words! Adramelch was a Gianluca's idea... Historically speaking, Adramelch was an ancient Phoenician divinity. In the the middle-age demonology, he became one of the dignitaries to the court of Satan quoted by the heretics during the holy inquisition. The word "Adramelch" comes from the ancient hebrew, a first translation could be "The king is a cruel master". But there's also an interesting variation, "God is a cruel king"... Adramelch was born in 1987 (we were from 17 to 19 y.o.) as a cover band playin Black Sabbath, Iron Maiden and Queensryche tunes... with Gianluca playing drums, a different guitarist... but after a few gigs I told my pards that I was not going to stay in a project like that (that was, at that time, a side project to me since my first band was Phoenix, an Hard Rock band playing its own stuff) cos to me, playing the other band's music was not stimulating. I needed my own music! Gianluca caught the guitar and composed Adramelch (the song)! That was the real beginning!!! Afterwards came the other songs that we recorded on our very first demo (that will probably be reprinted by our actual label) and then, thanx to that we participate with that first song to one of the very first Italian Metal compilation - Heavy Metal Rendez Vous! and then came the time of Irae Melanox! The Metal Master appreciate our demo and produced our debut album that, frankly speaking, did not get the result we thought... And a few months later Adramelch was vanished... During the years this album rode alone... without anyone to promote it in anyway, it become a real cult LP appreciated by fans all over Europe (Germany and Greece over all)... sounds still incredible to my ears... but this is what it happened! and when recently we played in Germany the reaction was so f***ing great man...
Did you have any demos before "Irae Melanox"? Do you still have any unreleased songs from your early period? Also, you participated in an Italian Metal Compilation called "Heavy rendezvous". How did it happen? Was it before the release of "Irae Melanox"?
See above.
In this complilation you participated with your song "Adramelch". Many years later White Skull released a cover version of this song. Have you heard it? If yes what is your opinion?
Maurizio: We think that every song played as a cover by another band is a honour for the songwriter. Due to this reason we thank White Skull, Helreid and every other band who play our songs. White Skull version of "Adramelch" is their personal version and we respect it even if our vision of the song is slightly different. V - and the Helreid version of "Zephirus" is far enough from our original idea but it's quite original! A really good interpretation!
In 1988, "Irae Melanox", one of the best LPs in metal history (in my opinion) was released. What was the reaction of the press at that time from Italy and internationally? Did you receive letters from fans and from what places? Did you have the support you wanted as a band?
Vittorio: At that time "Irae Melanox" did not receive the answer we expected for. But it received very good reviews (the most "famous" is the KKKK from Kerrang! The British magazine that was used to ban all the italian metal... The band was totally without support and distribution was bad... but oddly we received letters (the web was still so far...) from Canada, Usa, Poland...
There are many unanswered questions about your LP here in Greece and I want you to clear them out. First of all, was the record a self financed release with a distribution from Metalmaster or it was released directly by Metalmaster? Did you have any other proposals from other labels? Here in Greece there is a rumor that the LP sold only 200 copies and the rest were destroyed. Is it true? In how many copies did you release it?
Vittorio: The LP was produced by the label Metal Master but the maney paid were so few that we... no it is not correct, Gianluca paid the difference needed to finish its production. Also, as you can see, the cover is black and white due to lack of money. The original picture is the one that you can see in our website (Gianluca has it in his home). The story of 200 copies is only a legend. But we have been told that the LC sold some 3000 copies and many copies remained were destroyed... but who knows the truth??
I think the only disadvantage of "Irae Melanox" was the production. Who did it? Were you satisfied with the production back then? Do you think that is necessary a new version of your old songs with a better production? (Jag Panzer and Iced Earth did it in the past).
Vittorio: We were not satisfied with the sound we got but... The production was the best we can afford at that time. We thought to re-record it, maybe with the new members but u know that a cult album keeps its spirit remaining itself... and then, most of all, the time we have is never enough to realize what we really want to (our new stuff, prepare the live shows...) we could never image to waste our toooooo short time to re-realize our 18 h.o. debut album! However within the beginning of 2007 Irae Melanox will be reprinted in a Deluxe edition by Underground Symphony and we will try to catch out bit better sound...
Tell me a few things about your live shows in the 80s. Did you play covers and if yes which songs? Did you use costumes or other things during your shows? With which bands did you play live? Do you remember any special shows? Did Adramelch have close relations with other Italian bands? Also tell me your opinion about the following Italian bands of the 80s: 1) Dark Quarterer, 2) Gunfire, 3) Rollerball, 4) Morgana.
Vittorio: We played a few shows after "Irae Melanox" (also in those times was so hard to find places to play!) I remember we played with various bands but the ones I remember of are: Creepin Death, Incinerator, Bulldozer, Extrema. Dark Quarterer... well, a myth for Italian metal deep feelings, deep passion, deep faith! Gunfire: a good and solid rock band... Rollerball... well this band for a period was a real passion for me... I did love the film and the metal played by this band was sooo fast and blast! Morgana: sorry I know that by name but I have never heard 'em.
In "Irae Melanox" the band created a very unique sound that combined metal with classical music. What were your influences back then in order to create that sound? Which were the music studies of the members of the band at that time? Did you take any vocal lessons?
Vittorio: Influences were various... For the common influences I'd quote: Iron Maiden, Black Sabbath, Mercyful Fate and Queensryche... I loved the doom metal and I hard upon the vynil of Black Sabbath, Witchfinder General, Trouble, Witchfynde... and then Motorhead but probably, over all: Judas Priest! I listened to "Screamin for Vengeance" and "Sad wings of Destiny" so many hours, days, weeks, months.... Moreover Gianluca was a great fan of classical music (Vivaldi, Bach, Scarlatti...) Music Studies were not for us... not one of us was a real student although I think that Sandro and Luca took lessons...
When were Adramelch disbanded and why? What were the occupations of the members of Adramelch all these years?
Adramelch disappeared a few months after the issue of "Irae Melanox" due to the usual "internal problems" and to the fact that Franco and Luca went to their military service... Until that moment Adramelch were students, just students!
Did they do any music projects or did they retire from music?
During these long years we (Gianluca, Franco and me) tried many time to rebuilt the band but it was not possible... we missed the necessary strenght and firm belief! When they came it was 2003... Anyway: Gianluca kept writing music insolitude... I don't know about Luca (who went to live to Rome...) and Sandro. Franco played in dozens of different bands so many different genres... I also participate a lot of disparate projects, but the most relevant are probably Columbus' Egg (a jazz rock combo comprehending 2 saxes and a clarinet!) with which I recorded an LP titled "Scramblin'" and a Prog Rock band called Enter with which I recorded a very good 6 songs, 24trks demo. In both of these project the bass player was Franco.
There were a lot of things that had to be clear about the past of Adramelch and now it is time to move on to the present situation of the band. Your reform was a big surprise for the underground metal world. When were Adramelch reformed and by who? How did this happen? What gave you the idea of reforming the band?
Vittorio: This time the situation was upset: it was Gianluca to tell me that the music for the new CD was ready but without my lyrics it was not possible to get anywere... it spring of 2003. During the summer I wrote the concept and on September we (Gianluca, Franco and me) begun playing with Sig (he played together with me in a 70s prog oriented band....) Davide on Keyboards and Andrea as external member support. With this line up (but without the keys, since Davide abandoned the band a few weeks before the show), we played at the HOA in Hamburg: this was the confirmation of our come back! Then Franco and Andrea left the band in 2004, just before the new record. Fabio (known by me in the late 80s in Anathema - a metal band where we played together) arrived in September 2004 and finally Mau in November 2004. From November starts the composition of the new record: "Broken History", recorded in New Sin Studios, Loria, in February 2005.
The new album of Adramelch, "Broken History" is now out by Underground Symphony. How did it happen and you cooperated with that label? Did you have proposals from other labels?
Vittorio: We contacted Underground Symphony because with Maurizio there was something like a unwritten pact... since this man was following us since 1995... trying to convice us to produce more music... He is a very honest and pure man and we choose him. We had other proposal but that was our choice.
Your new album has received very good reviews so far and in my opinion is one of the best releases in 2005. Is it a concept album? Tell us about the main idea of your work. Are you satisfied from the sales and the reaction of funs to the new album?
Vittorio: Hey man! Thanx again!
Maurizio: "Broken history" is a concept album about the crusades. Gianluca had a lot of songs without a text and Vittorio had the idea about the concept. The original adramelch blood, that is Gianluca for the music and Vittorio for the words flow throughout the entire album. We are satisfied with the reaction of the press and the fans. We thank you for the opinion about Broken History. Many people and press think like you about the album. We are so proud of it.
Vittorio: We would only like to reach more peoples, countries, cities, shops... that's all!
Do you have any plans for live shows? Are you planning to come to Greece for a live show? Have you received any letters from Greece?
Maurizio: We performed few live shows in Italy and in Germany. Public response was always enthusiastic. Unfortunately Greece is far from Milan. We would like to play in Greece, but we need to organize the tour. It is not easy to plan a tour in Greece. We have received letters from Greece and we played recently with Battleroar in Wurzburg. They are really funk metal guys! We thank them for their music and for their true friendship. We hope to play together with them in Greece, maybe soon.
What are your plans for the future? Are you planning a new release? If yes, when? Did Adramelch come back to stay or will be disbanded again?
Vittorio: We came back to stay man, don't joke!!!
Maurizio: We are working on the new songs. Gianluca has songs for the next three album at least, maybe four. First the re-release of "Irae Melanox" in January 2007. then we think to record the new album in march-may 2007. Aramelch are mostly friends and then musicians. They come back to stay and to excite the rock and roll metal progressive scene, eh eh.
What music/records do you listen at present? What are the bands/musicians you admire most? What heavy metal means to you?
Maurizio: Not in order: Iron Maiden, Rush, Manowar, Fates Warning, Vision Divine, Blind Guardian, Jimi Hendrix, Deep Purple, System of a Down, PFM, Vasco and many others. Heavy metal is a way to express music and thought.
Vittorio: Ah! so many different stuff... well to give u just a few names: Opeth, Rush, Porcupine Tree, Novact and then Jazz (Bobby McFerrin, Mike Stern, Dave Holland...) and classical (Vivaldi and the Baroque) and then World music...
In "Irae Melanox", Adramelch gave me the impression that they were very ambitious and ready for a big success as they sounded quite different from the other metal bands of the time. This never happened though… Do you think that "Broken History" will fulfill your ambitions by making Adramelch known to a wider audience?
Vittorio: Yes, that's exactly what we hope. we are doing all our best to promote the band and the music although it aint easy... as you probably know we have no promotion agency, nor managers nor... But this time our solidity will be our warranty! We hope to find many peoples like you, sincerly fascinated by our music and willing to promote it as well as they can!
Maurizio: Absolutely. You get our thought! Today, thank to people like you, to fanzines and webzines, we can say that we experience a sort of success. In our concerts people sing not only Irae Melanox songs but also Broken History's ones. It is a pleasure to feel this interest and passion.
Thank you very much for the interview. Adramelch's contribution to heavy metal is beyond compare. To me Adramelch should now be in the same class with Manowar, Cirith Ungol, Manilla Road, Omen, Jag Panzer. It is never too late to gain their position in Metal pantheon. What message do you have for your Greek fans?
Maurizio and Vittorio: We are embarrassed and proud to hear your words and we thank you a lot! Greece is a historic land of myths and legends. Greek people have in their DNA this mood. We thank all our greek fans and we hope to come to Greece to play some strong gigs really soon! In the meanwhile keep on listening Epic Metal!! Stay tuned!
Interview done by Vaggelis Fotakis in March 2006 for ROCK BRIGADE FANZINE.