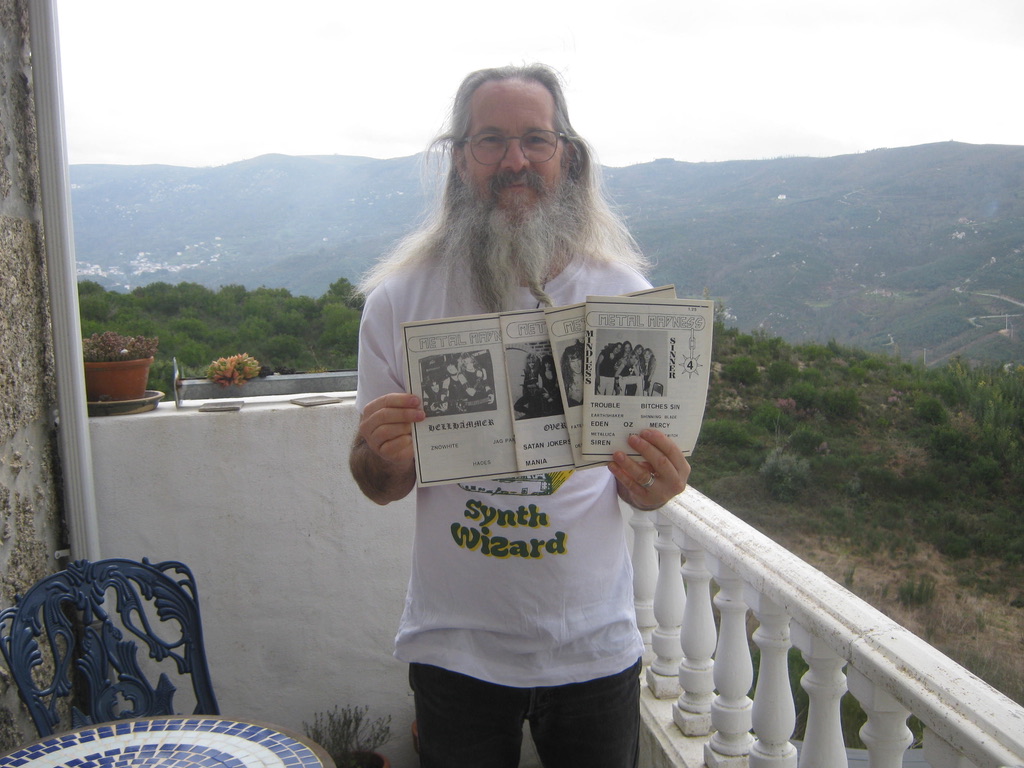 Scott, how did you discover music and hard rock/heavy metal music particular?
When growing up in southern California in the 70s we had amazing radio stations like KMET and KLOS which pretty much played hard rock-heavy metal. This was the first time I heard Black Sabbath, Led Zeppelin, Aerosmith, Ted Nugent, Frank Marino, Robin Trower, etc..
What did you find so exciting in this music?
Growing up I really liked Chuck Berry. My dad had a compilation called Golden Decade Vol 1 and II and wore these out. Then I moved onto CCR and into heavier stuff. For me, what excited me about that was the guitar.. The heavy guitar..
- At which point and how did you turn into the underground world? How did you discover fast, brutal music?
The real discovery was around 1980 when our local record store in Albuquerque, New Mexico started to get Kerrang magazine and importing all the bands from the UK like Motorhead, Iron Maiden, Tygers of Pan Tang, TANK etc.. This started it all for me.
What did/does Underground mean to you respectively to be underground?
Underground for me would be the local metal bands we had like Fine Line, Durtie Blonde, Rapture, Cross etc.. in Albuquerque. This was the true underground anywhere - the bands in your area, where you lived.
Did you also get involved in the tapetrading scene? How did it happen?
I got into tape trading from a guy named John Langdon who worked at Merlin's Record Workshop (the first location). He was recording shows and trading and turned me onto a guy from Arizona named Sam Romangi, who sold live shows. From him and Sam, where I bought some shows I could start trading with some people. I also bought a recorder in 1981 and the first show I recorded was Ozzy and Motorhead in El Paso. I had recorded Ted Nugent the year before but not with my own recorder.
At which point did the fanzines enter in your life? Do you still remember which fanzines you did get in your hands for the first time?
My first experience with Fanzines was via my penpal, Bob Nalbandian in California. He put out the fanzine called the Headbanger. I had put a penpal advert in Kerrang issue 13 and by 1983, had like 40-50 different people I was writing with and trading music, patches, programs, letters, fanzines with..
How did you like them? Was this a brand new world for you?
What was so cool was you got to hear about all sorts of bands you had no idea existed and read interviews, demo and LP reviews, etc.. It just made you realise how much was going on that you did not know..
You were part of that new metal approach that took place during the early 80's with the tape trading circuit, the whole underground thing, what caused that new metal movement at that time?
I am not sure what caused it but the metal movement probably learned a lot from the punks, as they had a whole DIY (Do it yourself) network and way of organising gigs, information, etc….. I was never into punk rock until the crossover came with bands like DRI, COC... then I started trading punk tapes as well.
Would you say that tape trading helped lots of bands gain exposure at that time, to the point that alot of bands wouldn't have maybe gone very far without that underground scene?
Oh for sure.. I had a penpal from Italy and he also worked with Shining Blade and others and he would send me tapes every month or two with all sorts of Italian bands that I would then go on and write about or trade with other metal traders. I heard the first Metallica demo from a trader in Holland!!
What did that period mean to you?
Besides going to college and focusing on my studies, heavy metal was my life. Going to shows, listening to the music etc… My closest friends were also totally into it!!
When did Metal Madness start exactly? How did you come up with the name?
In 1984 I had a girlfriend named Nancy and she was really into music as well. She saw how I was so into music and had all these tapes and connections and said I should start a fanzine. So I drafted some letters (got the addresses from other zines) to Hellhammer, Znowhite, Hades, Slayer, etc and figured out how I was going to do it. I only had a typewriter at my parents home and some drafting skills but had never done anything like this. As for the name, I actually can't remember at all. I know I did draw the logo though.
How about the staff? How did you get to know each other at all?
The early days of the zine it was just myself and my good friend, Rob Romero. He was more into the extreme metal, which was cool. After a couple of years, I started to get other people involved, sometimes penpals that I had had or someone contacted me like Mike McIntyre who had access to bands in Chicago.
What was your motivation and goal with the fanzine? What inspired you to found a fanzine?
My main motivation was to hear and get as much music as I could and to be able to write about it and share that knowledge with others. One of the things I told myself from the beginning was that any band that sent me something, I would always write about it, no matter what, even if it was just a few lines, and I did!!!! In the early days, I always sent the fanzine to all the bands that sent stuff but as it grew this was just not possible anymore.
Did you have contributors/helping hands as well?
No/yes, but they only helped with the writing so I did all the editing, typing up of the articles, cutting them out, pasting them, getting the photos made as halftones so they would print ok, doing the printing, distribution, etc… Phew..
Did you, I mean the fanzines, help and support each other or was it rather a competition among you? Did you also trade with each other?
I at least never felt like there was competition. I think in New Mexico, there was only one other HM fanzine being made and that was it. For sure I used to trade zines with other zines writers.. I had a huge collection (more than 200) actually that I sold a few years back to a true metal collector in the UK…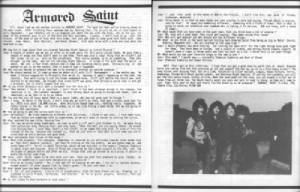 How did you get in touch with the bands that were interviewed/featured in each issue?
95% of the articles were done through the mail. I did do a few interviews in person like Lars Ulrich, Cliff Burton, Biff from Saxon, Armored Saint, Phil Mogg of UFO but not too many. I could have met and done so many more but I also was a student doing a degree in Biology with a minor in Chemistry and Psychology.
How did you choose the bands that you wanted to feature? Did it depend on your personal musical taste or…?
It was usually when I heard an album or demo that blew me away, then I would write to the band to try to get an interviews. Almost every band wrote back. They all wanted the press and the word to get out as well.
Was it easy to get in touch with the outfits?
In the USA, you would get a response faster than the European or Japanese bands that I would write to but it was pretty easy and as I said, nearly everyone wrote back. My post box was filled each week when my family would go get the mail and either send it to me or have a friend get it and bring it if they were going back to Albuquerque as I was in college 4 hrs away in Las Cruces.
Did you always use your own material or did you perhaps borrow articles from other fanzines too?
Never borrowed anything from other zines but for sure I did not write everything. Rob, and the other contributors did their own articles and I typed them all up.
I'd like to ask you to give us every detail about the issues of Metal Madness! I mean, how were they done, what about the content of each issues, how in depth were the interviews, how were the reviews, how many issues were released, how much time did pass between each issue etc.. I'm interested in everything that comes to your mind!
Ok. that is a massive question and you could spend pages on this but I will answer some of this.. Below is a list of all the issues and who were the bands listed on the cover. As for the interviews, they were usually 10 questions or so and I would ask similar questions to some bands and more specific to bands that I knew more about. As for the issues the early issues were released in 150 copies and then 200 and 300 and the last several in 500 copies. Late summer 1984 issue #1 came out and June or July 1988 was the last issue. 12 issues over 4 years so it was about every 4 months a new issue would come out. I still can't believe that I did this actually while still going to the university and studying 3 subjects!!

(the first band listed is the one that was on the cover)


(The Corroseum has scans of all the issues)
Did the fanzine satisfy the demands of the underground fans?
I really hope so but I don't know for sure. I had subscriptions so there was a dedicated 20 or so people that subscribed.
How/where were they sold and distributed/promoted? Were all of the issues sold out?
The early issues were printed in 150 copies. Issue #7 200 and 8, 300 and then the rest were printed in 500 copies. I would keep 100-200 and send the rest to a distributor in New York (Greenworld), who then sold the rest and paid a certain price for them. They were linked with Combat records and got the zine all over the USA. Not all the issues were sold out, I always kept some until a few years ago when I gave most of them away to record store in Denmark.
Did you receive letters from other continents too?
Tons… I probably wrote at least 20 letters a week at this time..
Were you also in touch with record labels? Did you get respectively how often did you get promo packages?
YES.. Metal Blade/Enigma, Black Dragon, Combat, SST, Ebony, Steamhammer, New Renaissance etc.. I would get many packages each week by the end of the fanzine. It was like Christmas everyday… Lucky for me my room mate in college loved music and we both could study while listening to music so it was no problem to hear them all.
On which format did you get the releases?
The main record labels always sent me vinyl records. A few cassettes but most of the cassettes I got were demos from bands.
With which label(s) did you get on well?
Black Dragon records was great. I wrote a lot of letters with them and loved the bands they released, Exxplorer, Candlemass etc… I always sent the fanzine to the record labels as well. New Renaissance was another that I got on with really well. Super nice people. Ann and the others…
Did it happen that the material you got from bands or labels weren't featured in the issues because of lack of space, or did you always have enough material for every issue?
As I said earlier, I made it a point to write about everything I was sent and you see in the end the last couple of issues, the reviews had come down to 2-3 lines, sadly as there was just no space and I could not afford to make it bigger.
What about the production cost of each issue? Were the costs that you were investing in them covered?
I invested my own money to get it started but after that it was only a few times, like when an entire shipment of an issue (??) was lost and then never found, in which case I had lost a lot of money but it did not make any money. I was never interested in making money on it.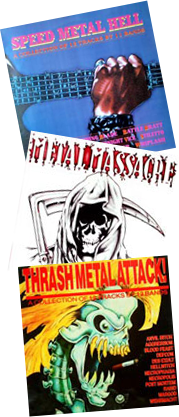 During the 80's a lot of compilations were released by several labels, such as the famous "Metal Massacre", "Speed Metal Hell", "Thrash Metal Atack", "Beyond Metal Zone", "Stars On Thrash" to name a few. Did it help a lot for the bands to make a name for themselves? Were these samplers good things to introduce newer bands for the fans?
I used to own most of these and for me, this was a cool way to hear new bands and I guess also for the fans and they were usually pretty cheap.. Nowdays, I am not so fond of them though.
Which year was the best for metal and why?
I guess something like 1986… Iron Maiden, Ozzy were huge, Metallica were heading that way. New styles were starting to emerge like thrash, crossover.. It was a vibrant time..
What do you recall of the fanzine world of the 80's as a whole? Blackthorn, Shock Power, Deathfuck, Violent Noize, Kick Ass Monthly, Metal Mania, Headbanger, Aardschok to name a few…
It was great and I enjoyed reading every one of them from front to back when I got them and I would take notes of addresses of bands etc.. demos I might want to look for in trading etc.. it was your life line of new information.. Essential for life!!!
Was it a kind of impenetrable scene? I mean, there were a very big amount of fanzines, as every day or week a new one popped up...
Well, if you lived in New York or LA or San Francisco it might have been, but a small town in New Mexico, it was not like that at all. I was the only one around so people who truly were into metal and wanted to hear the new stuff would hang out with me!!
Because of the large amount of fanzines, was it hard to pick them up for the fans/ collectors?
Like I said we were in a small town so there was nowhere to buy them. We had a great record store in El Paso and could pick up a few but I got most of mine via trades.
What is/was the importance of the fanzines in your opinion?
It was to spread information about bands and music. Learn more by reading the interviews.. It was an information service about the underground.
During the existence of Metal Madness did the staff remain constant or were there guys that got out and others joined?
Rob Romero was there helping most of the time and some of my penpals sent in articles here and there but it was mostly a one man operation.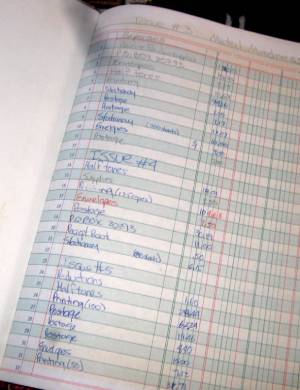 What about the prime cost of the certain issues?
I would have to go back and look at my ledger. Take issue 8 for example here was the cost run down: Halftones (this is the photo treatment that they do so that they look ok when they do the printing- $19.93, Graphic tape- $6.82, Printing (300)- $197, Postage- $50.14. I have this information for most of the issues. So this is less than $1 an issue.
Were all of you satisfied with every Metal Madness issues?
Not always as I there would always be some typo mistakes that could have been avoided but I was always under some time pressure. The first issues were also difficult with the typewriter as you had to get it perfect. It was not until 1986 that I got a computer. Most issues I was proud of and it was something unique. It was a major fuck up though on the last issue that I had forgot to change the issue number.
Why and when did you stop doing Metal Madness?
I was moving to California to start my Phd in Endocrinology at UC Berkeley and there was no time anymore, sadly.. One had to be totally dedicated to your study to make it through UC Berkeley. Only like 40% of the students who start a PhD there finish. It was tough.
Did you go on writing for other fanzines/magazines? If so, in which magazines/ fanzines did you take part?
Actually, I did.. After my studies I began to write again for several fanzines/magazines and still write today!! I wrote for Aural Innovations from near the beginning when it was a print mag, all the way until Jerry closed the web site. I also wrote for Bad Acid, Chrohinga Well, and Low-cut.
In your opinion, did the scene become oversaturated in the late 80's/early 90's?
I actually don't know as I was now distancing myself from it all, as I had to focus on my studies. My world changed totally. I did continue to trade tapes and go see concerts, including going to Ruthies Inn and the Stone. I slowly moved away from metal though as time went on.
How did you view the grunge, pop/punk and nu metal scene later on?
I have to say I did not follow it at all really and was in a different musical world by this time. I liked bands like Soundgarden (first 3 albums), Nirvana, but not at all the pop-punk stuff like Green Day. Never heard nu metal, so I can't say…
Are you still proud of Metal Madness today?
Yes, of course. It was a snapshot of a period of time in my life where I lived and breathed heavy metal…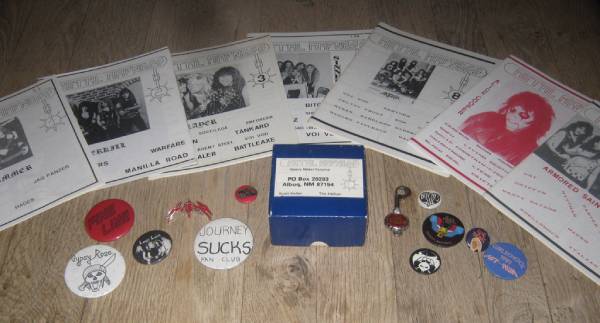 Who are/were your best friends from the scene? Are you still in touch with them?
Bob Nalbandian and yes. I am still in touch with him. Rob Romero who was crucial to the zine in the early days, we are both retired and still in touch. As far as bands, I wrote a lot with Armored Saint and got to hang out with them and be on the bus several times. Super cool guys. Went to Joey Vera's house.. Not had any contact with them for years but I still buy all their records. Love that band.. A few of my old penpals from the Kerrang Magazine days like Cola, Hatsumi and Jillian, I am still in touch with as well.
Do you often read webzines? What do you think about them?
I still get some some printed music magazines. Classic Rock, and some underground mags like Yoshiwara and Timemazine. As for web sites I mostly only read The Obelisk these days. Not enough time…
Do you still keep an eye on what's going on in the underground? How do you view the scene these days?
I for sure still watch what is going on in the music scene that I am in (Space Rock) but I am not sure there is anything really underground anymore, in the sense of the past.
Do you often go to concerts or festivals these days?
Before the pandemic and moving to Portugal to retire, I saw a lot of concerts. At least 40-50 a year and attended Sweden Rock Festival, Roadburn and other festivals every year… I will never stop going to concerts. I love it too much.
In your opinion, did the mp3 files/downloads cause a lot of troubles, problems, harm for the metal scene?
The internet has changed everything. IT has it's good side and it's bad. The good side being free and easy access to an incredible amount of music and it costs nothing to hear it. The bad side is that it is so hard for bands these days to make anything totally new and unique especially in metal, as it has all been done and usually better. SO it is tough.. I feel really bad for people who really want to make a living off music as it is almost impossible these days with the thieves that are running Spotify, You Tube, etc.. and the fact that big record labels don't take any risks or invest in bands anymore. It is all much more underground and the thieves are everywhere.
Scott, thanks a lot for your answers, what are your closing words?
Keep rockin' out and supporting your local bands and scene. If you want to check out the music (not metal) that I make today with different people around the world, check the links below: