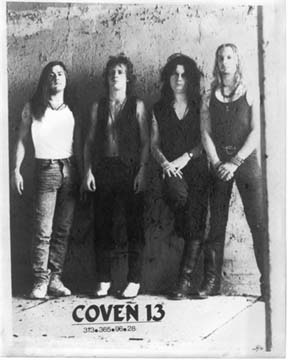 It seems that no-one knows just about anything about COVEN. I mean, people seem to dig out plenty of trivia about the most obscure Metal bands, but the COVEN-sheet is pretty blank to even the most in-the-know fans and collectors. How come? Did you intentionally keep a low profile?
Brian McGuckin: Well yes, sort of I guess. I think that COVEN has always been a mysterious band, and keeping a low profile just adds more to the inquiring minds. But really, for the most part, when we disbanded in 1992 we all went on our own separate paths and it seems then, that is when the flame burned out. Now with the help of the internet, fans have finally gotten in touch with me, and now we can sort of open these doors again for people who want to know more about us. It is always a pleasure to talk about the COVEN days, but yes, I do like a little mysticism.
Roger Cyrkiel: Yeah, I'm the creator of this organization and I consider myself a little bit of a "hermit". I loved the band then, since this was so many years later, times have changed. We were kind of ignored back then. And I wish we would have had the attention that we are getting now, then.
Would you enlighten us collectors and fact freaks on the specifics of your 2 albums, like which years they were released, how many were made etc?
BM: Let's see here… I believe we recorded "Worship New Gods" in 1987 at Spectrum Sound Studios and released it on vinyl in the summer of 1988 on our own label Crom Records. I'm not sure how many though, either 500 or 1000 were pressed. We NEVER did a second pressing either, that I do know for sure. "Ragnarok" was released in 1991 on cassette only, also on Crom. As far as how many, I don't quite know. RC: I believe there were 2. The first one was pressed on vinyl, and this is the days before CD's, in 1987. And that was the first record and it was called "Worship New Gods". The second was Ragnarok, which was only released on cassette. And that one was released in 1991.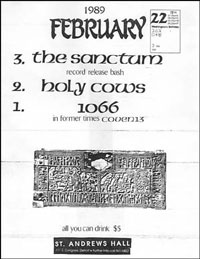 Am I right in assuming that the name change from COVEN to COVEN 13 was to avoid confusion with the Seattle thrashers of "Blessed is the Black"-infamy? Why the short fling with the 1066 moniker?
BM: Actually no. We were fully aware of the COVEN from Seattle. The reason for the name change was due to the COVEN from the late 60's, early 70's. They sent us some hate mail threatening to sue us and what not [Wow, overrated AND rude../Ed.] so we decided to add the 13 to the name. 13 witches in a Coven… As far as 1066, it was just one show. I don't know why? That was Roger and David's doings. At the time, I think that they thought that there were just too many other "COVEN's" out there, and thought it would be a good idea to change the name. But 1066… no fucking way! Todd and I didn't like it at all. COVEN 13 was way better, and by that time everyone knew us as COVEN 13. Todd and I won, and we went back to COVEN 13.

Your views on Seattle's COVEN? Isn't "Iron Dick" so stupid it's kinda funny?

BM: I actually own the 1st cassette! It was given to me from a friend back when it was released. I have to admit, I kinda liked it. It reminded me of early Exodus. There were a couple of tracks on it that were rockin'.
"Worship New Gods" is surely one of the most original and unique US Metal albums ever released. How was this trademark sound created? Did you intentionally want to do something different, or was it just something that came naturally from the individuals in the band? BM: We wanted to create our own sound, something different. The 80's had so much to offer musically (genres) and we wanted to find ours. Ha, when we first started out we didn't have much money, if any at all for equipment. In the beginning I had an old 4 piece Slingerland. It was only a month before we did WNG (with money I saved) that I bought this used 1972 nine piece Rogers kit. It sounded huge and I really liked the sound of the toms. They were thunderous. Roger had this 8-string Kramer bass which sounded so awesome with the pedals he used. I remember Todd used a Gibson Les Paul and assembled together pedals from the 70's with a distortion pedal from the 80's for a Metal sound. As for David, we had a very poor PA, so he really had to push his voice. From this, we just wrote those songs and did the record. That's how it was done, that's how we created our sound. When it came to the lyrics, it was ALL David. We wrote what (and how) we felt within us, naturally I guess you can say. RC: No, this is a very contrived band in a way. It devotes a lot of love to the things that I grew up with. I created it, I wanted a band that was like Black Sabbath underneath and David Bowie on top. I created that band like that, and I got exactly what I wanted.

How much of an influence from early 80's goth would you acknowledge? Listening to "Kiss Me With Blood" I can't help sensing a few BAUHAUS/ALIEN SEX FIEND/CHRISTIAN DEATH–vibes.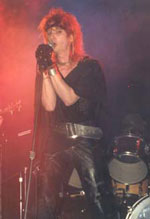 BM: What you are probably sensing comes from Roger and David's earlier bands. Roger was in a band called The Trial and David was in a band called Danse Macabre. Both bands were Goth and Punk influenced. Todd and I were the Metalheads of the band. "Kiss Me With Blood" was written by David after he read Ann Rice's Vampire Chronicles. That song was highly influenced by her stories. We were fans of her way before the popularity of the movie "Interview with a Vampire". Yes, I think that there was a "Goth" influence side of the band.
RC: I never listened to any of those bands. My lyricist and my brother, David Landrum, might have. I don't think he did. I think a lot of our lyrics were derived from reading books.
The graphics and lyrics of COVEN were biased toward the old Celtic and Norse cultures. How did you come into contact with this? Books? Films? Other bands? Was there a specific band member who was the driving force behind this image?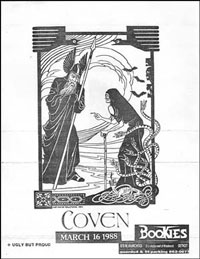 BM: COVEN was very biased! We are all from European decent. But again, David and Roger were the driving force behind this as far as our image, graphics and lyrical content went. David was really into Norse culture, more than the rest of us. Shit, he even changed his last name to Thorsson on "Ragnarok". We were all into it deeply. When we screamed "ODIN!" we meant it. Roger even had these really cool Thor's Hammers made for the band from silver from a renowned craftsman which I still wear today.
RC: Not a specific member. I think we all had interest in our culture. We're either Polish, English, Irish or Swedish in nature. Were Americans for sure, but our backgrounds are all northern European and that's where that comes from. And also comic books. Good old fashioned comics, we love em'.
Celebrity Deathmatch: Odin v/s Crom – your bet?
BM: ODIN! RC: Well it's called Crom Records (the record label). "Crom I never prayed to you before" –Conan. I'm going to go with Crom.
What kind of reactions did you receive from your rather special kind of music back in the days? Any reviews – good or bad? Did you have a hard time fitting into the Metal scene of the time?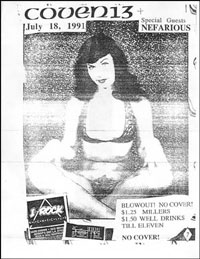 BM: It was both good and bad. Just like any other band out there, we had some great shows and we had some bombs too. I think for the most part, people's reactions to us were different, because we were different. We did NOT fit in the Detroit Metal scene in the 80's at all. Metal was getting faster, heavier and merging into Hardcore. And if you weren't doing that, then you were puffing up your hair wearing tight pants playing bubble-gum crap. We were definitely not going to do that. So we strayed away from that scene and believe it or not, COVEN primarily did shows with the Punk bands of Detroit back then. For some reason they loved us. We were the only Metal band on the Detroit Punk compilation "Maniacs From The Motor City" (vinyl). The rest of the 9 bands on it were all Punk. We were underground and proud of it. I guess that's why we attracted such a Goth following. We had some true "die-hards" that would come out to our shows. It was real cool.
RC: We never really fit in. A lot of Metal bands were like girls-lyrics kinda bands, you know. Our lyrics aren't really like based off of that… "Girls, Girls, Girls". You know I love those bands and stuff, a lot of those California bands. But we didn't have too much trouble, everybody's gotta play, we played. It wasn't too bad of a fit. You know it was like square-pegging around a whole sometimes.
Was there ever a time when COVEN considered "mellowing out", puffing their hair and go for more of a 'professional' career? If not, is it something you sometimes regret, considering the economical and sexual gratifications that might have followed?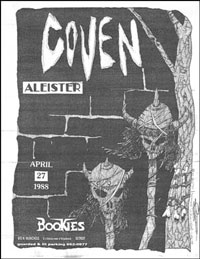 BM: Mellowing out… like Celtic Frost? No. I can't imagine David screaming "ODIN!" from the top of his lungs in a pair of spandex pants… Ha-ha ha. Money would have been nice or a big record contract. Nothing I really regret. Although there were 2 tracks from "Ragnarok" that were sell-out songs. More for airplay if anything. Can't recall if they were even played on the air for that matter (thank God). They were a bit cheesy, I must admit.
RC: (Laughing) That's just a silly question. All you can do is just be yourself. We didn't have a choice to be just who we are. No ratting up hair, well we did some I guess. No, everything is all just the way it is, the way we go. You come to practice the way you are and we play the way we are.
Many musicians have a tendency to slag their old recordings in later years, calling them "unprofessional" and "under produced" with little sympathy from their fans on the issue. How do your old recordings sound to you today?
BM: Well let's see here… I wouldn't change a thing on WNG. I recently had it digitally re-mastered and it sounds much more clear and defined. "Ragnarok" on the other hand was a mutilation. I'd still like to punch Gordon in the nose for mixing that one. It sounded horrible, that's why there's not much out there about that album. We kinda swept that one under the rug. Don't get me wrong, there were some great tracks on it and a lot of hard work was involved, but the mix… it was bad. It will take a complete re-mix to even think about re-releasing any material from that one.
RC: Well, I don't really hear em' (much), so I don't really know how they sound. All you can do is create something that's the best you can then, and just stand by it. So yeah, I stand by my recordings.
Are you still active as musicians? In what way? If not, what's filling up your days at the moment?
BM: Yes, I'm still active in music today. I try to play my drums just about everyday, still have that passion. Since COVEN, I've been in a few bands and released a few CDs. Was in 3 bands 3 months ago, nothing now. I'm still trying to learn that guitar better. My main focus right now is writing new material for the next COVEN album… 17 years later. When I'm not doing music, I spend most of my time with my family. RC: As a matter of fact I just bought a Karaoke machine, and I'm going to try to figure it out, um, tomorrow.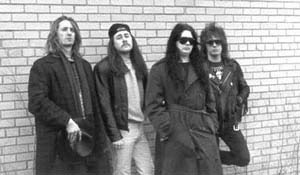 How much contact do you have with the other COVEN-members today? Know what they're up to?
BM: Well I still live in the Detroit area. Roger lives about an hours drive North of Detroit. So I'm still in very close contact with him. We just hung out together last Saturday night. David now resides in Seattle, Washington. I talk to him every 2 months or so, he's doing fine. Todd, he lives in sunny Florida now. Same thing, I talk to him every 2 months or so. We're still close to each other. RC: Sometimes it's too much contact, and sometimes it's not enough. Being in a band is never-ending.
You did a few reunion gigs in Detroit in 2005. Any chance of that happening again? Or even some new COVEN recordings?
BM: Well, you can never say never. At this point, I'd doubt it. It would be a dream to play on European soil, especially the North! If we ever got the offer, we would definitely be in for a reunion. Since the explosion of the internet, 80% of our interest, popularity and fans are from Europe. It's great! So if there were to be a reunion again, it would most likely be in Europe somewhere. Maybe someone can help us out, who knows. As for new recordings, the answer would be "Yes". We have recently started writing on some new material. I'm sure that people will be into it. It will be with all 4 original members also. We're pretty excited about it. But right now our main focus is the re-release of the re-mastered version of "Worship New Gods" on cd. And "No", It is NOT on HOT METAL RECORDS either… That's a bootleg my friends! RC: Well the future is unwritten, and anything can happen in the future.
MERCYFUL FATE or KING DIAMOND solo?
BM: Uuugghhh, for me this is a very difficult decision. I've seen both live many, many times. I truly love "Melissa" and "Don't Break The Oath", but I'm going to have to go with THE KING! Not a big fan of King's latest stuff, but everything from "The Portrait" to "The Eye" is fucking great! I'm a huge fan of Mikkey Dee!
Fave bands in the 80's v/s fave bands today? Is Metal getting more or less exciting in your ears as the years pass by?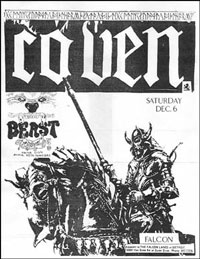 BM: Too many bands to list from back then v/s the ones even today. I think that Metal is Metal no matter what it is, as long as it's heavy. I think Metal will never die, there's always going to be a following. Metal is more than just music, for me it's a way of life. I still have the long hair at 40. I still wear Metal shirts everyday, it's who I am. So as long as there's people like me out there and The Corroseum (and there's an army of us)… it's not going anywhere! Hail Metal! RC: Favorite bands in the 80's… I don't remember much of the 80's (laughing). I'm like a 70's guy. A lot of the music and a lot of the philosophy of this band was 70's, it's not 80's. As far as modern bands, I don't listen to any of them much. I listen to jazz or classical or something. I don't know, I'm just a weird person.
Isn't The Corroseum and my WNG review awesome btw? Time to repay all the asskissing!
BM: Yes indeed, that was one hell of a review for WNG! On behalf of the band, Thanks! I've seen that it's been the only bit info about us out there also.
Further your Metal-cred with some closing heavy words of wisdom:
BM: Other than screaming ODIN, thanks for the interview. And thanks for all the support from The Corroseum and our fans. For more info about COVEN 13, visit or contact us at www.myspace.com/covenworshipnewgods. RC: Yeah, um call your mom, and tell her you love her. And love yourself.