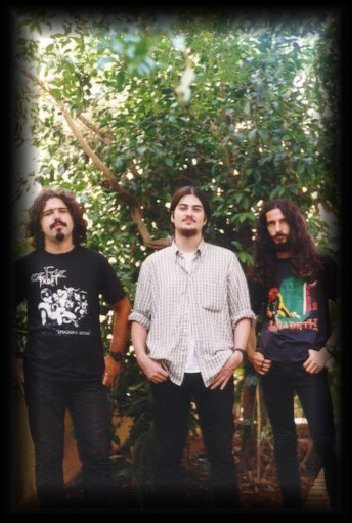 1. Greetings Manos, founder, guitarist and main songwriter of the Cretan metal act REFLECTIONS REVERT. Let us begin this interview with a brief historic background for those who are not acquainted with the band. You released two very professional-looking demo CDs in the late-1990s, but apart from that there's very little information available to the English-speaking audience.
MANOS: REFLECTION'S REVERT were found in the fall of 1997 by me (Manolis Stagakis) and Vic Kouroumalis, our singer at that time. After a short time period, guitarist Nick Tzortzakis and drummer Minas Vasilakis joined the band. Due to the fact that we couldn't find a bass player for a long period of time, I chose to play the bass parts myself for our first demo CD "Unveiling the Mirroring Delusion" which was released by the end of 1998. The band went trough some member changes in search for a new vocalist and 2nd guitarist as well as for the bass player post. Therefore, by the end of 1999 "The Judgement of Shallow Life" was released with vocalist Spiro Konitopoulos and a few guest musicians on guitar and bass having complete the lineup (no big fortune there due to difficulties of finding capable metal musicians in a rather small community of our small island). Minas was already a solid member of the band.
  2. REFLECTIONS REVERT can be roughly portrayed as straddling the line between progressive- and power metal. At the same time, your sound is quite different to the music that currently goes under those two descriptors. Take for example a song like "Embraced by Expiation" from your second demo. It's complex and melodic, but also dark in atmosphere and with a muscular punch to both the guitars and rhythm section. What kind of music inspired you back then? For some reason, early PSYCHOTIC WALTZ and ICED EARTH comes to mind.  
MANOS: We always liked been complex in music writing so I guess that was a natural approach for us. I, also, like to create or add to the atmosphere of a song not by using many hardware effects or a large number of instruments (not even too much keyboard offering, if not at all) but by using the form of the song itself, the vocal lines, the riffs, the dynamics. We don't like to copy others but to create and evolve our own style. Truth is that most of the band members chosen from the beginning of REFLECTION'S REVERT had a wide range of band influences, yet, we all had a common line when it comes to music composition and yes you can say that PSYCHOTIC WALTZ is one of those bands...
3. Despite being released just one year after the debut demo, your second offering entitled "The Judgement of Shallow Life" gives witness to a remarkable development in both technique and composition. In addition to the more obvious factors such as improvement of technical abilities and production standards, was there also a change in the songwriting approach?  
MANOS: Truth is that although there was an ongoing search for new members for the band the main core was already formed including myself, drummer Minas Vasilakis and vocalist Spiro Konitopoulos. Given that, there was even more contribution in music and lyrics composition along with ongoing and more frequent practice and rehearsing. Therefore, more musical opinions, more practice, more music chemistry equals improvement and development. A more detailed approach to production, plus a step above in recording experience added in the overall better result for "The Judgement of Shallow Life".
   4. Another major change taking place between the demo-CDs concerns the lyrical department. On "Unveiling the Mirroring Delusion", the lyrics revolved around clearly defined themes (horror stories à la KING DIAMOND, real-life dilemmas, etc.) On the second demo though, the lyrics are much more abstract and draped in nearly impenetrable metaphorical language. Is there an underlying "meaning" to lyrics such as the ones on "A Requiem for Artistry", or were they rather written "just to fit" the rhythms and accentuations of the music? (author's note: don't take this the wrong way, I do enjoy the lyrics, but they are not easy on the mind!)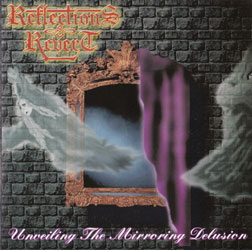 MANOS: I guess this is just a point of view from the "lyrics department" itself hehe. Vic's influences and lyrical style (who wrote all the lyrics for "Unveiling the Mirroring Delusion" demo) justify what you are witnessing as a listener. On "The Judgement of Shallow Life" Spiro and Minas took over this section with a more abstruct yet to the point style of lyrics writing. Regarding the song "A Requiem to Artistry" for us the lyrics of the song also condenses the meaning of the album title. One of the main characteristics is that they (Spiro and Minas) were always intrested in creating fictional images when reading or listening to their lyrics. We never really were in favour of writing lyrics just to fill rhythms and riffs but to try using those fictional pictures and the listeners imagination as yet another "musical instrument" in our own composition.
  5. More than 20 years has now passed since the release of "The Judgement of Shallow Life". What do you hear today when you revisit the old REFLECTIONS REVERT material?  
MANOS: When you try so hard for something that you really love, from scratch, investing in time, money, facing obstacles that hold you back and given that in the 90's things were rolling rather slowly in the province of Greece, there is a profound satisfuction and a pleasant memory of this all. But to be completely frank "The Judgement of Shallow Life" is one step above in my preference comparing to "Unvailing the Mirroring Delusion".
  6. Would you like to share your opinions on the Greek metal scene (both local and national) of 1990s and how does it compare to its current state? Was there ever a "golden age" for Hellenic heavy metal?  
MANOS: In the 90's there was better level of gear equipment and more experience (flight hours) into the recording studios comparing to the 80's, let's say. Still, even then, there was a short list of labels and people who could help you release your matterial, so the whole thing was held back, although music was still aiming high level. Nowadays, things are way more simplyfied and access is much easier to labels, bookers, promoters or even publicity, as well as production making, yet the music matterial is uninspired and fake, plastic-like, with a few exceptions of course... so I think it was better in the "old days"...
   7. Are any members of the band still involved in music making? We are all eager to know if there is any chance for future material being released under the REFLECTIONS REVERT moniker.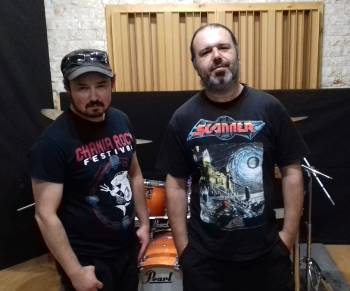 MANOS: Truth is that I am not in touch with some of the previous members of REFLECTION'S REVERT so I will tell you about the main core of the band from "The Judgement..." with whom we're still in touch, Minas and Spiro... Well Spiro is not actually involved in a band nearly since "those days" for physics science took him over (he is for some years now an assistant professor of nuclear physics in Athens university scratching occasionaly his guitar and singing along, hehe). Minas has completed marketing, on one hand and drum studies, at the other, in Athens and has been working since 2007 as a professional drummer. He has moved to Heraklion in the summer of 2015. Since the summer of 2011 Minas is one of the founders and active member of doomsters DOOMOCRACY. Reguarding plans of REFLECTION'S REVERT... here's an exclusive, first to know, piece of news from our camp... We have been working with Minas quietly for almost all these years preparing material for a full length album... Composition had been finished and we recorded drums in 2005, yet due to personal reasons the bassist and vocalist, with whom we were collaborating with at that time, stepped off leaving the recordings undone. Bitter taste from that bite kept us inactive for almost a decade. Chances given with Minas' anchored to Heraklion in 2015, we decided not only to recapitulate that previous matterial but to take even one step further.... so we started composing once again on new matterial and by the time I am writing you this response here we are setting up the metronomes for the second REFLECTI'ONS REVERT full length album.... So we see ourselfs somewhere in the near future start recording once again new, we like to believe high level stuff and as you can understand having lots of music to share...  
  8. Many thanks for investing time and effort in responding to this interview, Manolis. Feel free to add any concluding remarks before we call it a day!
MANOS: First of all I'd like to thank you for your support and interest in our band. I hope we always be able to practice and accieve what we love no matter the difficulties. You will hear from us soon! Heavy Metal will never die!