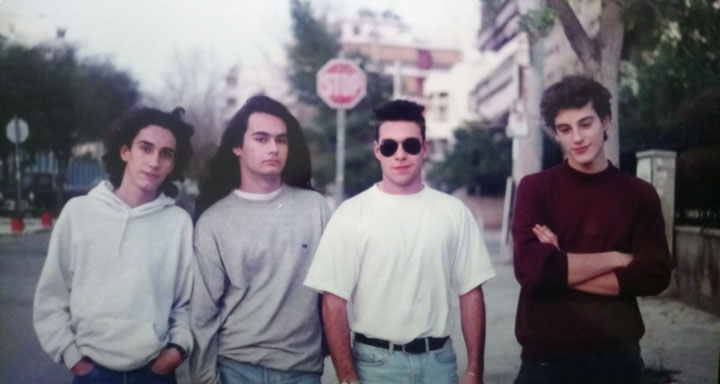 Back in the early-1990s, as Greek underground metal was picking up pace considerably, Athens was (not surprisingly) a central nave for musical activity. Given its size of 3+ million inhabitants (reached around 1980), it's even possible to speak of local scenes within the city. One of these metallic clusterings was situated in coastal suburb of Palaio Faliro. Names like MYSTIFIED, OXBLOOD, DEMON NIGHT, DETHREAT, SHADES OF WHITE would hardly ring a bell for most people these days, but they remain as a testament to the heavy metal-craze that had taken firm hold of the Attic lands.
Today we are interviewing another participant of the P.F.-scene, namely the heavy metal band AIR WINNERS and its founder/guitarist/vocalist Andreas Zografidis – a great guitar player who in addition to his work with AIR WINNERS and its follow-up band ZERO HOUR also contributed his talents to ON THORNS I LAY and SIDE EFFECTS, as well as releasing music through his solo project ANDY.

  Greetings Andreas and thanks for accepting this interview request. Since background information on AIR WINNERS is rather scarce, how about we begin with some basic (and hopefully not too boring) questions: When did AIR WINNERS form and who were the original members of the group?
The very first idea of the group started around 87- 88. We were only two members, me on guitar and Mike Bakoulas on vocals. I had only one song and he had the lyrics for a song called "Bad Words" (or "Bad Worlds"? – I'm not sure...). He was good at English and I wasn't, so he took over lyrics and vocals. The song later became "Air Winners". He also played some guitar, but soon we found the drummer Panagiotis Efremidis and Mike Bakoulas on bass, because we wanted a full band. So, that's how the first line up came about. Mike had problems with singing and playing, so I eventually took over singing even though he had a better voice than mine.
Our first live was a funny one. It was only me on guitar and Mike singing in front of some kids that didn't have any idea of what we were doing. The second one (and first real one) was with Panagiotis on drums at a boy scout party – three songs and one cover.
A second guitar player was on the table, we tried Telis Ioannidis (the first bass player in my later band ZERO HOUR), Tasos Tasopoulos and Manos Mihmidis, but they couldn't fit in. Vasilis Probonas was the first "real" guitar player we had in and we also had a live performance with him. He helped us a lot, but he didn't want to be permanent member. Christian Claassen was the next, he had a great personality and even though he was a bit older than he was one with us. He was a classic guitar player and he used his nails when he was playing instead of a pick, that made him special.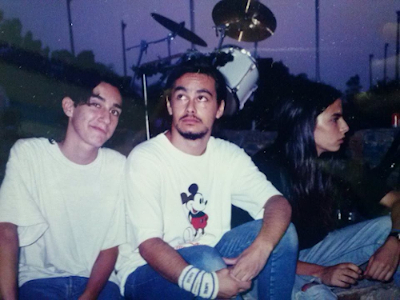 A lot of tension between the drummer and the bass guitar player (Panagiotis and Mike) led to a lot of fights in the rehearsals, so Cristian left the group because he was tired of seeing kids fighting, haha! The third and the best guitar player we had was Achilles Kallergis – great player I learned a lot from him and still respect the guy. Efremidis (the drummer) threatened to leave the band if I didn't ask Mike to leave, and so I did. That was a big mistake, because even though the new bass player Dimitris Tsirigotis was OK, he wasn't Mike, my best friend. It was with this line-up we recorded our demo. After a while Dimitris also quit, and we took in Elias Fahidis on bass and that was the last line up of AIR WINNERS. Elias was a great bass player and friends with Achilles, the two of them were great... But a bad live performance from our drummer made him admit that he could not play anymore. At that point Achilles and Elias told me that they also had problems with me, and that was the end of that period. Then the transition of AIR WINNERS into ZERO HOUR started.
To anymore sum up:
Vocals: Mike Bacoulas, Andreas Zografidis
Guitar: Andreas Zografidis, Telis Ioannidis, Tasos Tasopoulos, Manos Mihmidis, Vasilis Probonas, Christian Claassen, Achilles Kallergis
Drums: Panagiotis Efremidis
Bass guitar: Mike Bacoulas, Dimitris Tsirigotis, Elias Fahidis
This was a lot of information, I'm sorry but I couldn't stop my thoughts. I really squeezed my mind to remember, so that was the result!
What inspired you to play heavy metal? Did you have any particular influences?
My friend Mike (Bacoulas, our first bass player) turned me onto heavy metal. He had everything from hard rock and NWOBHM to thrash. DEF LEPPARD, IRON MAIDEN and METALLICA were the deal for me – the wake-up call. So, their music made me want to do that too... My visual influence was Dave Mustaine from MEGADETH and my sound influence was Dave Murray from IRON MAIDEN. Later I got really into prog, so I changed a lot. FATES WARNING, QUEENSRŸCHE, KING DIAMOND and DREAM THEATER were my favorite bands that also inspired me a lot.

Nowadays I love OPETH and guitar heroes like Paul Gilbert and Guthrie Govan. Especially gilbert makes me want to play music, and smile.
 According to the background info available on Metal-Archives, your post-AIR WINNERS group ZERO HOUR re-used some of the old A.W.-material. How would you describe ZERO HOUR's music in relation to your previous band?  
There's a great story behind this. When our drummer left, the guitar player and bass player also quit, so I started looking for a drummer. For a while I was singing in a band JUDGEMENT DAY, but I wasn't happy. I still wanted to be a guitar player who also sings. My then girlfriend, Maria (from black metal band ASTARTE) introduced me to a guy named Kostas Farmakis from a doom band called SORROWS PATH [also in BRAINFADE, ed.] With him, I had only one rehearsal, a song that we never played whole with AIR WINNERS. Kostas added double bass drum to the song and gave me a different perspective of how I imagined it, due to the limitations of the previous players. That period I was also starting to discover in depth FATES WARNING and DREAM THEATER, so he gave me that push to change and start looking for players (drummers) that could follow that style. That song was "Silent Eyes". The funniest thing is that the lyrics of that song was about a girl that I met on a rock club, who seemed to be perfect and turned out to be a b#@&. Funny, because that girl was a friend of Kostas Farmakis, and I didn't know it. Small world!

Zero Hour for me was a big step, we changed from heavy to prog and that challenged me a lot – both as a singer and as a guitar player. And I was so lucky to play with great people and players.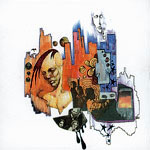 It's interesting how you evolved musically during that time, for example on songs like "Silent Eyes" and "Man of the Rain". As for ZERO HOUR's 1999 EP "1976", how did you find the cover art for this CD?
A friend of mine called Andreas Kasapis, who was in the school of Fine Art did it. I think that was his first year at school. We met and I asked him if he had any work to show me and that was one of them. He took no money, and when he saw that on a cover he said "oh man I wish I'd given you something better!"
Is there any meaning behind the name AIR WINNERS? For some reason (perhaps obvious) it immediately makes me think of classic HM-paeans to aviary activities, such as IRON MAIDEN's "Aces High" or SAXON's "747 (Strangers in the Night)".
There are two stories behind it, the true one and the fake one. The fake is about a thing that really happened in world War 2. There was an English pilot who won a lot of air battles, and when he came down every one shouted "the air winner, the air winner!". The true story is that back then I loved ANTHRAX and especially the song "A. I. R.". I asked Mike Bacoulas, if he could consider using it as our name, and he said no! So, I tried to make something that he would find agreeable and came up with AIR, but he didn't like that either because AIR was associated with Nike, I think. Then I came up with a lot of words that could work with AIR, and WINNERS was the one that made it. And I always had the first story as a backup…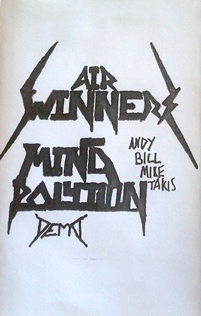 In 1994, you released "Mind Pollution" – a three-track demo tape. Especially the mini-epic "Find Yourself" with its multi-part structure appeals to me. Did you ever release any other material? There's an eponymous song on YouTube which sounds like it might've been taken from a rehearsal session. It's a bit more rhythmically intense than the demo songs.
We had only one demo, but we had a lot of recorded rehearsals. We had a rule, the guy who paid for the cassette owns the recording, haha! I have some, the drummer has some, the bass player has some, and maybe some close friends got them too, so either of them may put it on the net. We had eight songs in total, of which two were ballads, but very childish ones. "Goodbye Cliff" was a song about the late Cliff Burton, and the other was called "Pain of Life". Those two, "Air Winners" and "Mind Pollution" were our first songs, but as soon as we got new ones – better ones – we kind of let them go.

You already know "Cry of war" and "Find Yourself" from the demo, but then there were additional songs like "Hot Like Fire" and my personal favorite "White Shadow". There was also an instrumental, "Cry of War Part 2: The Old Cemetery". But we never played it, and I never finished it, there were just some basic ideas like riffs and stuff.
Many metal fans are very concerned about categorizing their favorite form of music. How would you describe the AIR WINNERS- and ZERO HOUR-"sound"?
I think AIR WINNERS was heavy metal with some speed elements. In the beginning everything was faster, so it had that thrash vibe but mostly heavy metal. ZERO HOUR was closer to progressive metal, with elements of FATES WARNING and QUEENSRŸCHE.
Let's speak a few words about the Greek metal scene of yore. My impression is that there existed quite a lot of traditional metal bands in Athens during the early 1990s, especially compared to other countries where other forms of metal gained in popularity. Were you in contact with any other bands back then and how was the general "climate"? Was there a divide between classic metal fans and the death/black-crowd?
In the late 1980s metal started to get bigger and bigger, but in Greece everything was little late and also confused... Metal guys went also to football games and metal was as important as their team. In the early 1990s kids started to separate the two activities, so they were kids who liked football, kids who loved music and some that still couldn't separate them. The magazines also played an important part, we had "Pop and Rock Magazine" and "Heavy Metal Magazine", that later become "Heavy Metal & Metal Hammer", that was one magazine. So, the guys who loved metal started to love all different types of the genre: thrash, death, prog. But classic metal was the biggest thing, because the old guys used to keep it as the pure one. That was the main reason you could find a lot of traditional metal bands in Greece.

As for other bands, we had the local bands, school bands mostly, some of them were thrash (MYSTIFIED, OXBLOOD) some punk rock and some pure punk with Greek lyrics. As we got a little older and played some festivals where we met a lot of other bands, but never become close friends with them. Firstly because of the distance and secondly because there was no internet to keep in touch, telephones never helped. There were always that competition between everybody and usually there were different kinds of bands in the same festival. We didn't hate each other like METALLICA hated MÖTLEY CRÜE back in the days, but we always said things like "this is not metal enough", or the death metal guys thought we were pussies, you know, haha. But nothing really bad was happening in the underground in that regard.

On the other side, I remember going out to rock clubs and there you had the black metal guys hanging out altogether, the metal guys, and the punk guys. Some fights there, but mostly in the early days and always metal vs punk. The black metal guys were always cool in their corner…
Let's fast-forward to the present time. Are any of you guys still active in the musical field? And (more importantly, ha!) are you still listening to heavy metal?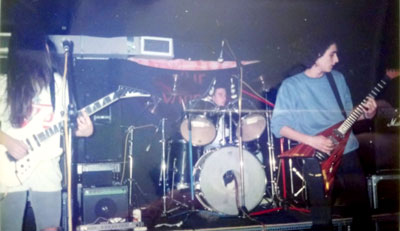 My favorite line up in AIR WINNERS was me on guitars/vocals, Achilles Kallergis on guitars, Mike Bacoulas on bass and Panagiotis Efremidis on drums. Achilles lives in the USA now and we've met a couple of times when he visits his parents. He's not into metal at all these days, but he plays jazz and is very good player who jams often. He loves his past though and still respects metal players. Mike Bacoulas is the main reason I started listening to and playing metal. He still plays bass and he's made three records with the thrash band CONVIXION and he still plays with them and in two other bands, maybe three. He still loves NWOBHM. Panagiotis Efremidis still loves metal too, mostly classic American bands like WASP, LIZZY BORDEN, you name it. I think he plays some drums still, but I'm not sure, we don't speak anymore. He always hates someone, and now I think it's my turn, haha!
And then you got me… In 1998 I made the ZERO HOUR record, then in 2000 I was with ON THORNS I LAY and we played a couple of shows with DREAM THEATER, SEPTIC FLESH, TIAMAT and IN FLAMES. Then in 2013 I made an alternative record under the name ANDY, called "Looking for Something" that had a ZERO HOUR song that was never played with them. And recently (a year ago) I made a record with the band SIDE EFFECTS called "Expedition". I'm not in the band anymore though, because I had issues with the singer (I was just the guitar player)...
In the 1990s I loved bands like ALICE IN CHAINS, RAGE AGAINST THE MACHINE, FAITH NO MORE, FOO FIGHTERS, etc. I started listening to all kinds of music, from DIDO to MADNESS, SADE, ANOUK. The 2000s found me loving SLIPKNOT and all kind of things and now I think I'm getting back to my roots. I love OPETH, FATES WARNING, DREAM THEATER, IRON MAIDEN, JUDAS PRIEST, OZZY OSBORNE, METALLICA, KREATOR, SLAYER, DEATH, DEATH ANGEL, SAVATAGE, KING DIAMOND, MOTÖRHEAD, ALICE COOPER, ANNIHILATOR… So, as I'm getting old, I just love things with lot of distortion!
I still play guitar every day, and I'm still looking for a drummer to start ZERO HOUR again.
Many thanks for investing time and effort in this interview, Andreas. You are free to finish off this interview in whatever way you want!
Thank you, my friend. I hope you got all the info you needed. Music is a gift to humanity, because we can communicate and express ourselves, with our words in the middle…