Strike Force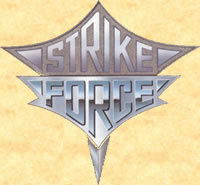 Strike Force was founded in 1982 by drummer Pete Paillé, bassist Mario LeBlanc and myself on guitar. Originally a power trio called Toyz, we added keyboard/rhythm guitarist Mike Pitre in early '83 to fill out our sound. We played covers in bars and clubs throughout the province of Quebec, travelling in our own school bus/equipment truck. I wish I had pictures of that Death Machine from Hell! We played anywhere they would have us, and got better and better. Mario and I started writing together, and "Step over the line" was our first collaboration. We recorded a demo of that song straight from the mixing board, one afternoon at a club called the Don-Lyn in Paspebiac, a small fishing village in the Gaspe area. The owners were great, and would let us rehearse and play pretty much whenever we wanted. That demo got us a record deal with Globe Records. We also gave a cassette copy to a guy at the local radio station, and that thing played so often everybody knew the lyrics!
So we pretty much toured all the time, going from town to town and writing more songs. We got a call from Pete's parents (who were working very hard for us as counsel/managers/advisers) saying that our demo had been given to renowned Quebec producer Ben Kaye, and that he wanted to meet us and see us live. So we scrambled back to Montreal and got a booking in a local club. Pete's parents were there, and had invited Ben along with our lawyer and his underage son. Sure enough, 20 minutes into our set, the police raided the place, stopped the show and took every underage peson into custody. Lucky for him, his lawyer was present! We were devastated, because we thought that we had blown our big chance. Turns out it was a "bonding" experience for both father and son, and they had fun! Anyway, the producer liked us, requested more original material, and we went back to writing for a few weeks.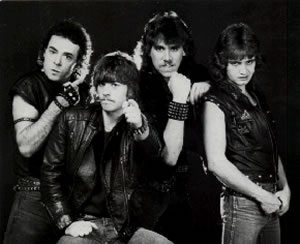 Once we had enough material, we went to Detroit, Michigan to record, in what was once the original Motown Studios. The sessions were held in early October of '83, around my 22nd birthday. The studio itself was smack in the middle of the black section of town. Imagine 4 young very white kids from Montreal, French-speaking, making their way through Detroit. We were scared shitless! But the sessions were tough. In at noon, out at midnight for 10 days. We were ready. We had rehearsed every arrangement, every vocal, every part, and we were also a great live band, so we were every tight. That was a great recording experience. I was the only one who had recorded in a studio before, and we were all pretty shy with the engineers and the people present, who were all seasoned veterans of the music industry. But we did our thing, and layed down the tracks pretty much the way we intended. The final mix, though, was disappointing to us. It was done back in Montreal, and we weren't allowed in the studio to oversee it. To this day, I still wish I'd put up a bigger fight about it. There are so many things that we felt were missing, things we could have improved upon, etc. But that's the way it went.
Anyways, we still had to make a living, so we hit the road as soon as we got back from the States. We got a call one day saying that there was a problem with the name. An american band from the 50s was still using the name Toyz, so we had to find another, and quick, because the album was coming out. So we racked our brains, asked everybody we knew for suggestions, we held contests at the clubs where we played. "Name this band, and win a bottle of champagne!"... We settled on Strike Force because we liked the feel of it, and also because bands were coming out with strong names, like Power Station. So we played our asses off for months on end, and Pete's condition was getting worse. Pete had been diagnosed with leukemia at 17, and he'd battled it when I met him in 82. I was in another band then, and decided to work with him and Mario as soon as he got out of the hospital. So it's 1983, and he's going back in for chemotherapy. He'd been playing with a wig on for a while, because the treatment had made him lose his hair, but he was strong as an ox, and VERY dedicated. But the illness was coming back, and it was getting tougher on him to keep touring. Pete and I shared hotel rooms on the road, and we had many talks about how he felt. Listen to the song "No good at all" on the album, I wrote that one about him, based on those talks. He loved life, enjoyed playing drums, and looooooved women :-) He hated wasting time, arguing, and doing nothing. But he still had to go back in the hospital for more treatment.
So he suggested we hire a friend of his, a drummer from the same town, to replace him while he was recuperating. Sylvain Latendresse came aboard in July of '84, and we went back out on tour. By that time, the album wasn't going anywhere, the record company wasn't doing anything to promote it, and we were getting restless. I had decided to get married on September 22nd, much to the dismay of my bandmates. Pete was going to be my best man. Unfortunately, he passed away a few days before, from pneumonia and complications brought on by the leukemia. We were playing 300 miles away when we heard the tragic news. Pete had come to see us play the previous weekend, and had even come on stage to play on a song. It would be the last time we would play together, and the last time we saw him alive. My wedding was still happening, but my heart was broken. Pete was buried the same day and the same time as I was getting married, so I couldn't attend his funeral. I still miss him. His mother gave me a pair of his drum sticks. They've been in a drawer by my bedside for the last 17 years.
So the replacement drummer became a full-time member, and the atmosphere was getting nasty. The road is tough, but the scene in '84 was tough on bands. Bars and clubs dropped the rates they were paying bands, and newer bands with little or no experience came out and cut their rates even more... We had full-time staffers and expenses, and had a hard time making ends meet. Tensions were building within the band as well. Mario and Mike wanted to play a heavier style of music, I wanted to maintain our poppish style. I got fed up and quit that winter. The guys kept going for about a year more, before calling it quits.
Fast-forward to the present. Of the surviving members, only Mike Pitre kept working in the business full-time. He played a one-man show in small bars and taverns, playing with sequences and tapes. Mario went to work into the maintenance business. Drummer Sylvain works for the City. As for me, I went into management and marketing, and got into multimedia in 92. I now have a Web application company in Montreal. Did I mention I have 3 daughters? I got back into music since 97, playing with local bands, playing anything from rock to swing to pop to country to jazz. I've started recording a solo album this year, and it sounds nothing like Strike Force :-)
I've travelled all over the world on business, and I often bring my beat-up old Strat with me.
But you know what? I still miss travelling with a band...
Play on, brothers.
Romy Bélanger, 2001
All words, images & Logos by courtesy of Romy Bélanger.