Thunder Rider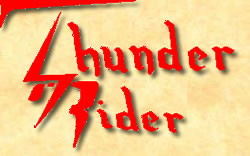 All the underground fans of Medieval Epic Metal, have probably already heard about this fantastic bands from Canadian lands. Their album "Tales Of Darkness And Light - Part II" is still hot, so I decided to ask few questions to John Blackwing...
A mighty hail to thee, John! Tell me please about the latest news from the land of Thunder Riders!
We are very pleased to be receiving critical acclaim for our latest album "Tales Of Darkness & Light Chapter II" from all over the world.
Your last release "Tales Of Darkness & Light Chapter II" was released in 2002, so 2 years ago... What were you guys doing since then?
Thunder Rider has been somewhat dormant so to speak, the calm before the storm; that is to say that we haven? t been touring or playing at all. We have chosen to focus on recording instead.
Can we expect a new opus coming soon?
We have actually already begun recording for Chapter III. The recording of our third album was started near the end of the recording of Chapter II. We have recorded "Dark Sky", "Operation Overlord", "Lake of Fire" and "Bomb".
The last album was released by you, not a label. Why?
This is a question that we have been asking ourselves for a long time. I think we have chosen the path of an independent project purely out of the need to express ourselves. We have yet to be approached by any record company. Maybe this is a good thing because I seriously doubt that they would have given us the budget to produce Chapter II the way we wanted.
No serious labels showed interest in this one?
Not yet, but we're hoping.
I know that really a lot of people and musicians were involved in recording session of the second part of "The Tales...". Which of them are stable members of Thunder Rider line-up?
The stable line up includes John Blackwing, Pat Hammer and Bruce Corian.
You recorded it with students and professors of the Music University, that's really unusual thing on the Metal scene - can you say few more words about the recording process?
As I mentioned earlier, our need to express ourselves is important, so we just had to record. We had absolutely no budget and we had heard about Musitechnic, which is a sound engineering school that regularly requires bands to serve in projects for the students to practice their skills. So in volunteering our services and paying the cost of the 2 tapes we were able to finally start recording Chapter II. The only downside to the process was due to the recording schedule of recording only on the weekends, it took us three months to record each song. This included many miking exercises and a couple of accidentally erased performances?and a great time was had by all. It was great for Thunder Rider to be involved in forming the next generation of sound engineers.
How were the tracks created?
We recorded all the tracks at Tempo Studio who plays host to the Musitechnic recording program. We recorded on twenty-four track analogue and then transferred the tracks to computer to proceed with the final mixing process.
I guess it's not so easy to wrok with so many different people the same time...?
Everybody involved with Thunder Rider is great fun to work with. I couldn't think of a better bunch of musicians.
You guys play epic heroic Metal that strongly reminds me to Warlord and Manilla Road - will you agree with me?
Many people have compared us to these bands. I am truly sorry to say that I have only recently discovered Manilla Road through listening to some MP3 samples on a website. I do hear some similarities. As for Warlord, I have yet to hear them so I couldn't tell you if I agree with you.
So how would you describe your style?
We are not quite sure how to describe our style so we prefer to let our fans decide for themselves. We have been described in many ways; In Germany they call us 80's style or True Metal, in Greece they call us Mighty Epic Metal, in the US and Canada, they call us Gothic Metal and we have even been called Christian or White Metal. These are only a few of the descriptions we have had.
Your debut album is almost impossible to find these days, but as I see it's advertised in the booklet of the current release... Are you planning to do re-release?
Our first CD has been available through us and a couple of distributors in Germany for quite a while. It is only recently that we have sold out of our first pressing and we do plan to press more in the fall. Distributors in Germany still have a few CDs left.
There was 12 years of silence between your first and second album...Why?
Thunder Rider has been around for a long time, we have attempted to survive through some line-up changes and life's general interruptions. It's not easy to keep an independent project together for all these years. But I would say that the biggest factor in this equation is Money! Sometimes it's great to be independent and other times, like when it's time to pay for everything, it's not so great.
How do you think: if you would be active during that time, what status would now Thunder Rider have?
Wow! That's a good question. We have been active over all these years but not in a touring sense, but more on project level. I really don't know where we would be right now. If I give in to my imagination, we would at least be making a living from making music and touring.
Is Thunder Rider your only band? Did you play somewhere before?
Presently, Thunder Rider is my only band. I have played in Thunder Rider for as long as I can remember except for a brief stint in Bruce Corian's cover band. With Thunder Rider I have played around Quebec and also in Italy.
Did you ever record any demo or live tracks?
Actually our first album is an album/demo compilation so nothing aside from that has been released.
How does it look situation with your live shows?
Well, invite us over to play and you will see for yourselves.
I know you guys have a lot of great merchandise stuff for sale, few words about it?
We have sweatshirts, pins, caps and stickers. I also have a line of Blackwing handmade sterling silver Thunder Rider jewellery that I make and sell: earrings, pendants, rings, pins etc. We will soon make new t-shirts.
Thank you for a great talk, it was a great pleasure to me! Last words are yours my friend!
First of all, I would like to thank you Bart for all your help and for your genuine faith in Thunder Rider. It is because of people like you that Thunder Rider has survived all these years. I must also thank everyone who has taken the time to listen to the MP3 samples we have on our web site and moreover have decided to purchase our music after listening to the samples. We fully understand the important role you play in our lives and we thank you for letting us be part of the sound track of your lives. I know how it feels to listen to music that really moves me and I know how great it feels to hear a song and have it remind me of a special time, place or person. I invite you all to visit our website www.thunderrider.com and send us an e-mail of your stories about the first time you heard Thunder Rider and what your impressions were, or just to let us know that you're out there. Take care and Keep The Faith.
Interview done by Bart Gabriel in July 2004.