Thatcher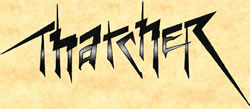 The name Thatcher is guaranteed to cause a spark with metal collectors. This 1000 copies EP is simply a masterpiece of 80s US Metal with a difference. Here is an interview I did with Greg Trombo, bass player and soul of the band. All those who have headbanged, are headbanging and will headbang to killer tunes like "Robbed of My Childhood" and "Witch's Sin", please enjoy. Best thing is we might not have heard the last of this band yet!
Please give me a short bio of the band: Where and when did you all meet each other and decide to form a band?
We met each other through the long and arduous process of finding the best talent locally with the same objective in mind, to rock hard and make a statement. The band went through many members, contrived through 4 basic phases of development
lame cover band
good cover band
great original band
misdirected original band
As far as the band on the EP is concerned (which are the long term members, mostly) I went to school with Brian Rawlings. Bob Rossi was a total rocker. You know who rocks and who doesn't without words. It's kind of a directive that speaks through you without verbal interaction. Bob and I were like that. Scott Sienkiewicz was simply the best drummer with the most gear. Thatcher had existed as a cover band before Brian, Bob and Scott, but honestly, they made Thatcher.
Were there any demos with unreleased songs before you put out the "Destined To Conquer" EP? If so, how many are there and can you give us a list? Did you do any covers? If so which ones?
"Destined to Conquer" was a local release that got international attention. We don't know how. It just became popular. We intended it as a gift to the fans that saw us through. The release was limited. We shopped the EP and other demo material subsequent to the EP for major label attention. Nothing was written by Thatcher as a band before it.
What were the influences of the band and what bands did you enjoy to listen to in the early 80s?
Our influences were Judas Priest, Iron Maiden, Def Leppard, Scorpions, Raven, Accept, Krokus, Ozzy, Black Sabbath, Dio, Rainbow.
Did you play any gigs before the release of the EP? With what bands? Were they fun? Any crazy incidents worth sharing with us during those gigs?
We played mostly parties before the EP. We did a skating rink gig to about 650 people. We typically ran the show, tickets, promo, passes, everything. We never really had an opener. The first gig we played was at an outside party. We had constructed the stage out of plywood. As the sun set the humidity rose and the stage became really slick. As usual, I ran out at the first power chord of the first song and, with no traction at all, sailed right off the edge of the stage into the crowd. I didn't miss a note, I just climbed back up and kept playing! My white BC Rich Warlock bass (back when they were neck-though) was stolen at that gig, too. It was $1500 back then! Still have the key to the case and I am still looking for it (I marked it). I was constantly wreaking technical havoc on stage. Knocked over cymbal stands numerous times. Backed up to my amp and bent the guitarist's cable out of the jack, which still stuck in his amp. Once I turned around with my bass on and wiped out a whole bar's worth of drinks! I could go on...
In 1985 you released the "Destined to Conquer" EP. Please give us some info! Did you release and finance this yourselves? Was "Fahrenheit" Records your own Label really? How many copies was it pressed on and in what ways did you distribute it?
"Destined to Conquer" was our own release. "Fahrenheit" was our label. I think we did 1000 copies. We distributed a few locally and a few to global companies as promos. I'm told it's a collectors item.
Did the release of this EP release any further interest in the band? What did you do to promote it? Any interviews with zines or any promo tours? Please mention what you remember.
After the EP we had 2 trips to New York, 1 trip to LA and a lot of interest. We were so involved in making sure the next thing impressed everyone that the leads began to run cold. Thus no major promo tour. We really didn't expect the response we received. We did a couple cable access interviews and a radio interview at a college station.
The music of the EP is varied ,but absolutely great! Everything is simply perfect heavy metal, with the bass and guitar creating perfect riffs and leads,while the voice of Brian Rawlings adds a further dimension to the songs. What inspired you to write such godly Heavy Metal music? How do you feel people still enjoy the music of Thatcher after 17 years?
When I went to my first metal concert, I knew that was the vehicle for my message. When I close my eyes and see the colors in my mind and the power and the swirling mixture of fury and solitude, I want to convey that in the best way I can. Music, any music that's not dumbed down for the masses, can make that picture occur. I want to say I evoke inspiration. This type of music can do that. I feel rewarded, almost blessed, that people still enjoy Thatcher. It's the best thing in the world to give someone your creation and have them continue to enjoy it. It's the making of a legacy.
Was the release of the EP followed by any tours or any general means of promotion?
We did a few major shows, opening for DiAnnos Battlezone and Savatage. Our major concentration was creating more originals.
When did Thatcher split up and what were the reasons for this? Has the band reformed in any way since and have any members kept contact between them? What did each band member do after this, if anything, in music terms?
Always look forward to this question - Thatcher became too diverse in direction. We really were growing apart and the industry in 1989 was not that rosy for metal bands. There were many variations going around and no one could decide on the best new type of band. Suddenly, it was all Pearl Jam and Nirvana and the ultra theatrical mega show became "unplugged". I do not know what happened to Brian. Scott still plays a little. He lives in one of the Carolinas, I think. Bob joined a couple of bands afterward. Damien Black and eventually Crimson Glory (right before they broke up). I am writing soundtracks for CD ROMs and web stuff. I have rejoined with Mark Gordon, who came into the band shortly after the EP was produced. We are collaborating on new originals. I'll keep you posted.
Does Thatcher have any unreleased demo songs or a second LP that never got released? If so, give us some info about the music style of the songs, how many they were etc.
Thatcher has about 8-10 songs that are unreleased demo material. I have received interest to release these as a CD or in vinyl. Thatcher collectively have a high level of integrity to the people who listened to our songs. We wanted the new material to be released right with the right mix and the right production. We felt that this took a major label and global distribution. We never achieved that stage.
The musicianship in Thatcher was simply perfect. From epics like "Esmeralda" to the heavy metal attacks unleashed on "Witches Sin" and "Robbed of my childhood", it looked like the Band could make it big. Why do you believe this never happened? Why did bands like Metallica and Iron Maiden get all the glory, while bands like Thatcher never got more than the status of a cult band?
Firstly, Maiden was a band in '83, and Metallica's first album came out before Thatcher even existed, so they had a bit of a jump on us. We were also based in Florida. Remember this was before Nsync, Backstreet Boys, Matchbox 20, Britney Spears, Seven Mary Three. Orlando was not happening at the time. This, coupled with the fact that we were all perfectionists, gave our live time the back seat to our writing. Also, right after the EP was released we reorganized members and spent a lot of time honing the Thatcher sound. It is my understanding that a metal band without a publicist is a cult band and that's what we were.
From better known bands like Savatage and Crimson Glory, to underground heroes like Iron Cross, Attika, Powersurge, and of course Thatcher!! Florida always had a great Heavy Metal scene. Were you somehow dismayed at the advent of Death Metal? Did this trend affect Thatcher, or had the band already disbanded in the very early 90s?
We already were split up. Rick Razz (original guitarist for the band) joined Death. The funny thing is, I remember playing a church festival with Evil Chuck on guitar as he sat in! Thrash and Death Metal made metal less credible. I had faith in metal as a really cool way to convey a message with power. Thrash and Death Metal, in my opinion wrecked the production value of metal. It was like this group of people really wanting metal to go underground. Because bands like Venom and Mercyful Fate were already around, the music just got categorized there. Even those bands aren't as blatant as Death Metal bands. Thrash and Death Metal is music designed to instigate a convulsion like the force-fed film viewing endured in Clockwork Orange. The Ultraviolence has no redeeming value. I'm not dissing the music, I just wish it wasn't called metal. It should've been called punk.
Thank you very much for this info you shared with us. The music of Thatcher surely lives in the hearts of those that can appreciate 80s heavy metal. Anything I forgot to ask and you think important, you can mention here. Thanks and Hail!
Thatcher had a lot of members, but personally, the people that yelled and screamed and knew the words I wrote, those are my heroes. You make my life credible. You give me purpose. You make me believe, even when I think I've forgotten. I truly thank you for listening. Never surrender your belief in yourselves or your emotions. This will prevail - Greg.
Interview done by Kyriakos Dikalfas in May 2002.