Taist Of Iron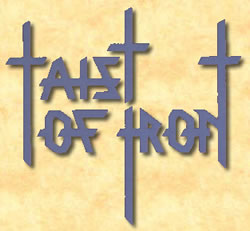 Ladies and gentlemen: Taist Of Iron! Yes, the silence is broken: after more than 15 years we can hear the real story about creators of "Resurrection" - one of the biggests chests of US Heavy Metal. I had the honor to ask my questions to Mark Glable, former member and bass guitarist...
Hi Mark! How's the life going? Still being part of the Metal scene? What you do for a living?
Life is good, I'm glad to be alive, after all I've been through. I'm no longer involved in metal. I am a cabinet maker.
When and why Taist Of Iron actually stopped to exist?
Taist Of Iron crashed and burned in Los Angeles in 1986. We were playing clubs and preparing to release a second album, which is about 90% complete. We were living in a 18 foot box van, which was our home and tour bus. We were selling albums to survive. We were scheduled to play at the Trubador in Hollywood. We cancelled this gig for personal reasons. After that, Lorrainne went back to Tacoma for a short break and Jeff followed soon after. Bill and I took jobs working construction. We intended to get it back together, but it never happened.
Did you play in any other bands before or after Taist Of Iron?
I played in one band before Taist Of Iron, it was called Ruzskullen. Lorrainne was the singer. I, of course, played the bass. After Taist Of Iron, I breifly played with a band called Hawk, with guitarist Doug Marx. On returning to Tacoma, I played in bands called Brigand Raid, Mutiny and Desolation Sound. Deslation Sound has an excellent EP featuring Randy Hanson, the Hendrix impersonator on guitar.
I know it's not much original question, but could you tell me few words about band's biography? When Taist Of Iron was formed and by who? How does looks the line up changes? And why you choosed Taist Of Iron (Taste Of Iron...?) as a band's name?
Taist Of Iron was formed in 1982 by Wylum Pearson. Wylum was the singer in a band called Allexis. He was well know for his Bon Scott-like vocals. Bill leased a local hall (Midland Hall) and put on metal shows featuring local bands. His intention was to recrute the best players from those bands to form Taist Of Iron. After seeing Lorrainne Gill perform in Ruzskullen, he decided to put down the micrphone and concentrate on the guitar - let Lorraine do the singing. The original line up was Lorrianne, Wylum, Mark Glabe, Jeffy Massey and Mark Bachi. Mark Bachi was let go after about a year. He played guitar, he missed a couple of practices and we realized he didn't add anything to the band. This was a good move. Other than that, the original line up never changed. Wylum came up with the name. It just seems to fit.
I know your fantastic LP "Resurrection". How do you like it after so many years?
Listening to "Resurrecton" still gets my blood pumping.
How did you find a label back then, was it hard to release it?
Iron Records was our own label. Yes, it was hard and it cost a lot of money.
Did you promote "Resurrection" on concerts? With whom did you play?
We did shows to promote the album. We also shopped it to labels, when we went to Hollywood. We had some developmental types of offers, but Bill (Wylum) expected a lot more, feeling that we had already done the work. That is really a shame because our second album was better and it probably would have taken 3 albums for us to reach our pinacle.
Did you ever record any demos or live material, not included on "Resurrection"?
We recorded an EP called "Metal Beast". It had 4 songs: "Metal Beast" "We Give Life", "The Gates" and a fast version of "Ouiji". There were also live recordings.
What do you think, where could you be now, if Taist Of Iron hadn't stopped to exist?
That question has haunted me for years. I've always felt we were one of the best bands at the time. But you have to keep it going.
Back then there were only few major Heavy Metal bands with female vocalists, do you think it could be the factor that made you different?
Having a female vocalist did set us apart. The thing that really caught people off guard was that Lorrainne sounded like a man. When people saw her, there was a moment of shock.
What bands inspired you back then, and what stuff you listened to lately?
I like Scorpions - before they wrote love songs - basically from "Love Drive" back to the beginning of that band. I think Accept was an incredible band, I really like the song "Fast As A Shark". Taist of Iron was influenced by Iron Maiden and Ozzy Osbourne. Wylum was into Randy Rhoads. The introduction to "Are you Here or Are You There - M.O.R.R." stands for Memory of Randy Rhoads.
Do you know other female fronted Heavy Metal bands of the 80's, like Hellion, Acid, Stos, Warlock, Sacred Child or Sentinel Beast? What do you think about them?
One female fronted band that I think is good is The Headpins.
Do you know that currently is kind of cult band between Heavy Metal collectors around the world? Do you think there would be a chance for reunion? Are you in touch with other band members?
A reunion is possible. I am definitely for it. We just recently located Bill (Wylum) and I've stayed in touch with Lorrainne and Jeff, over the years.
I know some of the band members were... a family. Any details?
My sister, Julie, and Jeff Massey have a son. They lived together for a short time, after the band broke up. They have no contact with each other any more. Their son's name is Ian and he is 18.
Did you know that "Resurrection" is one of the most wanted collectors' Metal albums of the 80's? There was even bootleg CD version released some time ago...
I didn't know that it is one of the most wanted Collector's Metal albums or that there was a bootleg CD!
Do you keep in your collection any old band related materials? I don't know, flyers, posters and so on?
My collection was completely lost, recently in a very unfortunate event. However I think I can put togeher a few things for you.
Was there any official merchandise stuff of Taist Of Iron produced?
No.
That's all I wanted to ask for, it was great pleasure for me to ask you these questions. Tell me please, how long ago you answered the last interview regarding Taist Of Iron?
The last interview I had about the band was 17 years ago...
Interview done by Bart Gabriel in June 2004.