Salem's Wych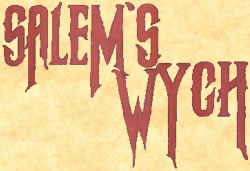 The very rare LP "Betrayer Of Kings" by Salem's Wych is one the most famous collector items and quite on every wantlist or collection list. Salem's Wych played raw powerful heavy metal and released with their only LP a real obscure metal masterpiece. Crushing metal hymns like "Betrayer of Kings", "Attack", "Fight till the end" or "Never Ending Battle" and a great fantasy coverartwork made this LP a dream for every metal maniac and collector. It was a big pleasure and honour for me to make this interview with Mark Gast, guitar player and main songwriter of Salem's Wych. The band is back now and will release a CD with new material very soon !! Til then, enjoy this interview and worship "Betrayer of Kings"!
Hello Mark, thank you very much for the opportunity to make this interview with you. Salem's Wych are a cult act here in Europe, so how does it feel to be a living cult and kind of legend far away in Europe?
It is a surprise, but a very good surprise. We get a lot of e-mails and letters from people all over Europe asking about the band and the new album, as well as from Japan, the U.S., Canada, Mexico, El Salvador and Brazil. We get letters from bands saying that we influenced them and even a few guitar players who say they have started to play guitar because of hearing me play. It is great to know that something you have done has touched people in some way and we can all connect even thousands of miles apart on a music level.
I have in my collection also a CD bootleg of your "Betrayer of Kings" album released on "Classic Metal Series" (very low budget, they didn't even make a booklet). Do you know something about that release?
No, I do not know about this one. I hear rumor's all the time about a bootleg of this or that, but usually no one has actually got a copy of it.
Now a question that I asked myself immediately when I first came in touch with your band. Why do you write Salem's WYCH and not Salem's WITCH?
I came up with that in High School. They had a hat filled with events in American History and I drew out the name Salem's Witch Trials. During my research for my assignment, I found that on some of the documents of that time witch had been spelled several ways.. witch, wytch, wych. I also learned that men as well as women were tried and punished as witches and in the end it was not that any of the persecuted were witches at all, but innocent people accused by others of being something they were not. I think I felt that I was being judged by others in much the same manner because of what I listened too, having long hair and the heavy metal lifestyle. I though Salem's Wych...what a cool name and cool spelling. That was it really. It ment to me that I was more than what people thought they saw...
Can you tell me something about the beginnigs of Salem's Wych?
I came up with about six of the songs off of "Betrayer of Kings" in High School. When I went to college I met a guy Randy Tucker and Dave Espic who introduced me to Bill Neff. We all played together and had a singer named Philo. Philo, Dave and Randy went to form a cover band and we got Keith Jann and Cort Hullinger. We looked for a singer for a year and then Cort left the band to get married. Cort was replaced by Tom and then we recorded the "Betrayer of Kings" album. We were looking for a singer and I heard Ron Johnson at a party, so we asked him to join. He came in and learned the songs and sang them. From there we worked at being the Salem's Wych everyone grew to know.
Can you tell us something about the band Atlantis? I heard that Atlantis and Salem's Wych were good friends, that you were in the same studio (I saw this on the back of my LP) and that you mixed their LP "Straight Through The Heart"?
I know Tim (I hope I don't butcher his name) Leshinete, he is a good guy. Ron Johnson was playing in a cover band with him prior to Salem's Wych.. they did stuff like Sammy Hagar stuff and Loverboy stuff...way lighter stuff than Salem's Wych. Both bands tracked at my cousins studio(John Zilke) and John played on Tim's album. Also my fiend Mark Anderson played drums with him on the album. They were more of a project band. I had nothing to do with mixing Tim's album. John Zilke and Tim did all of it as far as I know.
With "Betrayer of Kings", you wrote a real metal hymn that still blows away many "big" bands in the metal scene. Was it difficult to write this masterpiece and do you still like your old songs?
Thank You, I am glad you like it. I wrote "Betrayer of Kings" in about an hour.. it just came to me. I wrote it one night in my bedroom after comming home from a Dio show... Maybe I need to go see Dio more often. No really "Betrayer of Kings" is still one of my favorite songs I ever wrote. I still am very proud of all the songs I wrote for the "Betrayer of Kings" album and I look forward to playing a few of them on the tour. Don't worry "Betrayer of Kings" is in there.
How did you learn guitar playing and who where your idols?
I actually taught myself. I always had guitars around since I was like 2 years old.. I think there is a picture of every year of my life with me with a guitar.. and the funny thing is no one else in my family even played a guitar. My mom says that whenever she asked me when I was little if what I wanted to be when I grew up I would just say I want to play guitar in a rock band. I tried to take lessons when I was around 9 years old, but my guitar teacher gave my mom her money back after two lessons and said I had no musical talent.. I just wanted to play Kiss tunes not Mary Had A Little Lamb that's all. I went out and got some chord books and a Kiss song book and played till I had it down. As far as my influences I would say Michael Schenker, Ace Frehley, Ritchie Blackmore, Eddie Van Halen, Toni Iommi, Angus Young, Fast Eddie Clark, Randy Rhodes, Glen Tipton, K.K. Downing, Dave Murry, Adrien Smith, B.B. King, David Gilmore and Yngwie Malmsteen.
Are you aware that you still have many Salem's Wych fans here in Europe?
Yes!! The fans in Europe are great. We get a lot of e-mails and letters from people all over Europe telling us that they want us to play there live and just great overall support.I look forward to playing there.
What about the lyrics on "Betrayer of Kings", who wrote them and which was your messages?
I wrote all of the songs music and lyrics for "Betrayer of Kings", as well as the new album "Through All Eternity" "Betrayer of Kings" is a song of all times. It is a song of greed and betrayal. It is a song that shows how deep greed and money or gold in this instance, can skew your view on even those you honor or dedicate your lives too, to bring you to the point of sacrificing all you believe and value. It is a wake up call to see things for what they really are. The world turns on vengence and greed and ideals, friendship and morals are sacrificed in the name of cash and power..think of what you are doing... it was able to bring down a kingdom.. think of what it can do to a single life. It is a war that will wage in each mans heart.
I really like the coverartwork of "Betrayer Of Kings", it fits perfect to the music. I think that a good metalartwork has to include Castles, Dragons, Witches, Swords, Axes, Warriors or Beasts etc. What do you think about that? And was the coverartwork the only one you had or did you choose from different artworks?
I am glad to hear that you liked the art work. I have heard it called from midevil to childish to fantasy. It is what it is. I think it fit where we were at in that place and time. I am into castles and dragons but to me heavy metal is defiance to the mainstream. I like all kinds of metal covers from Metallica's "Master of Puppets" to Grim Reaper's "See You In Hell". I guess it is more an attitude to me. We actually only had the one artwork done. It was done by Muriel Wilcox. She use to paint some cool looking Harley Tanks and I really liked her work. She helped us out and did it for us. I still have the original at my Mom & Dad's house back in Michigan.
Was your LP self-financed and how many pieces did you press of your LP? Are you aware that the LP is very rare and expensive to get? Prices up to 150$ are paid for your LP!
The recording was initially self financed, but we did get some money from friends and t-shirt sales and then from distibution to help on costs. I am not sure on the initial number pressed...around 10.000... but those were back in the record burning days. We lived near the Bible belt and I think more than half were burned ... with the way things I doubt there are many at all left in existance. I know they must be hard to get. I get about 20 or so e-mails a week looking for them. I only have a few for my personal keep sake and one that we are going to give away as the re-launch for the www.salemswych.com web site. I have heard of the prices they go for between $100.00 and $300.00. Salem's Wych made a few dollars per album, so someone is getting rich, but it is not us. It was never Salem's Wych intention for such prices to be charged.
Did you have any interested record companies for the LP and for following LP's?
Yes we had interest, we were with Metal War Records, but we did receive offers to do different pressings. At the time we were warming up for Yngwie Malmsteen, had national distribution and getting radio air play so we thought everything was flowing good and we had no worries, but sometimes you get lost in all the people telling you this and that is going to happen and when it doesn't it feels horrible. Next was suppose to be Japan and Europe, but although the albums got there the big push and festivles and tours were not as promised. We have recieved over 15 offers to re-release the "Betrayer of Kings" on LP again and on cd. Out of respect for the fans that paid all the money for the LP I will not release any more LP or re-press it. We have received a lot of offers on the new album and cd, but we are working through some details to make sure this time we have the proper tour support and promotion to spread the word to the world. Hopefully everything will be finalized by the end of October.
Why did you release only this LP (why did no 2nd LP follow)?
We only did the one LP because we broke up at the time. We had songs ready to go for a second album, but things just got out of hand and there were seriouse problems with the record company.
I know from your band only the LP. Are there any other tracks released officially from Salem's Wych (Compilations, Demos etc.)?
No. At least not officially. I always hear rumors... but none that I know of for fact.
When and why did the band break up?
We had started to write and record (demo) some new songs, then Ron Johnson said he wanted to be more like Van Halen with Sammy Hagar and really make some money or he was out (Bill Neff, Keith Jann and I said no way... we were into metal). I wanted to move to Los Angeles to get more exposer for the band and Tom was ready to move on into the business world. The record company didn't live up to the demands and it was a lot of work and we were going broke..money was always coming ...but it never came. We were going in different directions, broke and watching everyone make money off of us but us and we weren't even getting to do everything that was offered to us that was cool to do. So we called it a day.
Did you play many concerts in the USA? Perhaps some concerts outside the USA? Did you play with some big metal acts?
Yes, we played concerts all over. We warmed up for Yngwie Malmsteen on the Trilogy Tour and did some one off stuff Blue Oyster Cult, WASP... quite a few.
When you played live in your early days, did you have a spectacular stage show for these killer songs?
We were very bare bones. We were high energy and flashspots. We did have burning skull heads on the drum riser some times, but we did not have a huge tour budget. We were a very aggressive in your face band. We had an axe that we would put into a skulls head. But other than that it was about the music.
Can you tell me what all of you did after the split of Salem's Wych. Did you all play in other metalbands or did you completely stop making music? Do you keep in touch with the other ex-members?
Well, Ron Johnson joined some band for a while, but the broke up and to my knowledge never recorded anything. Keith Jann and Bill Neff started a few bands, but never really got them off the ground. Bill does play now in a cover band and the do some original tunes with Cort Hullinger (a good guy and close friend). Tom totally got out of it. I moved to Los Angeles and played for the band Raging Storm for about a year and then went into being a session guitarist, which I did for about 3 years. I then did music for televison shows, which I did full time for 5 years and then I did music for commercials and ESPN racing. Now it is Salem's Wych 100% all the time. I keep in touch with Bill Neff and Keith Jann. They were both asked to be on this album, but were unable to. We are hoping to do the next one or maybe on the tour. Tom & Ron I have not seen in years. I hear Tom is doing well and Ron was approached about the album, but he said he didn't want to do it and that hadn't I heard heavy metal was dead. I wish well for Ron, but I guess not in us working together again.
Are there any favourite songs you have from Salem's Wych?
Yes. I like "Betrayer of Kings" best, but "Attack", "Never Ending Battle", "Run From The Devil" and "Fight Till The End" are right up there.
Are there any plans to rerelease your album?
We have had many offers, but have kept from doing so. As I said earlier I will not re-release an LP of "Betrayer of Kings". The only possible alternative may be a cd but even that would not be the same as the LP, we would include another song or take one off .. I am not sure on that one. Right now the new album is priority one.
Do you have any cool memories from the early days, any funny stories?
Yeah, we were going to record at this studio in Indiana called TRC. We had this old bread truck back then that the brakes went out about a mile from my house. Well we had a three hour drive on a two lane highway to the studio in Indianapolis. Did we stop and call the studio time off...hell no...as long as we had a horn we were on our way. We must have run 30 red lights with our horn blaring and cars almost hitting us. We made it there in record speed and the only way we could stop at the hotel was the truck was too big to get through the drive through door, so when we hit the truck on the door overhang it stopped the truck and shook the whole hotel. Everyone came outside to see what had happened. We got out of the truck and said, "Thanks everbody for coming to see Salem's Wych...goodnight!".. needless to say we were never welcomed back again.
Salem's Wych are now back in the scene! What happens next in your camp and who's in the band now? Do you still play the same kind of music?
Yes we are back. We are finishing up the album and will be doing some shows to get fine tuned. We will be shooting a live DVD the early part of 2003 and hopefully getting on tour and play some festivals in the U.S., Europe and Japan. The band is:
Darerel Roberts: Vocals & Rhythm Guitar
Mark Emerson : Drums
Paul Lamb: Bass
Mark Gast: Lead Guitar
We are still a heavy metal band true to our sound. This album is a heavier one than "Betrayers", but it is a natural progression. It is from the heart and is where Salem's Wych is at now. There is a wall of guitars and the thunder of the bass and drums yes.. it is true to who we are.
When will there be a new release and ev. any concerts?
We are waiting on exact date, but please check our web site as will keep all updated, as we know.
Ok, thank you very very much for the interview. I wish you all the best for the future and hope that we will see Salem's Wych live on stage here in Europe soon!!!! Final words are yours:
We appreciate the support of our European heavy metal fans and breathren. We look forward to seeing you on tour. Support metal and as one we shall rise and conquer. Welcome back then, let Salem's Wych rise again!
Interview done by Michael Vaucher in October 2002.