Acid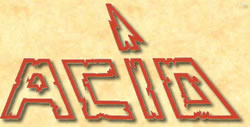 "We only wanna play, wanna rock! 'Cause we know, yes we know! You're hooked on Metal!"
Do you remember those words!? Yes! Acid! One of the most original female fronted Heavy Metal bands from the 80s... Well, allright, actually almost all the female fronted bands that played pure classic metal back then were something special (do you remember Sacred Child, Hellion, Blacklace, Taist of Iron, not to mention Chastain or Warlock...?) but hell yeah, wasn't Acid truly amazing?! "Black Car", "Lucifera", "Maniac", "Max Overload"... now those are all time classics, but sadly no right people were around the band back then... I had the pleasure to ask few questions to the real "Halloween Queen" - Kate!
Hello Kate! It is great honor to ask you my questions, so maybe let's start with current things... Are you still in touch with some old Acid maniacs? Are you often contacted by your old fans?
Sometimes I see old members of Acid but not very often, the only person I still see day after day is T-Bone, it's amazing but until today we are still meeting fans, after all these years, I never knew that Acid was still alive, a lot of people would like to see us perform again but I don't think that this will be posible, but you never know?
Acid was with no doubt one of the most original 80s Heavy Metal bands here in Europe. How do you think, why?
Well, we were original, and had all a different background, we made the music with the 5 of us, all this came from ourselfs (from the heart), we always did it our way, that was what Acid was all about, to be yourself, so we had no secrets, we must a have a lot of luck I guess.
How do you remember first days of Acid? Was it hard to start? What your parents thought after finding out that their daughter is a Heavy Metal singer?
We were already in a band with 3 members of Acid this band was called Previous Page, then we surched for a drummer that was good and so we found Anvil first Acid had 1 other guitarist but he left very soon and was replaced, Dizzy Lizzy came along and then we started the band Acid for real we made numbers and numbers and took the best of it on the first album, but first we made a single, only 2000 were made of it, the quality was so bad that we had to stop this selling from the first single, my father was not into this music but I didn't care, my mother was proud when we started to get famous but in that days our music was very hard, we were one of the first heavy metal bands then...
You still have legions of loyal followers, Acid is still in the hearts of many Metal maniax around the world. Do you think that there is any chance for reunion?
I don't think a reunion will be possible, I believe that only Demon and I are still busy in music but I changed my kind of music, I still like some hard tunes but have more success with other kind of music like blues, jazz and some commercial rock songs. But you never know, I had a great time then...
I heard about your possible reunion something like 10-11 years ago, and possible live show in Germany. Is this true? What went wrong?
We came together just for fun, but some local fans saw us together and before we knew it, they told some other fans that Acid was going to give a concert but we only came together, the sound was still there but we were a little rusty, but we had a lot of fun and we went to a local pub to celebrate this and there they made some pictures of us, that's all... We never ment to bring Acid back to live.
You had several singles released back in the 80s. Did you think about official CD re-release?
At that time there were no CDs only LP and cassettes and a few years ago there was a guy from Germany that released all LPs on CD + some songs that never were released before, you can find them on the internet.
As I know, you have several unreleased demos as well... What other treasures are hidden in the Acid archives?
At home I have a cassette from a live concert at Leuven from Acid that never was released - very heavy, only few guys have this cassette, but I will try to put it on CD, but the quality is not very good, we have also somewhere a video from the band, but I don't have it, I'm still searching for this video.
Did you ever start to write material for 4th album, or it never happened?
Yes, we had some new stuff, but at that time T-Bone and Demon already left the band, and those demos were to me not so good, most songs were made by Demon and T-Bone.
I know your great video clip for "Black Car" neckbreaker... Can you tell me few words about it?
Video clip wasn't something that each independent Heavy Metal band had back then... About that video we made, we did it all by ourselfs, we rented a cameramen and T-Bone's brother had a black car so we used this car to make this clip, we were on tv on RTL on Clip Connection. But I don't have this video, I'm searching for it (I would like to see it again)...
Your 3 fantastic albums were released on Giant Records. Can you tell something more about them? How do you remember signing a record deal, and cooperation with this label?
Giant Record was our own label, no one was interested in us at that time so we decided to start a new label so we could release this ourselves.
Hell, satan, halloween... Such words were easy to find in your lyrics. Do you think it was necessary or usual for Heavy Metal songs back then? You also had "anti-cop" song...?
Well, at that time Demon was possesed by all such lyrics, we never thought about the lyrics, it just came out of us and we liked it (maybe we were used by the devil, I don't know) everything was so easy. That "Anti Cop" song we made cause we had bad experiences with the cops, it's not because you wear a leather jacket that your are bad (the cops though of that differently) that's the reason we made this song.
Because of your lyrics, many people used to call you a Black Metal band. For me Acid was with no doubt pure Classic Heavy Metal. And how would you describe your style?
To me our band was just a simple heavy metal band.
If I'm not wrong, you didn't play many live shows, and had no headlining tour. Why? Do you think that Giant Records was too small? How do you think, where Acid could be now, if you would sign a deal with some major label back then?
We had no money for a tour and at that time for many people we were too heavy, that is maybe the reason we still are alive for some people. If Acid was still existing today maybe we were that big as Metallica, because we had at that time the same amount of fans.
How do you think, what went wrong that Acid broke up back then...?
We were all very young then, our drummer was only 17 when we started, after a few years we changed as we grew up, T-Bone had enough of all this and stopped playing with us, and a little bit later also Demon left the band, we had new members but it wasn't the same no more. I was beginning to miss them more and more, the music wasn't the same no more. So shortly after that the band splitted...
Did you ever sing with any Rock or Metal bands before or after Acid?
I never stopped, I was in a lot of bands but nothing was ever that good than Acid. I stopped playing in a band cause there was no motivation, no more. The best thing we had was Acid and I think always will...
I know you are still active as a vocalist, but well, Acid fans probably wouldn't love your style... When have you decided to change your style so definately?
After all this band stuff, no motivation and so, I decided to go on, and still are, I always loved singing, and because there are so many styles, I wanted to challenge myself, after a while I learned to sing all kind of songs and began to enjoy me. I still like rock music and if you see me live you can hear it, and so I still meet a lot of fans from Acid. You know, some of them also changed.
Allright, I think that's all I wanted to ask. Thank you for your time, it was great pleasure for me to have a talk with you! Please leave a message to all the Acid maniacs out there!
Well I hope you have all the answers you need, and maybe we will see each other? You never know. So I will leave you know, sent my greetings to all the fans that still believe in our band. It was really nice to hear from you!
Interview done by Bart Gabriel in March 2005.