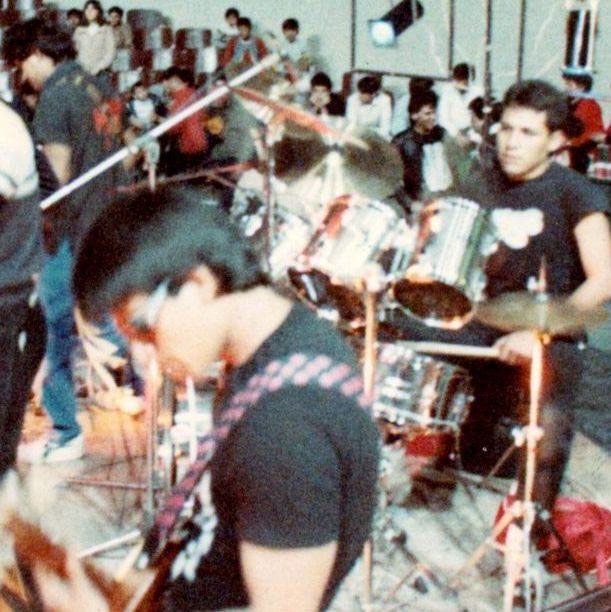 Pánico Metálico is a band from Arequipa (Peru) that was formed in 1984 and lasted until the end of 1986. In the absence of bands of a similar style, it was decided to form one, since the members listened to records from bands such as Saxon, Judas Priest, Ozzy Osbourne, Fastway, Iron Maiden etc. They began covering songs and adding lyrics in Spanish, but later they began to make their own songs.
The shows that were offered were sporadic since they had to participate with other bands that were of different styles and in the city there was no scene linked to metal. At the end of 1984 the album "Ride the Ligthing" by Metallica fell into the hands of the group and that changed the panorama of the musical tastes of the members due to the style that this new band brought. Although it is true this would not be reflected in the way of playing, this generated a change in the line-up.
Pánico Metálico had in the initial formation: Manuel Balcázar - Vocals, Miguel Guardia - Guitar, Luis Azálgara - Bass and Coco Herrera - Drums. This formation would remain until the beginning of 86, when Cesar Macedo would enter on Bass with Coco Castillo who played rhythmic guitar and occasionally keyboards. With this line-up they would have the most important gig carried out in the main Coliseum of the city and with a large sound equipment, very different from the one they were used to. This show was as a support band for the Lima band PAX that had a great trajectory since they were formed in the early 70s and reappeared in the 80s with a different formation and with one more styles of those years.
It is likely that Pánico Metálico was the first Heavy band in Arequipa since the ones that preceded them were bands that came from the 70s and basically cover bands that covered the best known groups of those years and these bands were characterized more by playing at parties. The band split up because the members wanted to form or be part of other projects that were on the way.