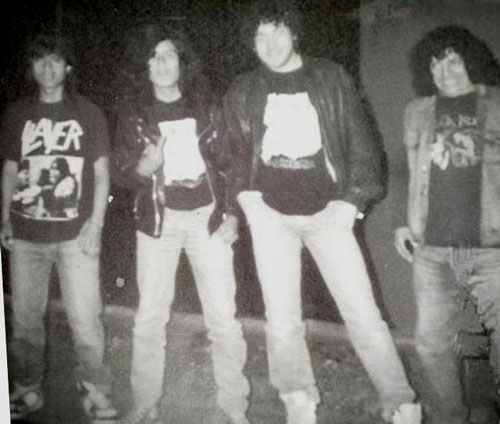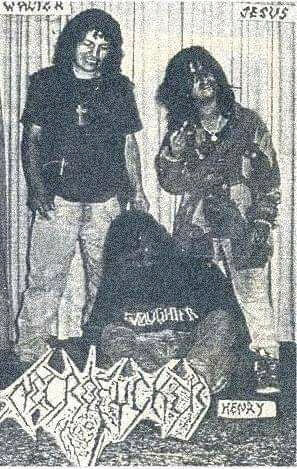 Necrofucker is an early Death Metal band from Peru. They formed in 1988 as Necrofilos by Walter "Profanador" on guitars, Yuri "Vomito" on vocals, Cornelio "Topo" on bass and Willy "Cejon" on drums. Later Jesus "Mierda" replaced Yuri on vocals and José replaced Cornelio on bass. In 1989 they debuted live at "El Dorado" in Comas with TKCH, Kranium, Hadez, Totenkopf, Exterminio etc, and played in Camana.
After that they changed the name to Necrofucker. All the members left the band and Walter reformed Necrofucker with Cesar "Hardcore" Chavez on vocals, Julio "Ratamantus" Julca on bass and Toñyn "Destructor" (Hadez) on drums. With this lineup they released a demo called "Demencia Precoz" (Rereleased in 2008) and then split up again because the vocalist left the band. The rest of the band formed Anal Vomit.
In 2009 Necrofucker returned with Walter, Silva Blacker (Black Angel) on vocals, Javier Fernando on bass and Frank Mariño on drums. In 2012 they released their first album "Necrobestiality Tales" on Pentagram Recs, now with Mutilador666 (Hadez, Nahual) on drums. In 2017 Javier passed away and in 2019 he was replaced with John Agressor (Hadez) on bass and released the second album called "Vomit of Sepulchers, Vomit of Ancestors". In 2021 Necronausea Recs and Death Circle Prods released "Ritual de Muertos", a compilation of the Demencia Precoz demo and 2 rehearsals from 2018.