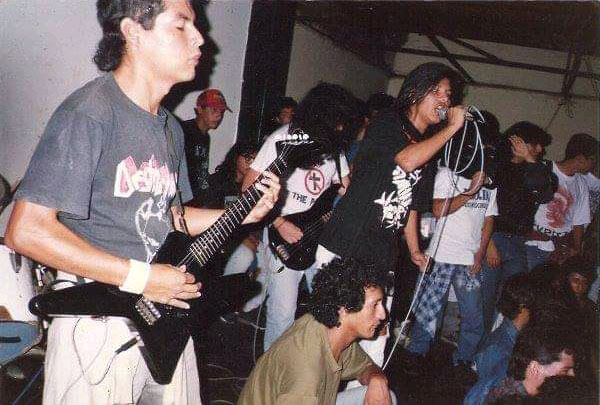 Mortala was one of the most popular Thrash Metal bands in Peru. They were formed in 1988 as Armagedon with Oscar Valdizan on guitars and Pepe Torres on drums, but later renamed as Apocalipsis. In 1989 Jose Arenaza entered the band as bassist and the band changed the name to Mortala. Victor Black joined on vocals later. In 1990 they debuted live at the Asalto Hardcore show with Mortem, Armagedon, Desarme, PDI etc, as a trio without Victor Black. By the end of that year Jose "Pelu" Carcagno (Tormento, Necropolis) replaced Victor on vocals. In 1991 Christian John joined on lead guitars.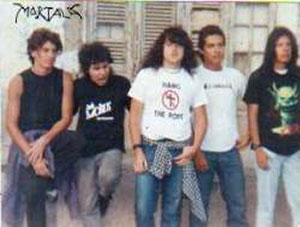 With this classic lineup they played a lot of concerts in 1992, like the third concert of the Grupo Pacifico at the Concha Acústica de San Miguel with Desarme, Mortem, Necropsya, Trauma, Hadez etc. They also played at the Sadism (Chile) show with Desarme, Curriculum Mortis, Necropsya and at the Torturer (Chile) show with PDI, Trauma and Coprofagia. By november they played their Fourth concert of the Grupo Pacifico with Afronte, PDI, Cancerbero and Kraken. That gig was recorded and released as a live demo called "...En Concierto" by Extremo Volumen Producciones in 1993 (Rereleased on CD by Avezados Prods in 2021).
That year Manuel Rodriguez and Gerardo Rojas from Sepulcro and Necropsya replaced Oscar and Pepe on guitars and drums and they entered the studio to record their first studio demo, but it was never finished due to problems with the producer. In 1994 Mortala made their last gig in Breña with Stergios Korfiatis (Presagio) replacing Gerardo on drums. Jose Arenaza joined Desarme, Christian Jhon went to Mortem and later emigrated with Pelu to the USA and formed a short lived band called Immortalcast. In 2013 they reunited with Jose, Christian, Manuel with the support of Alberto Benitez (Illapa) on drums.