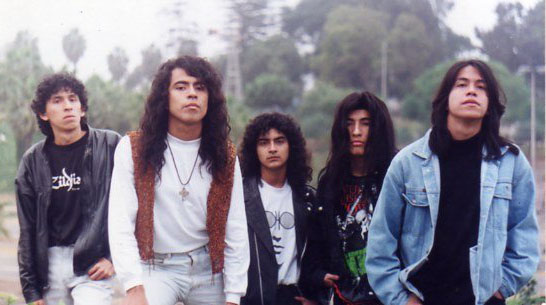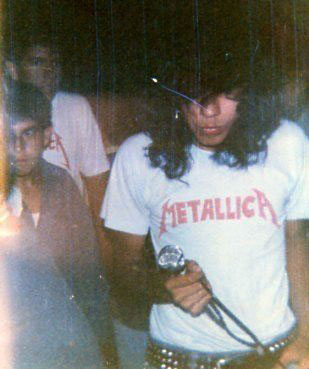 One of the most important bands of the second wave of Heavy Metal in Peru. They formed in 1987 with Victor "Lobo" on vocals, Oscar Muñoz (Trauma, Sepulcro) on drums, Christian Mejia (Trauma) on bass and Felix Silva (Trauma) on guitars. They made their debut at the Apocalipsis Metal festival in 1988, stylewise playing a mix of Black Sabbath, Mercyful Fate and Metallica. Later that year Marcos Alvade entered as second guitarrist.
The band suffered from lineup problems and changed the bassist and drummer, Javier Manthas entered as new bassist and Manuel Renato as new drummer. More changes come when Felix takes Javier to his project. Manuel Rodriguez and Edgar Carbajal replaced them on guitars and bass respectively. In 1990 the song "Feto (Quien Escucha tu Voz)" was included in the first compilation of Cuero Negro zine. By 1992 Armagedon change his lineup and style with the addition of Martin Guizado and Victor Rosan on guitars, making a more melodic approch of Heavy Metal. They finally recorded their first demo "Lograr La Luz" in 1996 with Eduardo Chinchay (Orgus, Trauma) replacing Victor Rosan and Edward Espinoza on bass.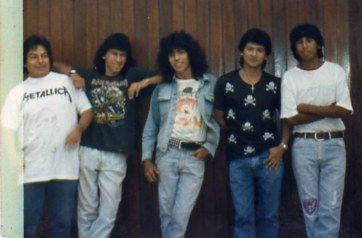 In 2000 they recorded a live album called "Armagedon en la Noche" with the lineup as a quartet with Lobo, Martin, Eduardo, Harold Portugal on bass, Juano Izaguirre on drums. The same year they were part of the soundtrack of the movie "Ciudad de M" with the song "Dejame Soñar". In 2001 they opened to the band Hammerfall and later that year the band broke up due to health problems of vocalist Lobo, until 2003 when they returned at the Ataque Metal festival.
In 2011 they released and studio album called "Nunca Digas Nunca" and in 2013 and acustic live album called "Elemental" and finally by 2019 they rerecorded the tracks from 1988-89 on a album called "Tiempos del Fin" with the help of Mito Espiritu from Kranium on bass. The band is still active to this day.