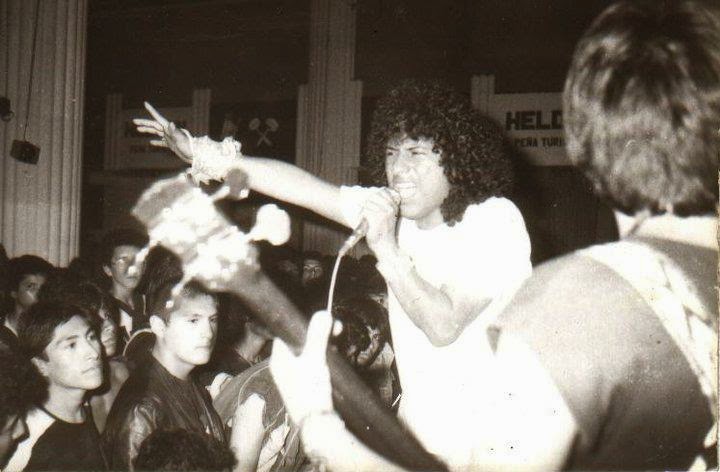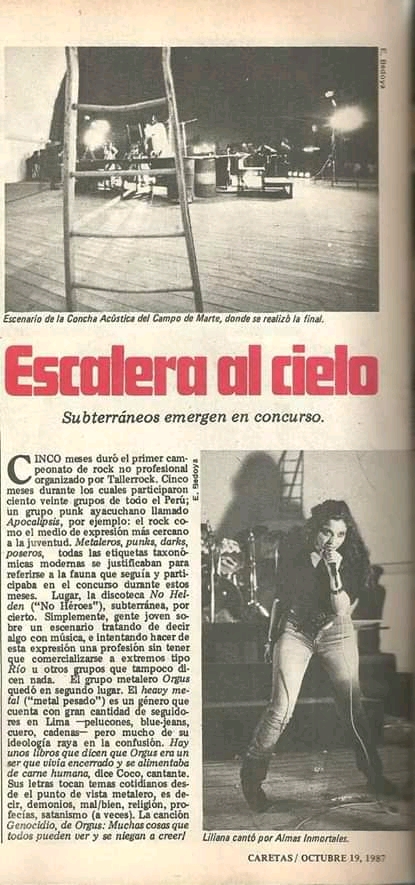 One of the mythics and most remembered bands in the 80s was Almas Inmortales. They formed in 1986 with Javier Mosquera (Oxido) on guitars, Papo Vallenas (Orgus) on drums, Martin Bazan on bass and Miguel Alayza on vocals, after a spiritual search in Markahuasi (stone forest). Their influences were Black Sabbath, Iron Maiden, Dio and Angeles del Infierno.
After a break Papo left and Julio Ortega replaced him on drums and with this lineup they debuted in september on the Metal I festival in the Saenz Peña Theater with Masacre, Niebla, Orgus, etc. After the debut gig Miguel left the band and was replaced by Miguel Angel "El Loco" Cervantes from the band Astaroth on vocals and Julio was replaced by Romulo Hernandez on drums. In 1987 the band enter to the studio of Gerald Paz to record his first demo with 3 tracks.
That same year they enrolled in the 1st No Professional Rock Contest in the discoteque No Helden, having a good support from the audience. After his first show Miguel Angel left the band to be part of the recording of the "Sin Piedad" album from Masacre, to the next shows be replaced by Nano Vascones, where they reached the final between 120 groups. At the final show in october Nano was replaced by a girl called Liliana Linares who sadly suffered of stage fright and the band got the fifth place.
After the contest, Eduardo Tamaris (Praxis) joins the band as vocalist and make a serie of concerts. One of them in march 1988 in the No Helden with Kranium, Mazo and Sepulcro. In august of the same year they played their perhaps largest concert in the Feria del Hogar, with Orgus in front of 3000 persons (with Nano Vascones on vocals), though later the band split up. Nano and Martin formed the banda Mentes who follow the legacy of Almas Inmortales between 1988 and 1989, but didn't have much of a following. Javier Mosquera formed Apuluz and later El Viejo in the 2000s. The band finally reunited in 2013 and released their first album in 2014 and now have plans to recorded a second one.