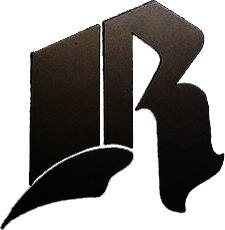 What influenced Resistencia apart from hard and progressive rock? Are the folk influences from Venezuelan artists like Alí Primera?
Marco:
Progressive rock was more present in my world than in those of my bandmates, just how the folkloric influence came from César who liked Gualberto Ibarreto a lot, however, we all agreed on using some elements to give the band a more autochtonous identity.
. Was it hard to get albums from foreign bands back then?
Marco:
It wasn't hard. Back in the 70s, we got the most important stuff that was released at the time with a few exceptions such as albums that weren't well known in the country. Nonetheless, starting in the 1980s, the first works of the first NWOBHM bands weren't easy to get. I had stopped buying records by then. Nonetheless, friends of Rodrigo's brother brought material straight from London which we as a band heard through Rodrigo himself.
Were you influenced by any of these local bands?
Marco:
Yes, there were, but none that influenced us.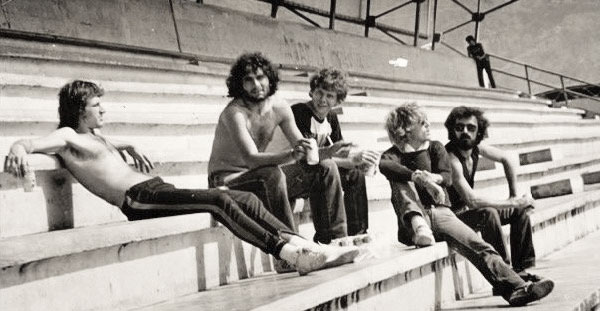 How hard was it to find other musicnas who wanted to play the same style of music as you? How did you form Resistencia?
Marco:
At our most creative time with Resistencia, we only had one member change in the line up, but fortunately we found a bassist who integrated into the band without any problems. Our attention was focused on finding someone with the right attitude, personal affinity, musical taste and who was willing to improvise. In our first three albums our compositions were a product of improvisations during rehearsals, even though we were starting with a riff or an idea that one of us had brought into the rehearsal. When we played live, improvisation was very important as well. César, Ricardo, Víctor, and I studied in the same university, we met Rodrigo through a friend. we had the luck of finding each other at that time when we had the same restlessness and eagerness to do what we wanted to do.
Who wrote the lyrics, and why did you have such variety of themes? What caused the lyrical change between the first and second album?
Marco:
César wrote the lyrics, we all decided it would be that way. From the mysticism of Hecho en Venezuela we moved to more realistic lyrics about life in Estrategia Contra el Movimiento, but without abandoning the universality of our message. I think I recall that after many criticisms about mysticism and esotericism from Hecho en Venezuela César moved on to something more direct.
Why do you think Venezuela saw such professional development of unique bands early in the 80s compared to the rest of Latin America?
Marco:
From our part, what we were doing in the country was Rock Made in Venezuela. From Arkangel's part they were doing National Rock. A question of two flags, you simply make more noise if you compare and contrast two polarities but in the end each band on their own was contributing its strength to the nascent rock movement.
Marco:
I think by then those of us first venezuelan bands, we were more worried about having our own identity. The last four years, from 1975 to 1979, Disco Music had swept through the rock panorama, specially in Venezuela everything was new, there were no references. Back then we were unaware of what could be happening in other Latinamerican countries.
Do these symbols have any special meaning? Are they influenced by Led Zeppelin?
Marco:
They're symbols which represent the personality of each one of us. Yes, exactly, this was an influence from Led Zepellin.
Who was in charge of the album covers?
Marco:
The cover for Hecho en Venezuela was a consequence of the album name, it had to represent a product made for export. For Estrategia Contra el Movimiento the idea came from Santiago Pol, an important Venezuelan designer. For DaCapo we suggsted an idea to be developed by the label's designer.
What about in the rest of Latin America? Did you ever play live in neighboring countries like Colombia?
Marco:
No, we never left Venezuela. There was an attempt to get us to play in Bogotá in 1987 but nothing came through.
For live shows, how did you manage material which had been recording with multiple other instruments? Did you get extra musicians or added guitar lines to substitute those parts?
Marco:
We were always a five piece on stage, we never added additional instruments when we played live, Although we did use multiple other instruments when recording albums. With Zodiaco, we wanted to integrate an orchestra, but we couldn't pull it through.
You explained in the first interview with The Corroseum that you didn't have the intention to play heavy metal. Did you consider yourselfs hard rock? Did you not think your music was different enough from rock?
Marco:
Our intention was the natural result of the five people who liked to play hard Venezuelan music. We simply flowed with the moment which was vibing in us.
Do you feel it's inappropriate for people to consider Resistencia as a heavy metal band? Would you prefer the band to be associated with 70s rock?
Marco:
Even though I confirm that we didn't consider ourselves a heavy band, only history will grant us the place in which we need to be.
Did such segregation tranalsate to musical genres back then? Was rock considered a working class genre, or for upper classes?
Marco:
Generally, rock groups come from the working class, specially hard rock. In the case of more progressive bands like Genesis, Pink Floyd, and others, they were college students or art students like Queen, and generally came not from wealthy families but well-off. We in Resistencia were more a part of these types of families.
In the 80s, Venezuela didn't have insane military dictatorshpis like in Guatemala, El Salvador, Argentina, Chile, etc. Nonetheless, conditions for rockers were probably uneasy. Did you face problems with authorities for playing heavy rock?
Marco:
In 1993 we played in La Villa Panamericana which was a place housing the athletes from the Panamerican Games of that same year. Probably one of the messages from some song on Estrategia Contra el Movimiento made the national guard end the concert prematurely.
Did all band members get the chance to get together every now and then before they died?
Marco:
The last time I was in Venezuela was in 1996. I got together with César and Ricardo there for the last time. I was in touch with Rodrigo through e-mail. Our last contact was when he sent me some material he composed and wanted my opinion on it. With Luis and Victor we've gotten together more recently.
Are there any Resistencia songs you feel particularly proud of?
Marco:
Angeles Cayendo, Resistencia, Tierra prometida, Espejismo, PanaAmericanos, Más allá de la Historia, Fantasia, Hijos de la Democracia, Amor se escribe con besos, El Blues de la Leyenda Dorada, La Victoria y Preludio/ Hombre Libres del mañana.
Where you involved at all on this album? What motivated this reunion and last release?
Marco:
No, I wasn't involved in that at all. Ricardo got in touch with me to ask if I was ok with him continuing with Resistencia and of course I said yes
[Ciargo left the band after the DaCapo album in 1984; Ricardo stayed until the release of Intenso in 2004. He died in 2010]
. After that I didn't think anyone should consult me or my bandmates on anything unless it was regarding something inherent to the period when I was in the band, or the use of the band name after Ricardo died.


If this were to happen one day, would you and the rest of the surviving members like to be a part of these re-issues?
Marco:
It's been way too long and I have no idea how or when we could do these re-issues. In any case, yes, we would like to be aware of them when they happen.
Is there anything you'd want newer generations of fans to know about Resistencia?
Marco:
The heritage of Resistencia was the result of the sum of 5 people who couldn't have achieved what they did had they done it individually.
*Please note: the interview was conducted in Spanish. Some of Marco Ciargo's answers had to be paraphrased to improve the writing flow. However, the translations remain as literal and faithful as possible.