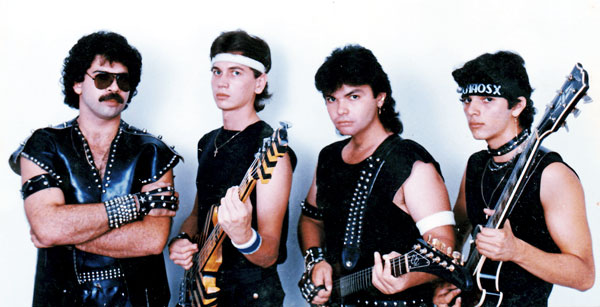 Max:
First of all, thank you very much for giving me the opportunity and medium to talk about Khaos; much appreciated!
Our pleasure! What were your musical influences? Were they all international bands or did you also take inspiration from local music?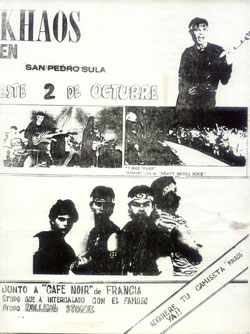 Max:
I would say our main influences were the influential NWOBHM bands. Those were the biggest references we had. I've read somewhere online that some people say we took inspiration from Spanish bands like
Barón Rojo
, but the truth is we didn't hear about them until we had already written the songs for our album. I must say that personally, Barón Rojo is one of my favorite Metal bands of all time but they didn't influence us directly; we heard them quite lately into our careers. As for local influences, we didn't have any. In those days, I mean in the early 80s, it was hard to know if anything concrete had actually preceded us in terms of music. Most Honduran bands back then were simple cover bands that played at parties or dance halls when there was some type of "Rock Festival." They played a repertoire of "hit rock" songs – hits of radio-friendly rock from the 70s – but they didn't have any original music within Rock, let alone Metal. Nowadays we know that back in the 60s there was actually a movement of "electrified" bands that wrote original music here in the country, but it wasn't so close to Rock. We don't mean to brag, but we didn't know of anyone doing anything similar to what we did back then, at least here in Honduras. Surely at a Central American level,
Alux Nahual
was a reference for us, but more for what they achieved in general than for their music style since they had been influenced by Progressive Rock in their first albums. However, they were a clear sign that you didn't have to play openly commercial/tropical music and achieve something concrete in the region.
[Author's note: Alux Nahual, of Guatemalan origin, is probably the most successful Rock group from Central America.]
Did you consider yourselves Hard Rock or was it always your intention to play Heavy Metal?
Max:
By the time we had the line-up which recorded our album, yes. This was in mid 1983, when Issa Molina joined our group, by then we already considered ourselves a Heavy Metal band entirely and we screamed about it at full volume everywhere we went. But when we first started we were more like Garage Rock/Punk, mostly because of our low technical capacity as musicians rather than anything else.
Would you say there is a certain "Central American brotherhood" among fans and musicians from the region? How were you received in Guatemala, El Salvador, Nicaragua, and/or Costa Rica?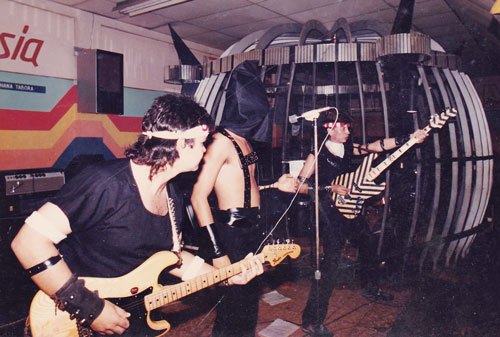 Max:
In today's Metal scene surely there is one, and one way or another its reflected unto us as precursors, at least when it comes to respecting us. Sadly, back then we didn't play concerts outside of our country. We traveled to El Salvador to record our album but we never played outside of Honduras. Just right before we split up, when our album had already crossed borders, we received various outside offers but none of them were formalized. It's a shame, because in that moment what came to be called "Rock in your language" movement started to spread and we would've been at the front row of that movement in Central America. With time, our work has spread and I think that Metal followers in the region do know about us. At least they know we existed when the movement started.
When we consider the historical context of Central America, it's no surprise that we had such little Metal output back in the 80s. How did Khaos manage to be the first in recording such a professional album?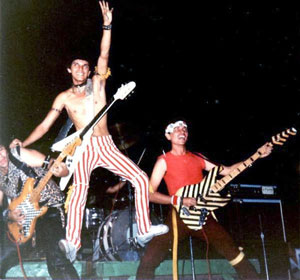 Max:
Mostly because we were stubborn, ha ha. Since the first meetings we had as a group we were all in agreement that the main objective of our band was to create original music and record it. That was our main goal more than anything, and we never lost sight of it. But it sure wasn't easy. We were rejected by Central American labels for being "very little commercially." We were advised to make "softer" music to record and edit an album, but we obviously didn't accept. The only option we had left was to self produce an album when we reached an agreement with Dicesa, a label from El Salvador. They were the only ones who didn't reject us straight away. In the end, they offered to record our album in their studio. They would produce it and sell us the copies. It wasn't cheap, even less so for young people who were still students like ourselves who didn't have economic opportunities. Fortunately, our drummer and singer Juan "Junior" Mejías' mother, believed in what we were doing. She noticed we were receiving some sort of response in the country, and she risked her savings to cover a large part of the budget. I somehow came up with the rest of the money selling stuff and well, we somehow made it by the end of March in 1985.
It was a very intense experience since back in those days El Salvador was in the middle of its civil war. They had a curfew, bombings, and power-outages constantly. We recorded the entire album in a few hours, let's say 40 work hours, including the mixing. On the other hand we saw the group as serious business. It was a priority for all of us, even if didn't really generate income for us. We tried to approach everything professionally. We had a strong discipline with rehearsal schedules and attention to our live shows. We were very intent on following the international Metal scene, or at least the little bit of the scene of the scene we were aware through MTV and some magazines. The four of us were and still are passionate about music more than anything. We were determined to carry out any sacrifice to make our goal possible: to release an LP. I think that's what made the difference for us.
Did you ever suffer any social repercussion or repression from the State for being Metal musicians?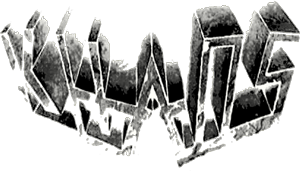 Max:
After we released our album and the radio play of a couple of successful tunes, specially our song "Roleando," our fame grew quickly to stratosphere levels, mainly in our native city but also in the rest of the country. So much so that we couldn't play in smaller venues anymore. We were now playing in stadiums and soccer fields, to audiences upwards of 5,000 people. We did this often, at least monthly. This was a time in which radio channels aimed at young people were playing stuff like Quiet Riot, Twisted Sister, Motley Crue… Hard Rock/Heavy Metal had surprisingly turned into a popular genre among the youth even in Honduras. More so in our city, San Pedro Sula, located in the northern coast, pop music had always been "tropical" or whatever Mexico was producing commercially. But for a variety of reasons we became a sort of phenomena that attracted people who didn't even like Metal. Before all this, we hadn't had any problems.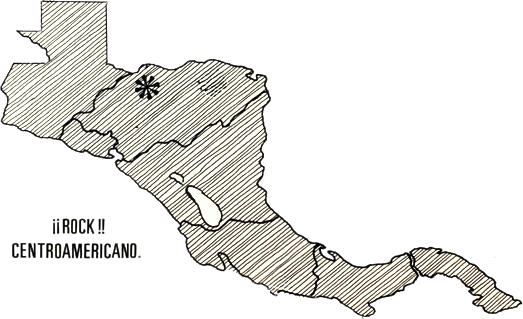 Back then Honduras had a democratically elected government but the military elite was still the real power behind the curtain. When we started having a strong support from the youth, things got more complicated. We noticed we were being watched; we were constantly followed, not at all conspicuously, a military patrol known back then as "DIN." This was the "Dirección de Investigación Nacional." Personally, I went through a couple of unpleasant experiences which contributed in me leaving the country from one day to the other and dissolving the group.
[Author's note: While some bands and fans complain about "censorship" and "witch-hunts" because they're denied venues, a lot of these Latin American bands faced actual, life-threatening danger for playing Metal.]
Latin American societies are very segregated by class. Was music in Honduras subject to this as well?
Max:
Back in those days – not really. Khaos had a following of every type of youth, from the marginalized classes to the better-off, without having confrontations at concerts. Things changed with the rise of other youth movements and other social problems, but back then, it wasn't like this. We are of course talking about a time in which there were no street gangs. This tragedy which affects our society today hadn't happened.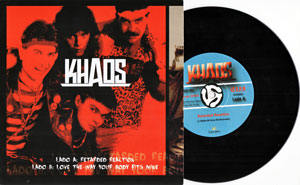 How hard was it to get equipment to play and record music?
Max:
Very hard. There was only one recording studio in our city. It had a four track tape where we recorded several demos and our first single in 1984 when we still sang in English. We didn't release this single until last year in vinyl format (45 rpm). We limited it to 500 copies, just like we did with our LP "Forjado en Rocka." We couldn't get any recording equipment in the instrument stores either. We were very behind in terms of technology.
Did you intend to start the Heavy Metal scene in Honduras, or did you never think about that?
Max:
It wasn't a fully conscious decision, but we did know we wanted to make something special and in tune with the international Rock scene. Back then in Honduras at concerts and festivals everything was about "Hippie Rock" straight out from Woodstock in 1969, even aesthetically. In retrospect, this was nothing bad, but for four young people like us who were fresh out of adolescence, everything reeked of being antiquated and stagnant.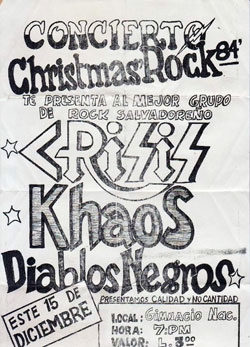 Did you have contact with any other Central American or Mexican bands when you started?
Max:
Not a lot. There wasn't really a place for that. We were the opening act for Alux Nahual when they toured Honduras in 1985 and we once alternated with
Crisis
from El Salvador in Tegucigalpa back in 1984.
[Editor's note: Along with Broncco, Crisis was the first Hard Rock/Heavy Metal band from El Salvador.]
We then visited Crisis when we recorded our LP in El Salvador. They were a great band, with a powerful sound and an excellent single that they released in 1983. We only heard this single in 1985 though, when we visited them during our recording session. It was also during this time that we met
Broncco
. We even used their guitar amplifier to record our album and Gerardo Sibrian, member of Broncco, played a small part in one of our songs as a guest pianist. Considering the time, the Metal movement was barely beginning in the region. When it comes to Mexico, we didn't have any contacts there. Their bands didn't move around these zones back then.
How is Khaos viewed today? Do people recognize that you the first band in the region to release a Heavy Metal album?
Max:
The Internet has helped a lot with all of this. We speak of almost 35 years passed since we released our LP. The people who saw us back then obviously remember us and have probably helped in maintaining the myth that's been created bit by bit around us, ha ha. The truth is we never expected to be remembered after so many years and that our legacy as a band lasts longer than our lives. I don't think there's a bigger reward for an artist than that. I don't know how many people know particular details like about us. There aren't many documented writings on the topic. But surely we're surprised by the the prizes that our LP is going for nowadays among collectors. It's incredible!
Anything else you want to add?
Max:
Our local success was also due to, however weird it sounds, the media, radio, TV, and written press supported us a lot in spite our image and everything that could be perceived as "diabolical" around us, considering our conservative country, maybe it was out of naivety from their part. Back then there weren't all these economic and political interests that run the world today. Surely we couldn't have done something like this back then. Likewise, we had already begun to record a second album and we were halfway through with it. Sadly, the group disbanded and we couldn't finish it. I've recorded with a couple other bands a few of those songs and there's still some unreleased Khaos material that might one day come to light.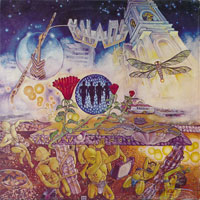 Speaking of music, "Forjado en Rocka", although not a conceptual album, is supposed to tell a story and the songs are related. They intend to relate a concept about the eternal struggle of good and evil. The cover art, a drawing from a renowned local painter, Allan Caicedo, contributed to this concept and gives a lot of clues for interpretation. I mention this because if you extrapolate each song and listen to them separately everything can be interpreted very differently from what we intended. All of this is very naive, we could use the excuse that we were very young back then ha ha. I mention this because a lot of times I've seen us interpreted incorrectly on the internet. People try to classify us as something we weren't. In 2015 we succeeded in reuniting one third of the line-up that recorded the album. Our old bassist Marcelo Alvarado didn't participate because he's retired. Maybe one day we'll succeed in a complete reunion but it's hard because I'm currently the only one residing in Honduras. But it's definitely something we want to try because it was great to experience the public's appreciation for our group considering many of them weren't born when we started.
Interview performed by Xecotcovach. Editing & design by DaN Edman. Previously published at the Ride Into Glory website.