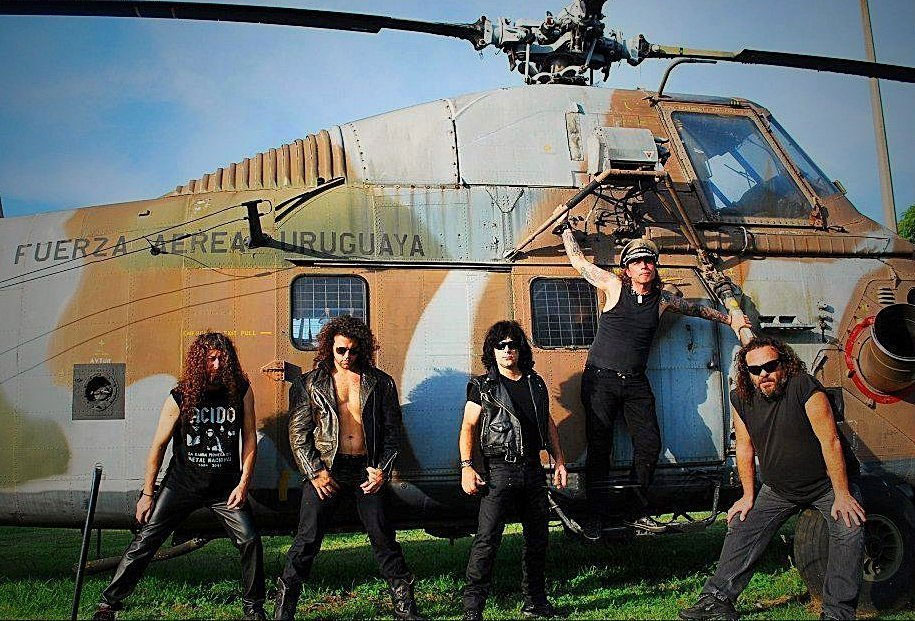 Representing the band we have Juan Acuña "El Perro" (guitar and vocals). To begin with, please tell us how the band started and what have you been up to recently.
Perro:
In 1981 I went to the Peñarol Palace in Montivideo to see the Argentinian band Riff – it was the mythical Pappo with his new band. The concert was called "Adiós Pappos Blues, Bienvenido Riff (Goodbye Pappo's Blues, Welcome Riff)." It had such an impact on me that I decided to do a band of the same style. The name "Ácido" I got from the movie Woodstock. Mi cousin Guillermo "Bill" Rivas and my friend Gonzalo "Gozo" Gómez were the first that bought into my idea. Danny, my brother, acted as a sub musician. In the beginning we tried-out several drummers but none of them had what were looking for until in 1983 I met Varo and we had the same musical tastes. I invited him to play in Ácido, he accepted, and we debuted that same year as a band, in July 1983. Varo played drums and sang the choruses, Gonzo played bass, Danny played guitar and backing vocals, and I played guitar and lead vocals.
What happened with the recording of "Por Siempre Heavy Metal?" Is there another lost recording like that one? Would you like to see them re-issued along with your first EP?
Perro:
"Por Siempre Heavy Metal" together with other recordings from the 80s were kept by Varo. They will actually be re-issued by our Brazilian label, Dies Irae, in a new album called "Oxidado." In the future we will also re-issue the EP with new versions of the original songs.
Where there other Heavy Metal bands in Uruguay when you started? Are there any local bands you would recommend?
Perro:
When we started there were no other Metal bands; we were the pioneers in making Heavy Metal in Uruguay. In those times there was an Uruguayan Punk Rock band we liked, they were called Los Estómagos. I would recommend The Shakers, who in my opinion were the first Rock&Roll band in the 60s; they had a style similar to The Beatles. Another band is Psiglo, from the 70s. They played good Rock like Deep Purple. There's also Niquel, a late-80s-early-90s band that played pretty well.
Correct me if I'm wrong, but I hear a Punk influence in your early sound, almost like a UK '82 influence. Your first EP sounds raw and evil, almost like Venom. Was this intentional? Who were your influences? How has your sound changed today?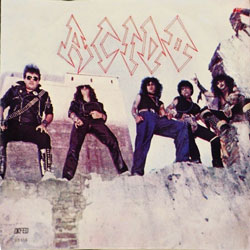 Perro:
It could be. We were rawer in our first years. We had an accumulated rage which we released in other ways, such as music. In the first EP, it wasn't our intention to sound like other bands. We didn't know much about studios, etc, and things came out the way they did. In particular, I love those two first songs we did, but I'm not pleased with the final result; it wasn't a reflection of the band at that time – we were better than how we sound in that EP. Our biggest influences are the classic Rock bands in all their manifestation. We were specially influenced by Riff, AC/DC, and Motörhead. Our music hasn't changed at all aside from the natural evolution that you gain with age. We play better, we sing better, we sound better, the composition is still the same, the strength is still the same. I'm the one who composes and arranges almost all of the music and I always composed the same way. My school is the "estribillos pegadizos," with a music that bangs your head, races your heart beat, and makes you move your feet. Out of the original line-up we're my brother Danny and Varo. In 2010 when we reunited, we welcomed two new excellent musicians: Gabriel 'Hell'Barbieri playing bass and Juan Pablo Riñón "JP" playing guitar. Without the shadow of a doubt, we sound way better than before.
Did you ever suffer any social repercussions or persecution at the hand of the State for being Metalheads back in the 80s?
Perro:
Obviously we suffered in the 80s and even today for playing music that is more "Gringa"
[Latin American term for people from the USA]
than Latin American pop music. Miserable politicized parties are enemies of bands that resemble the American and British founders of the music we make. These politicized parties want the youth to believe that Rock was created in the old Soviet Union and perfected in Cuba, and that Ché Guevara is a sort of Rock star. This is an accurate sign that we're in the end of times.
[Author's note: As ridiculous as this sounds, such preposterous rhetoric is common from some Latin American right-wing circles. There's a widespread belief that anything different to the norm stems from communism.]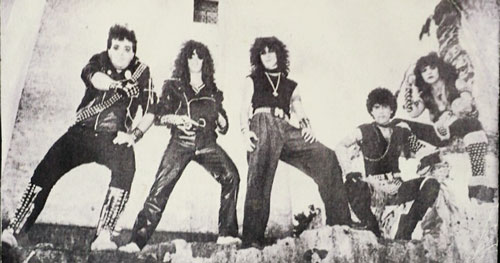 How hard was it to get instruments and recording equipment back then?
Perro:
It was very hard. Nobody had a good guitar or any good equipment: no Gibson, no Fender, no Marshall, no Ampeg, no Ludwing… they only appeared in magazines. In that time we played with second-class instruments. The equipment was made by my cousin Tony, Bill's brother, our old bassist. We rehearsed with those make-shift amplifiers. The situation was so bad that we placed a speaker inside the bass drum of Varo's drum set. The studios and sound engineers knew nothing about Rock. They were horrible.
Did you intend to start the Heavy Metal scene in Uruguay, or did you never think of that?
Perro:
I formed the band in 1981, we debuted in 1983 and everything grew naturally. Riff blew my mind when I saw them live in 1981 with their music and attitude. I thought to myself, I want to make a band with this style. We were the first in playing Heavy Metal. Each of our shows was like a volcanic ritual; it seemed the world would end at the end of the show. Our attitude was one of boundless, rebel, daring, and fun teenagers. We were the first in dressing with black leather, the first in using spikes and rivets, and the first in being literally stoned by our enemies. We were stoned with all the stones that weren't hurled at the Adulterous Woman from the Bible. And the Tragic-comedic thing about it, it's that they're still throwing "stones" at us.
Did you have contact with another Latin American band?
Perro:
Yeah, I was always in touch with Riff. So much so that Pappo offered us to produce a release in the 80s. Sadly, this project didn't go forward. As time went by he invited me to play with him in his travels to Punta del Este and Montevideo during the 90s. Varo excelled as a show producer and worked at some Riff shows in Uruguay. He also produced shows for La Renga (Argentinian band) in Uruguaya. They actually invited us to play these past few years as opening acts in Montevideo and Buenos Aires. It was big when we played to about 60,000 people in the city of Bragado (Province of Buenos Aires). Also, in 2016, we played in Montevideo with the mythical, pioneering Metal band from Spain: Barón Rojo. It was a privilege for us to share the stage with them.
How and why did you revive the band to record new music. How have your new albums been received compared to your first EP?
Perro:
This just happened naturally. I was living in Sao Pablo, Brazil. Varo called me and invited me to play at a show he was organizing in honor of Norberto "Pappo" Napolitano (died in 2005). I was picking up the guitar, composition, and singing, so I said yes, but my intention was to reform Ácido. He said yes, and so did Danny, and 'Hell' joined us with bass. We began making covers of Riff and Pappo's Blues at the Zitarrosa hall in Montevideo. After that we played at a festival with some other bands called Alternate 4, also in Montevideo.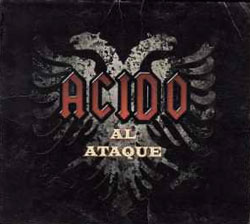 It was there that our new guitarist Juan Pablo Rinñón joined. In 2011 we entered the studio to record our first album, 'Al Ataque,' in the InZen studios of Montevideo. The album was finished in 2012 and was released in 2013 by the label Perro Andaluz in Uruguay. With this album we won the Graffiti Award for music in Uruguay under the Heavy Metal category and Hard Rock category. We had good reception in terms of sound and composition. Our second album is 'Metalrock.' We wrote it in 2015 in the same studio we recorded 'Al Ataque.' However, we mastered and produced it Sao Pablo, Brazil (my current address) in the studio Le Chats Audio, from my friend Claudio Erlam. This album was released in 2018 in Montevideo by the label Vlavular. That same year it was nominated to the top 5 best Metal and Hard Rock albums for the Graffiti Award in Uruguayan music. People have praised this album as more elaborate than 'Al Ataque' and as always, people like the intense rhythm and composition.
Is Ácido recognized as one of the first and finest Heavy Metal bands from Latin America?
Perro:
Yeah. Pappo from Riff once said that Ácido is like as important as is Riff in Argentina or Barón Rojo in Spain. Nowadays we're recognized in the world as the pioneering Heavy Metal band from Uruguay and one of the first of Latin America.
Anything else you would like to add?
Perro:
I would like to leave a message for the newer generations: Rock is a style of music. Dedicate yourselves to learn how to play it, practice it, study it, believe in your dreams and work for them. Be very careful, I don't recommend the use of drugs. The music business is about hard work, work, work, and it's not like Hollywood movies. For the human race in general, I say we are a speck of dust in space and if we want to continue as a species we have to stop with our divisions created by dogmas so that we can all be ONE.
Interview performed by Xecotcovach. Editing & design by DaN Edman. Previously published at the Ride Into Glory website.