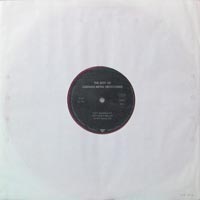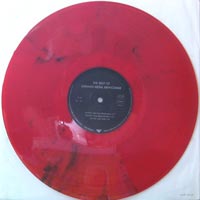 The Best Of German Metal Newcomer

DLP 1990

Label:
D&S Recording
#:
DS-017
Country:
Germany
Info:
Arguably one of the best and definitely the most rare and mysterious of the D&S compilations, though the interview w/ label boss Michael Jesch did shed some light on certain matters:

- Most copies came on red vinyl - both translucent and opaque versions exist - though some have streaks of black and some are even full black vinyl.
- No sleeves were made, but a promo-sheet/insert was instead produced for each disc, very seldom seen among the precious few occuring copies nowdays*.
- 1000x2 copies were pressed and distributed evenly between the bands, to be used for promotion.

Note that this means these records were hardly ever distributed as a Double-LP set, in turn explaining why the existance of the C+D-sides disc was practically unknown among collectors until the mid 00's. In light of this, one could argue weather this release should be considered a DLP at all..?

* = PLEASE GET IN CONTACT W/ US IF YOU CAN SUPPLY HI-RES SCANS!
CONTENT
bold
= exclusive track /
normal
= non-exclusive track /
italic
= non-metal
Tracklist side A:
MISFIT - Red Shoes




MISFIT - Find a Way




GAMBIT - Succes



Tracklist side B:
TEMPEST - Get Your Motivation




TEMPEST - Two Sides of War




LIZZARD - Into Void



Tracklist side C:
VEBRIFUGE - Religious Paranoia




VEBRIFUGE - Dressed In Blood




REFORGER - Take My Life



Tracklist side D:
CHESTNUTZ - Take My Life




CHESTNUTZ - Shame On You




CHESTNUTZ - No Place To Hide




SYSTEM DECAY - Human



Rating:
Keir:




DaN:




Rarity:





Submitted by Keir (disc #1) / DaN (disc #2)