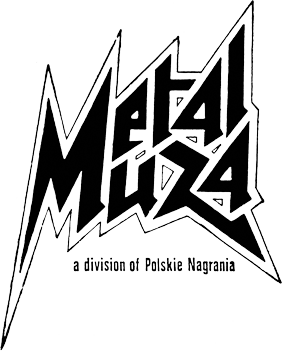 Short-lived Metal imprint/series belonging to the large, state-owned label Polskie Nagrania Muza. The closest Poland ever got to an original, vinyl-releasing HM label though to be honest its cup is not exactly running over with Steel-clad masterpieces...
It's worth mentioning that PNM did have a couple of proper Metal releases on their consciense before the Metal Muza-sublabel was launched, like TURBO's "Epidemie" as well as license pressings of bands like King Diamond, Helloween, Slayer and Sacred Reich.
Cover
Cat#
Artist
Title
Format
Year
Comment
SX 2913
Dragon
Fallen Angel
LP
1990
"Horda Goga" had a spark of Eastern Eeriness about it, despite the trad-Thrash performance. Here they're just failing at being Poland's Morbid Angel (Imperator won that race by miles..).

Technically only the cassette version is credited to Metal Muza. The LP version still uses the original Polskie Nagrania Muza label.
SX 2914
Non Iron
Candles And Rain
LP
1990
SX 2918
Acid Drinkers
Are You A Rebel?
LP
(CD)
1990
Ew... 'Humor Thrash' might be an even worse abomination than numt'l. Dunno who's worse, these guys or the infamous C.Y.D.H.I.E. Genoside?

CD version has no Metal Muza credit, only mother label PNM.
SX 2931
V/A
Stars On Thrash
LP
1990
Licensed from Roadrunner Records.

Featuring:
Flotsam & Jetsam, Mucky Pup, DRI, Pestilence, Toxik, Paradox, SOD, Acrophet, Gothic Slam, Slayer, Sacred Reich, Znöwhite, The Great Kat, Atrophy and Hades.
SX 2932
Sepultura
Beneath The Remains
LP
1990
Licensed from Roadracer Records / RC Records.
SX 2936
C.Y.D.H.I.E. Genoside
Ashes To Ashes - Only Rosie Forever
LP
1990
It's not only the doGawful vocals. The annoyance-factor is miles high on this prog-thrash monstrosity and just like the debut this is utterly unlistenably and best avoided at any cost.
SX 2953
Marty Friedman
Dragon's Kiss
LP
1990
SX 2954
Wolf Spider
Hue Of Evil
LP
1990
SX 2964
Destroyers
The Miseries Of Virtue
LP
1991
SX 2979
Hammer
Terror
LP
1991
They've upped the speed & energy from the debut and with an unusually crisp production & mix accompanying, this makest it the strongest of their 2 albums ...which by no means makes it a masterpiece but nonselective die-hard Thrashers should def' check this one out.
SX 2994
Turbo
Dead End
LP
1991
Compiled by DaN Edman.