----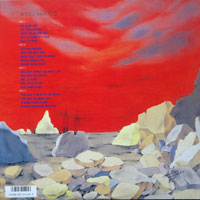 Metal Warning DLP 1987

Label:
Více
#:
38EC-2001
Country:
Japan
Info:
A must-buy for die-hard Japan Metal fans since it's full of exclusive recordings from plenty of semi-classic band. For the rest of us it's a fair cross section and representation of the Japanese traditional HM scene at the time, for better or worse...
Gatefold sleeve + folded insert w/ lyrics. (front sleeve w/out obi)
CONTENT


(

bold = exclusive track

/ normal = non-exclusive track /

italic = non-metal

)

| | |
| --- | --- |
| 1. | TILT - Bloody Mary |
| | Upbeat Hard Rock'n'roll. Does anyone actually like this kind of stuff? |
| | |
| --- | --- |
| 2. | TILT - Travelling Man |
| | Sounds like Accept when Accept sounds like AC/DC, but mostly like Accept. |
| | |
| --- | --- |
| 3. | INSPIRE - The Run-Down Liner |
| | Like on their 7" they're halfway 'Weird Japan', but I'm not sure they try to be ..or maybe they don't try hard enough? Good & original, streetsy Metal/HR nevertheless. |
| | |
| --- | --- |
| 4. | WOLF - Shadow Of A Shade |
| | Superb Power Metal with neo-classical guitars that outshines even the best moments of their MLP. |
| | |
| --- | --- |
| 5. | WOLF - Last Word |
| | Another pounding Accept-like lead riff but with more melodic vocals this time. Unfortunately the tune feels rather monotonous after a while.. |

| | |
| --- | --- |
| 1. | FAST DRAW - Nokemono |
| | Thrash Street-Metal like Wrathchild America or Megadeth-goes-sleaze? |
| | |
| --- | --- |
| 2. | SABER TIGER - Break Down |
| | The Fasten Up Records-lot this time and not Hide's (X Japan) old band. Good'n'fast Americanized Metal. Different to 7" EP version. |
| | |
| --- | --- |
| 3. | MEDUSA - Grab It With Your Wisdom |
| | My doG Accept must have been HUGE in Japan in 1987! ...no wait, this is a bit more 'Party-Metal' really. |
| | |
| --- | --- |
| 4. | MEDUSA - Nothing Of You |
| | Going all-in on the 'Party-Metal' trip this time. |
| | |
| --- | --- |
| 5. | MAZERAN - Heaven Tonight |
| | Flimsy keyboard-dominated HR. |

| | |
| --- | --- |
| 1. | URGH POLICE - Midnight Love Hunter (live) |
| | Good'n'ready NWOBHM-like 'album-opener' power! |
| | |
| --- | --- |
| 2. | URGH POLICE - Next 806 |
| | Funny, angular riffing that's still not original enough to take their average rockmetal to any higher levels. Still an awesome band name tho' |
| | |
| --- | --- |
| 3. | JEWEL - In Silence |
| | Excellent Queensrÿce-style melodic Metal, yet carrying all the Japanese trademarks. |
| | |
| --- | --- |
| 4. | JEWEL - Appeal To Arms |
| | They still have a 'rÿche-feel to them, but this is more of a straight-forward Power/Heavy tune. |
| | |
| --- | --- |
| 5. | COLOR - Sandbag Baby |
| | Silly, happy-rock nonsense. |

1.
TERRA ROSA -

Vision Of The Lake Bottom

Absolutely radiant proto-Power with a hefty Rainbow/Silver Mountain-bias. The kind of tune that puts the band's discography on your wantlist in no time.
2.
TERRA ROSA -

The Endless Basis

More of the same and possibly even better. Think "Marching Out"-era Rising Force. Atm I can't confirm weather these are the same recordings as on the debut LP or not. They are however recorded in the same studio, by the same engineer the same year.
| | |
| --- | --- |
| 3. | EX.DANGER - Silence Of Night |
| | On their excellent "Tyrant Into The West"-mini the vocals were tolerable and merely the weakest link in an otherwise very strong chain. On this more commercial/melodic tune they sound quite awful. |
| | |
| --- | --- |
| 4. | EX.DANGER - Imagination Break Down |
| | Back to the good'n'fast Power-style of the MLP, but the vocals are still insanely bad, like Klaus Meine with CP. |
Submitted by DaN

Corrections and additional info go

here

. Thank you!