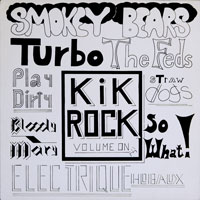 ----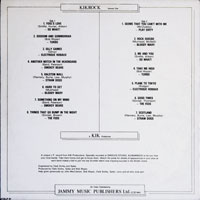 Kikrock - Volume One LP 1982

Label:
KIK Productions
#:
KIKLP 01
Country:
Scotland
Info:
Not exactly a thundering storm of Steel this one, but half of the content could at least be classified as Hard Rock, so let's investigate...
CONTENT


(

bold = exclusive track

/ normal = non-exclusive track /

italic = non-metal

)

| | |
| --- | --- |
| 1. | SO WHAT! - Fool's Love |
| | Feel-good hard rock standard. |
2.
TURBO -

Soddom An Gomorrah

Rollin' rumblin' boogierock-metal(?) with a taste of Slade/Sweet that's a lot nicer than you'd think.
3.
ELECTRIQUE HOBAUX -

Silly Games

Pop-wave a la The Monochrome Set.
4.
SMOKEY BEARS -

Another Notch In The Headboard

Dreary boogie-woogie rock.
5.
STRAW DOGS -

Ralston Wall

Punk rock.
6.
BLOODY MARY -

Hard To Get

Sturdy rockmetal with a touch of AC/DC. Also reminding of Girlschool thanx to the fem vox.
7.
SMOKEY BEARS -

Something On My Mind

Consistently dreary 'classic rock'.
8.
THE FEDS -

Things That Go Bump In The Night

Wavy hard rock/rocking new wave that's pretty sweet if you enjoy the less heavy moments of The Plads or The Blood.

1.
PLAY DIRTY -

Seems That You Can´t With Me

Another effort closer to NWOBHM, but a rather mellow and stuffy form that's closer to Gillan than Dragonslayer if you get me..
2.
BLOODY MARY -

Rock Suicide

More of a basic Hard Rock tune this time, reminding me of Panza Division or Heretic because of the hooks in the chorus.
3.
SO WHAT! -

Me And You

Some great guitar harmonies in this almost-pure NWOBHM number. Pity the lovey-dovey lyrics.
4.
TURBO -

Take Me High

Sleep-inducing boogie-HM like those few awful ones from Witchfynde or Holocaust.
5.
ELECTRIQUE HOBAUX -

Plane To Tokyo

Ballad.
6.
THE FEDS -

Good Times

Silly pop dreg.
7.
STRAW DOGS -

Scotland

A punk anthem that's just too bloody good not to be ripped off from somewhere else.
Submitted by Keir

Corrections and additional info go

here

. Thank you!