Edit: The new comp-comp series is now launched! --> test-pressing deleted --> moved to Worship Me Or Die subforum.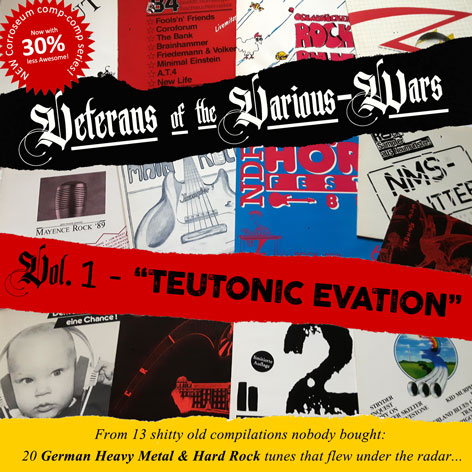 Click to download. Site address:
http://thecorroseum.org/comps/index.php#cdr
From the back sleeve of Volume 1:
The Corroseum wrote:After years of hoarding ugly, rural compilation albums from all over the world just to add to The Corroseum's Metal Compilopedia, I felt it was time to put this pile of 85% useless junk to even better use. Me and Keir have dabbled in the field of compilation-compilations before, resulting in 4 volumes of virtual CDRs (downloads in the link below) compiling our favourite tracks from all forms of metallic samplers. This time the focus will shift solely to the most Underground form of Steel there is: that which only appeared on obscure, mixed-styles albums produced by local music organizations, radio stations and/or d.i.y. labels. Occationally we will meet old familiar friends on their first steps into the Metal sphere, but for the most part these bands are so arcane they didn't even produce demos(!) - The Epitome Of Ubsküre Metal Kült! Of course this means the general quality won't quite match that of the previous comp-comps, but this time I'm more interesting in cataloguing and exposing what's out there rather than making a Greatest Hits series. Bear in mind I've at least had the decency to exclude the most dire compositions. (Oh don't worry, we'll have a special edition of the truly hilarious WORST-Of-The-Worst-type of stuff in due time..)

For the sake of neat packaging and conceptualization I will also try to compile these samplers country-by-country ("Bloodstains.."-style) for as long as it's possible. We randomly start off with West Germany. There were tons of albums like these from this country and I've already got over an hour of remaining German material waiting on my hard drive, but for the next volume we'll probably be travelling somewhere else, like Russia, or maybe Italy, or why not Sweden??