A little early stocking filler for all at the Corroseum.
And thanks again for your contributions DaN.
VARIOUS : Tasty Too - Truly Obscure Vintage Hard Rock (1977-1983) USA
320 kbps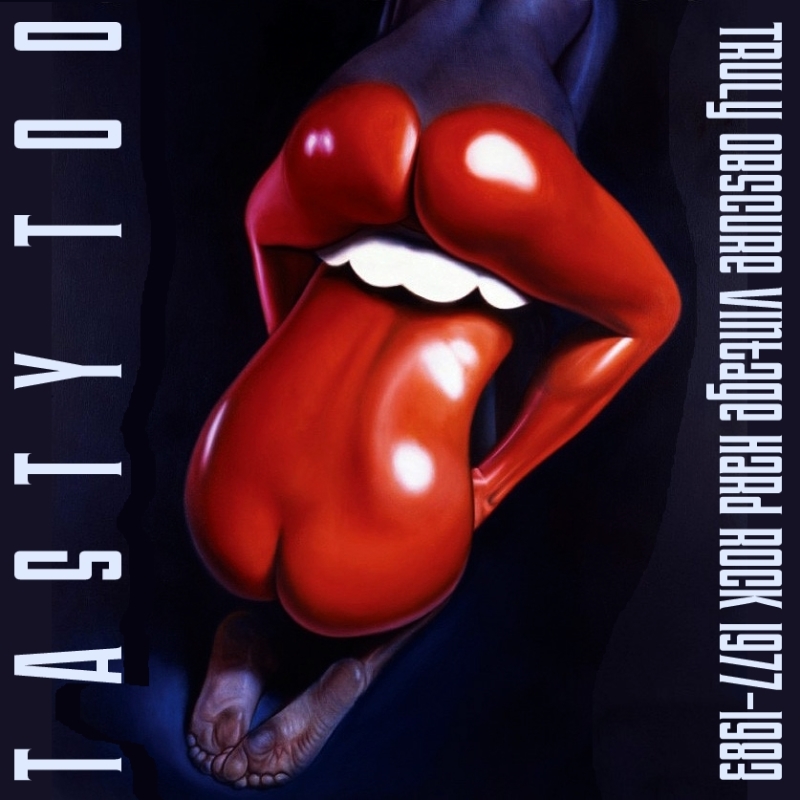 01. Twisted Sister - You Can't Stop Rock And Roll
02. Lightning - Home Again
03. Magician - Can't Do Without You
04. Avatar - Minus Love
05. The Michael Spears Band - Guitar War Heroes
06. R.L. Suite - Sleeper
07. Rail & Co. - You've Got A Lot To Live
08. Rizzo - Get Off My Back
09. The Malones - Street King
10. C.I.A. with Randy Meadows - The Devil Cashes In
11. T-N-T - Love Isn't Free
12. Whiz Kid - Play Dirty
13. Brief Encounter - Can't Quit Your Love
14. D.B. Night - I'm Hangin'
15. Shepherd - The Power
16. Gibraltar - Heart Throb Outlaw
17. Alloy Czar - Taking The Lead
18. Vicious Rumors - I Can Live Forever
19. Trancent - Flight To Uranus
20. Ms. Treat - In/Out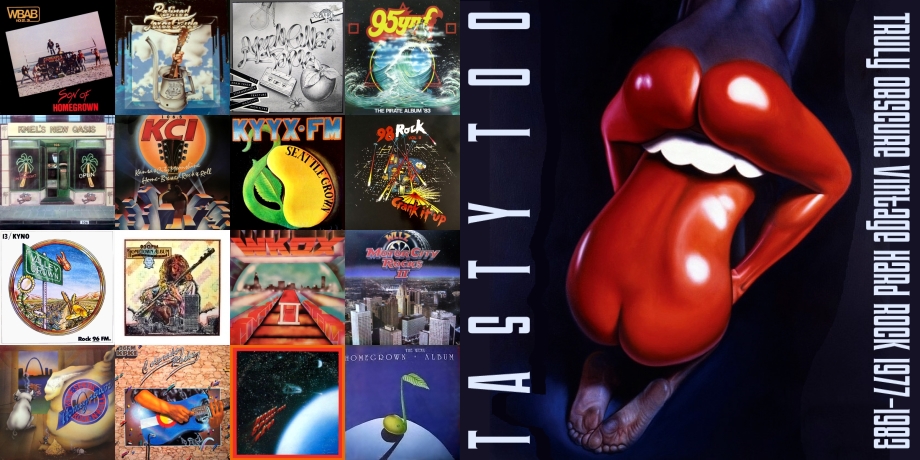 Track 01 from the 1982 : 'WBAB : Son Of Homegrown' LP
Track 02 from the 1977 : 'FM 102 : Refined Texas Crude' LP
Track 03 from the 1982 : 'WAPL : Apple Cellar Tapes' LP
Track 04 from the 1983 : '95YNF : The Pirate Album '83' LP
Track 05 from the 1983 : 'KMEL's New Oasis' LP
Track 06 from the 1982 : '106.5 KCI : Kansas City Moonshine : Home-Brewed Rock & Roll' LP
Track 07 from the 1978 : 'KYYX-FM Seattle Grown' LP
Track 08 from the 1981 : 'WIOT FM 104 : Toledo's Best Rock' LP
Track 09 from the 1981 : 'WDIZ : Rock On Orlando! : Homegrown Vol 2' LP
Track 10 from the 1982 : '98 Rock Vol II : Crank It Up' LP
Track 11 from the 1978 : 'KYNO : Valley Grown' LP
Track 12 from the 1982 : '93 QFM Hometown Album Project No. 2' LP
Track 13 from the 1978 : 'WKQX Hometown Album Vol. II' LP
Track 14 from the 1983 : 'WLLZ : Motor City Rocks II' LP
Track 15 from the 1980 : 'KSHE Seeds : Homegrown Rock 'n' Roll' LP
Track 16 from the 1980 : 'KSHE Seeds : Homegrown Rock 'n' Roll' LP
Track 17 from the 1982 : '96FM KPKE : Colorado Rocks' LP
Track 18 from the 1983 : 'KMEL's New Oasis' LP
Track 19 from the 1979 : 'WKQQ 98 : Home Spun, Too' LP
Track 20 from the 1980 : 'WDIZ : Homegrown Album' LP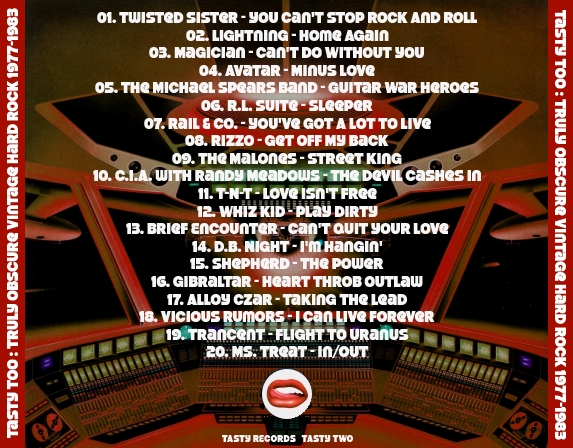 In the 1970's & 1980's a little-remembered but common promotional tool for U.S. radio stations was the local artists compilation LP.
Often the groups included were chosen to appear through local battle of the band style contests, but later on some of these competitions went statewide or even national, and were often sponsored by big booze companies like Miller or Seagrams.
Whilst the majority of these bands shuffled straight back into obscurity often leaving these compilations behind as the only record that they ever existed, many aspiring rockers who later became well known got their first break on these things.
These records usually veered all over the place both stylistically & in terms of quality, but with persistent digging the occasional golden nugget can be found amongst all the dross.
Here are 20 unsung but very worthwhile songs, plucked from some of those long forgotten records and conveniently assembled in one place for your listening pleasure.
Primarily taking in Hard Rock & Heavy Metal, with the occasional excursion into Southern Rock, AOR or Pomp Rock territory, all the tracks were recorded between 1977 & 1983.
TWISTED SISTER were a Hard Rockin' quintet originally formed in Ho-Ho-Kus, New Jersey in 1972, and later based in Long Island, New York. Perhaps this demo version of 'You Can't Stop Rock And Roll' from the 1982 'WBAB : Son Of Homegrown' LP was all they ever released. With the right breaks, they might have been big.

LIGHTNING was a Texan band who came to be in the late 1970's, formed around the six string talents of Rocky Athas. The band only managed to release one 45 in their lifetime, 'Make It Right' in 1980, but were a big live draw in their home state for many years. After Lightning folded, Athas contributed guitar to JIM DANDY's 1985 'Ready As Hell' LP & recorded the lone TEXAS MUSIC MACHINE album with members of NITZINGER, BLOODROCK & BUGS HENDERSON GROUP. He then joined the reactivated BLACK OAK ARKANSAS in 1996 and played with them for 5 years. Rocky then formed THE ROCKY ATHAS GROUP, releasing 2 albums, before he made an album as ROCKY ATHAS' LIGHTNING which featured many songs played live back in the day by Lightning. Those in the know however say that the 2007 recordings don't come close to matching the original band in their pomp. Since 2009 Athas has been the guitarist with legendary blues man JOHN MAYALL & he continues to sporadically release solo records.
MAGICIAN were a group from Wisconsin who seem only to have released the song 'Can't Do Without You' on 1982's WAPL106 FM compilation LP, ' Apple Cellar Tapes'.
AVATAR were of course the precursor band to the legendary SAVATAGE. 'Minus Love' is one of 2 songs they had on the '95YNF : The Pirate Album '83' comp LP. The only other release during the band's lifespan was 1983's 3 song 'City Beneath The Surface' EP. An unofficial (?) CD-r compilation of their '79-'81 demos entitled 'Beyond The Doors Of The Pit' is also in circulation.
The MICHAEL SPEARS BAND were a much-loved cult band in the clubs of San Francisco's Bay Area throughout much of the 70's & the early '80's, though the group actually hailed from further North, up in Napa Valley. In addition to their club work they also supported bigger national acts like SAMMY HAGAR, GREG KIHN BAND, NIGHT RANGER & STONEGROUND at larger venues. Their 1st release was the 1977 'Steal My Heart' 45 on Rich & Famous Records, followed in 1979 by the 'Rockin' Feelin' 7". The latter, on DGC Records, was credited to 'MTS' (Michael T. Spears) on the pic sleeve, and 'Michael Spears' on the label. The 1977 single was recorded with a 4 piece line up, but the group had slimmed down to a trio by the second 45. Aside from Spears himself, the line up for their final vinyl appearance, (billed once more as 'The Michael Spears Band'), on 1983 'KMEL's New Oasis' LP, is not known.
R.L. SUITE were a five piece band from Kansas City, Missouri. 'Sleeper' seems to have been their only song to see commercial release. Singer Rick Loveall later released a solo single 'Sometimes Takes A Woman' on Fifth St. Records. Guitarist Bo Brown went on to play & record with HOWIE & THE HILLCATS, HOGMOLLY, THE LOWDOWN FANCY & BLACKBERRY WINTER.
RAIL & Co. were an early incarnation of Seattle, WA, Hard Rock band RAIL. Formed in the early '70's as RAIL & COMPANY, they'd shortened their unweildy moniker to 'Rail & Co.' by the time of their debut release, the 'Rockin' You' '45 released on Sea West Records in 1977. As Rail, they released 3 full length LPs & an EP between 1980 & 1985, before becoming joining forces with RONNIE MONTROSE (as 'Rail with Ronnie Montrose' aka 'MonoRail') from 1985 to 1987. The original line up eventually drifted apart, but the group continued throughout the 80's & 90s as a live act, not releasing anything further until a 1997 album called 'Big World'. The group continue to play together to this day, & over their career have supported the likes of VAN HALEN, TED NUGENT, NAZARETH & BLUE OYSTER CULT..
RIZZO were a Hard Rock/Heavy Metal outfit from Toledo, OH active from 1979-1983. Besides their appearance on FM104's 1981 'Toledo's Best Rock' compilation LP, the group also released a 45 entitled 'Get It When It's Hot' on the Black Hawk label around the same time. Rizzo's drummer Terry Murphy later went on to play with a host of other bands including BATTALION (Texas), CHASER, HAGGARD, DOGS OF THE SUN & MUDD FARM.
THE MALONES were a quintet formed in Orlando, Florida by guitarist brothers Mike & Chris Merrell in 1979. This song appears to be their only vinyl appearance. The Merrell brothers were also founding members of the bands SNEAKY PETE & RAMBO STREET REVUE and Chris later played & sang with an early incarnation of the DEREK TRUCKS BAND.
C.I.A. were a 4 piece outfit from Baltimore, Maryland. Their only other release was the 4 song 1981 'Central Intelligence Agency' EP.
T-N-T were a Hard Rock quintet formed in Fresno, California, in 1978. The group was only 4 months old when they recorded their contribution for the KYNO 'Valley Grown' compilation LP. This track 'Love Isn't Free', seems to have been their only commercial recording. Guitarist Robert Diebert would later reappear as a member of the unusual Heavy Rock act ELECTRIC EELS.
Milwaukee, WI, quintet WHIZ KID had their song 'Play Dirty featured on 2 compilations, both released in 1982. It appears on '92FM WMAD Homegrown '82' & the 2-LP '93QFM Hometown Album Project No. 2', which was pressed on transparent gold vinyl. The song was also the A side of the group's lone single from 1980, which was issued as a 7" and a single-sided 12" too, both released by Cyclomedia Records.
BRIEF ENCOUNTER were a female-fronted five piece band from Chicago, Illinois. This track from the 1978 'WKQX Hometown Album II' compilation seems to be their only vinyl appeatance.
D.B. NIGHT were a band from Detroit, Michigan, who released a 4 song self-titled EP on the Electric World label in 1983. The female fronted quartet had several songs featured in movie soundtracks in later years but never released any further stand alone records. The song 'I'm Hangin'', was featured on the soundtracks to 1988's 'Child's Play', 1989's 'My Mom's A Werewolf' and also in 'Nobody's Perfect' the following year. The latter 2 films also featured a further D.B. Night track on each soundtrack. 1989's 'Crack House' soundtrack featured 2 more D.B. Night songs.
SHEPHERD were a Heavy Metal quartet from St. Louis, Missouri. Their track 'The Power' appeared on the 1980 'KSHE Seeds Homegrown Rock N Roll LP' compilation. In the same year they had another track, the unremarkable 'Already Wrote' featured on the Copperhead Records Various Artists LP, 'On The Loose'. These appear to be their only commercially available tracks.
Guitarist/Vocalist Dave Bohannan was also a member of AMBUSH who appeared on that KSHE LP as well. Ambush released their lone 10 song S/T album in 1981.
GIBRALTAR were a quintet based in St. Louis, Missouri, but originally formed in Southern Missouri in the late 1960's.
A big live draw in the clubs as a headliner, they also played with several big names in larger venues, including STYX, BLUE OYSTER CULT, KANSAS & MAMA's PRIDE. In 1974, they backed JOE PRICHARD on a one-off collaboration LP, the imaginatively titled 'Joe Prichard & Gibraltar'. As a recording act in their own right, in addition to this track from the 1980 'KSHE Seeds : Home Grown Rock 'n' Roll' LP, Gibraltar also had a further two tracks featured on the 1982 'KWK Moonshine II : More Home Brewed Rock 'n' Roll!' compilation LP.
ALLOY CZAR were formed in Denver, Colorado in 1978, initially as a trio, but later expanded to a 5 piece configuration with a more metallic bent. This version of the band recorded demos in 1981 & '82, and had the song 'Taking The Lead' featured on the '96FM KPKE Colorado Rocks' comp LP. The band ran out of steam in '83 or '84 after ditching their original material & becoming a covers band, with it's members moving on to other things, with vocalist Bob Parduba taking over the mike from Harry Conklin in JAG PANZER. Parduba was a member of JP for 3 years and recorded the 1985 'Chain Of Command' album with them. It went unreleased at the time but was finally given an official release in 2004.
2004 saw Parbuda contribute backing vocals to Jag Panzer's 'Casting The Stones' album. Parduba has also fronted MERCEDES, RUSSIA, DIRTY BOYZ & SALEM SPADE. Alloy Czar drummer Scott Carson later reappeared in Death Metal band CHARLIE CHRIST who released the 1994 album 'Symphonies Of Blasphemy'. In 2013 Arkeyn Steel Records released a ltd edition 8 song Alloy Czar compilation CD combining the '81 & '82 demos, entitled 'Awaken The Metal King'.
VICIOUS RUMORS was formed by Geoff Thorpe in 1979 & though he's been the only constant member throughout, the San Francisco based band continues to this day. Since they made their vinyl debut with 'I Can Live Forever' on 'KMEL's New Oasis' LP in 1982, they've released 13 studio albums, 4 live LPs & an EP.
TRANCENT were a trio from Lexington, Kentucky, whose only vinyl appearance was on the WKQQ 98 'Home Spun, Too' compilation in 1979. I'm pretty sure the title of their track, 'Trip To Uranus', is intended as some kind of clever double entendre, but what it alludes to i simply have no idea.

Ms. TREAT were a female fronted five piece band from Winter Haven, Florida which contained 2 brothers and a husband & wife within their ranks. In addition to their appearance on 'The WDIZ Homegrown Album' LP, they also had a song on the 2nd volume, & the same track also made it onto the 'Playboy Street Rock' compilation LP. A further song can be found on the 'Book The Stars' compilation, a promo LP released by the group's booking agency, J. Bird Booking.
Both of these sites are invaluable sources of information, if you are curious about the world of radio station local artist comp LPs they should be your first ports of call:
http://thecorroseum.org/comps/index.php
http://www.radiouseonly.com/
art & txt included
Exclusive content for logged in users.
no PW
Thanks to all the original rippers, uploaders & sharers