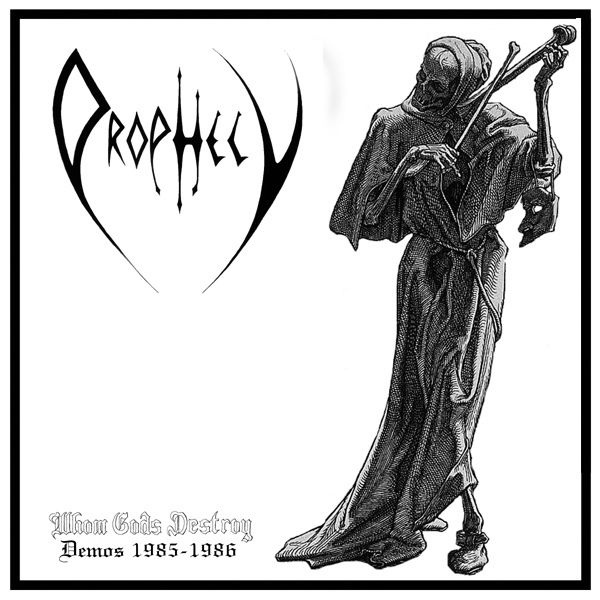 Once upon a time Denmark was somewhat of a heavy metal superpower. Producing bands like Mercyful Fate, King Diamond, Pretty Maids, Witch Cross and Artillery, Denmark was the leading country in Scandinavia. One of the great bands from the golden age of Danish metal was Prophecy.
Hailing from the town of Odense, Prophecy played their own distinct kind of metal with an undertone of doom and with an edge as sharp as a guillotine blade. Their music captured the zeitgeist of the mid-eighties while retaining Prophecy's unmistakable touch of originality.
The music of Prophecy had no Achilles' heel. Every member of the band (drummers Per Rasmussen and Johnny Michael, guitarists Michael Bodin and Per M. Hansen, bassists Jacq Forest and Carsten Frederiksen) was a skilled musician. Above the metallic riffs and the pounding drums Torben Askholm's operatic vocals were soaring. Prophecy's music was absolutely epic!
Prophecy released two demos: Coming of the Prophet (1985) and Whom Gods Destroy (1986). Both tapes received rave reviews from the metal press. The German Metal Hammer described the Danes as a "promising band." Blackthorn magazine compared Prophecy's song arrangements to classical music and described them as "elegant." Metal Power magazine went as far as claiming that Torben Askholm & Co. were "Denmark's most sovereign band!" And so forth.
But alas! Things were much tougher back in the eighties. Even contracts with independent record labels were hard to get and lots of great metal bands disappeared into obscurity without ever releasing an album. Like so many other bands of that era Prophecy were struggling to make it. A revolving door policy (members leaving and reentering the band) didn't help either. Neither did renaming the band. Thus Prophecy became Prophets of Doom became Migaira became Prophets of Doom once again.
Eventually Prophets of Doom would release the album Access to Wisdom (Metalworks Records, 1989). The album contained some strong material but unfortunately it bombed. In the course of time, however, it has become a cult classic. Just like the Prophecy demos Majesté Records are presenting here – on vinyl for the first time!
Songs like "Children of the Corn", "The Witch", "Holy Spear" and "Satanic Rites" are bristling with that certain something that makes art timeless. The Prophecy songs have a musical depth and an atmosphere that is sadly missing in most modern metal. Enjoy!
Peter Béliath
"Holy Spear":
https://www.youtube.com/watch?v=qCgUomXZBv4
"Satanic Rites":
https://www.youtube.com/watch?v=GjvmEV_6Lfg
15 euro + postage from Denmark
To order, write:
majeste-records@live.dk