It seems my grunge question split the room right down the middle, strong opinions on either side & not much ambivalance.
I've likely said so on here before but the so-called grunge thing always struck me as the 'emperor's new clothes'. The bands were lumped together & marketed as if they were something new & different, but their influences were easy to hear and they made no secret of their love of 70s Heavy Rock & 80s Metal. I think perhaps where there
was
a slight divergence was that their record collections seemed to contain a bit more more punk than your average Hard Rock/Metal band & that cropped up in some of the bands sounds and perhaps in their attitudes too, but i never felt alienated by that, it just gave them a different set of textures which was really refreshing to hear after far too many years of twiddly guitar players in thrall to their locking Floyd Rose tremmys.
Sales of those things must have hit rock bottom in the 90s.
As someone who had aspirations towards being a singer at the time, it was truly inspiring to me to hear so many great new & very individual voices emerge from that time, it's absolutely tragic that so many of them aren't still with us in the present day.
I also wonder where this strange myth came from that 'Grunge' was some kind of musical conspiracy to kill Metal?
Most of those bands were obviously Metalheads to a greater or lesser degree, they toured with Metal bands & the crowds they attracted weren't completely different audiences by any stretch of the imagination. Whether i was going to see Alice, Soundgarden, Paw or whoever, there were plenty of long haired types in Metal shirts in those crowds, in fact thay were probably in the majority.
Anyway, it's all a matter of personal taste ultimately, and nothing i say on the subject is likely to change anyone's minds on the subject, but it does seem to me like a lot of people were put off by the trappings & marketing and didn't give the music an unbiased listen. There was a huge amount of sonic diversity & some terrific records were made that still sound amazing to me now. Lastly, kudos to Noisenik for mentioning The Afghan Whigs. You have great taste mate.
Returning to the topic at hand, i was looking for something else in my spare room last night, (which i've still yet to find), when i came across this strange pile of discs in a cupboard that left me scratching my head: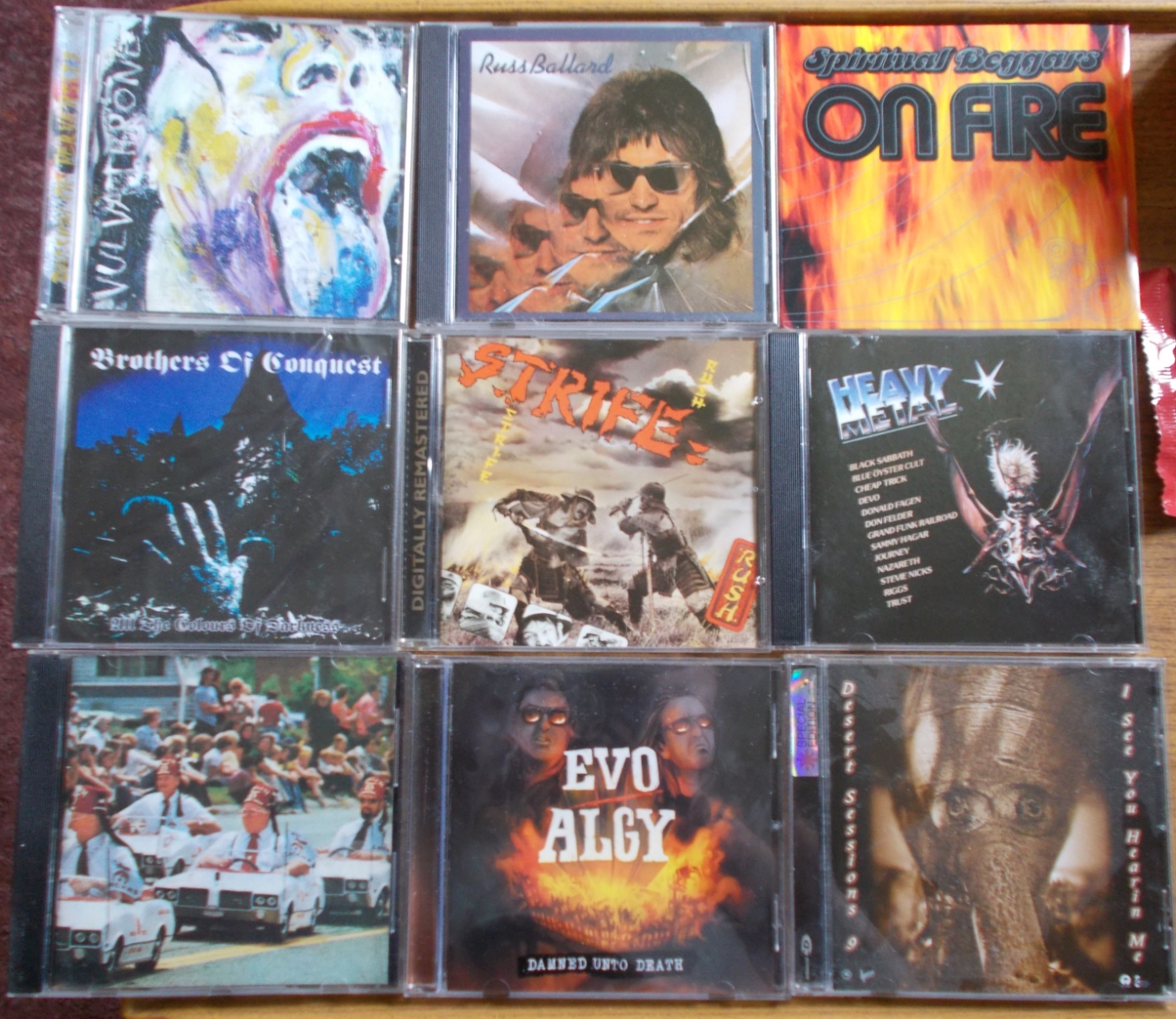 I have no recollection of ever owning most of these, with the exception of Strife, Spiritual Beggars & the Heavy Metal soundtrack, all of which i thought i'd traded away years ago. I immediately put on the HM soundtrack in order to listen to the alternative version of 'Mob Rules' & Riggs 'Radar Rider' for old times sake.
I have a sealed 2nd copy of the Brothers Of Conquest album? Where on earth did that come from?
DK's Frankenchrist? I have absolutely no recollection of buying that, The Desert Sessions, Evo/Algy, or Russ Ballard's self titled album.
And Vulvathrone? Who on earth are they?
I've never even heard of them & that's the type of name i would normally remember.
Utterly baffling & slightly worrying. Is this my first 'senior moment'?
I'm beginning to worry about early onset Alzheimers at this point quite frankly.