Zen Venom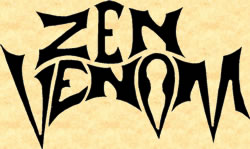 We formed in early 1983 and played just cover songs in local Adelaide hotels.
We toured in Northern Territory in 1985.
Various line-up changes until 1988 when settled as Rob Mueller (guit), Ronnie Haines (voc), Steve Schultz (drums) and Chris Walker (bass).
Rob was the only one who was left from the original lineup. For both Rob & Ron this was their first band, while Chris and Steve played together in garage band called Mr Chainsaw.
This line-up's first show was a private farewell party in the Adelaide Hills.
In April 1988 we went into "Bartels Street Studio" in Adelaide to record "From Another Planet". It was engineered by Tony Elliott. It was self-produced (Heavy Melody Production) and self-funded at a cost of approx 800,- Australian $ and was pressed in 500 copies. We recorded in 1 day in 1 take with vocals and solos dubbed in after. All songs were recorded live as a group. We have 6 songs recorded ("From Another Planet", "Brainwashed", "Kiss Of Death", "Fools Gold", "In What You Take" and "Fry You Tonight"). The last 2 were not included on the EP and were meant for later releases. The cover artwork was done by Martin Howarth, a local artist and friend of the band. It was an original that he has designed after consulting with the band. It cost 100,- Australian $.
We spent 6 months rehearsing a stage show, including massive lightshows and pyrotechnics. Our playlist included recorded songs plus various covers (like Dio, Black Sabbath, Van Halen, Iron Maiden, AC/DC,...).
The first full show was on Feb 16th 1989 at "Battle Of the Bands Heat 7" in Adelaides Old Lion Ballroom. We where one of 24 local bands including Outrage and Sudafed. And we won ;)
On March 23rd 1989 we won the semi final at "Battle of the Bands 4th".
On March 30th 1989 we played at the "Battle of the Bands Final". We didn't win, but we got 1000 heads banging!
"From Another Planet" was released at May 5th 1989 in Century Hotel Adelaide. Well attended and well received. The EP was released only in Adelaide and was available only at a few stores. We received good reviews in Adelaides "The Advertiser" and gained airplay on local stations SAFM and MMM.
At May 21st 1989 we did a support gig for Mortal Sin at Bridgeway Entertainment Complex in Adelaide.
Another live show on June 9th 1989 at Bridgeway Entertainment Complex.
We got reviewed for "From Another Planet" in "Hot Metal" Issue number 7/1989 (Australian metal magagazine).
Few months later Zen Venom spilt! Internal differences led to both Steve and Chris leaving the band. An ex-drummer and another bassman were recruited and the band played on for another 12 months, but it was not the same and the band folded for good.
Since then, Rob works as carpenter (no more live acts but still involved heavily in recording). Ron get involved in wildlife rescue (no more bands), Steve works as a Truck driver (still drumming hard, just finished with Volatile( a hard rock Pub band) and Chris works as a Foundry worker know (various bands including Tongue, Sioux City and Black Sabotage. He's currently playing in Offensive, a cross between Kiss and Primus (debut CD was released in April 2002 - Titel: "BBQ Arias" (on Rising Star Music label).
All words, images & Logos by courtesy of Steve Schulz, autumn 2002.