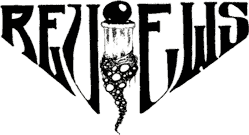 Welcome to the most important part of THE CORROSEUM - the reviews! Here you'll find my reviews of old, unusual Metal-records I find interesting for any reason. In some ways the chosen titles reflects my personal interest, i.e. 80's underground/indie Metal of all forms, from classic NWOBHM to extreme, early Black/Death/Thrash and plenty in-between, but this is in no way a "
favelist
". I'll deal with the ultra-über-mega-fuckin-super-duper-top-of-the-crop-monster-RARE! stuff that I still haven't seen anyone writing about on the net, as well as "medium" rare material I feel is being ignored coz they're lost somewhere between "common" and "collectable". This way this page can be informative both to die-hard collectors as well as people who've just started to dig around in the old 80's Metal Underground. Not all titles are in my own collection, but most of them have been at some point. I find it easier to write about a record that I've actually held in my hand and have had a relation to, rather than some anonymous mp3- or wav-file that came in the mail. There's still plenty of titles to choose from in the "archive", so that policy doesn't need changing anytime soon.
If some of these reviews look familiar it's because I originally wrote them for the sadly missed Metal Treasures website. I thought it would be OK to include my past writings on this my very own collector site, and I can't imagine Charly would disagree. Many of the reviews have been revised coz of new added info, old annoying spelling mistakes and other things. Hey, it's allowed. It's an interactive media...
# A B C D E F G H I J K L M N O P Q R S T U V W XYZ V/A
(Titles in italics are reissues)


707 Inches Of Swedish Steel - 101 rare Swedish 7"s reviewed in one long article!


A

ALIEN FORCE - hell and high water LP
ALTA TENSÃO - portal do inferno LP
ANNATHEMA - s/t LP
ARC - war of the ring 7"
ARGUS - s/t MLP
ARKANGEL - rock nacional LP
AWOL - s/t MLP

B

BLACK DEATH - s/t LP+7"
BLACK HOLE - land of mystery LP
BLACK TASK - s/t MLP
BOOTLEGS - w.c. monster LP

C

CALVARIO - ixoye LP
CHARISMA - rock the world LP
CHARLIE 'UNGRY - the chester road album CD
CHILD SAINT - s/t 12"
CHYKLE - relampago de rock LP
COVEN - worship new gods LP
CRACKED MIRROR - s/t LP
CROWLEY - the scream of death 8" EP
CROWLEY - wisper of the evil LP
CRYSTAL PRIDE - s/t 7" EP
CRYSYS - hard as rock LP

D

DANGER ZONE - victim of time MLP
DARKSTARR - s/t MLP
DEEP SWITCH - nine inches of god LP
DEMONIAC - touch the wind LP
DETEST - thundersteel MLP
DORSAL ATLÂNTICA/METALMORPHOSE - ultimatum Split-LP
DRUID - vampire cult LP
DUM DUM BULLET - s/t LP
DWARR - animals LP

E

EUDOXIS - attack from above 12"
EXTERMINATOR - total extermination LP

F

FAITH - hymn of a sinner 7"
FLAMES OF HELL - fire and steel LP
FONGUS - metal LP
FONGUS - sobredosis de metal LP
FRONT - mortal surgery LP
FUTURE TENSE - condemned to the gallows MLP

G

GEHENNA - en busca del valle de gehenna LP
GENOCIDE - roots in rock MLP
GENOCIDIO - s/t MLP
GLACIER - s/t MLP
GOTHAM CITY - black writs MLP
GRAF SPEE - reincarnation LP

H

HAMMERHAWK - breaks loose CD
THE HAND OF DOOM - poisonoise LP
HEATHER LEATHER - we came to destroy 7"
HELLBREATH - slave of god LP
HELLER - s/t LP

I

INNER SANCTUM - 12 a.m. LP
INNOXIOUS - messenger 7"

J

JEWEL - la morta CD

K

KIMMO KUUSNIEMI BAND - moottorilinnut LP
KIM SIXX - warrior/bang your head 7"
THE KINGDOM - s/t (love, peace, god) LP

L

L.A. - s/t LP
LEGION (USA) - legion of deth MLP
LORDS OF THE CRIMSON ALLIANCE - s/t LP
LORETTA - s/t LP
LUNATICS WITHOUT SKATEBOARDS Inc. - welcome to the asylum CD

M

MAGNIT - dies irae LP
MALIBU BARBI - rude girls 12"
MALISHA - serve your savage beast LP
MANIMALS - blood is the harvest MLP
MASTERWORK - bad power 7"
MAZO - s/t LP
MERSINARY - choose death Pic-MLP
METAL LADY - s/t LP
METALMORPHOSE/DORSAL ATLÂNTICA - ultimatum Split-LP
MORBID SAINT - spectrum of death LP
MYSTIQUE - black rider MLP
MYSTO DYSTO - the rules have been disturbed LP
MYSTO DYSTO - the rules have been disturbed CD

N


O

OBLACHNYJ KRAJ - svobody zahotely? LP
OMEGA - the prophet LP
ONYX - s/t 7" EP
OVERLOAD - s/t MLP
OVERLORD - s/t MLP

P

PARABELLUM - sacrilegio 12"
PARABELLUM - mutacion por radiacion 12"
THE PLADS - domine deus MLP

Q

QUO VADIS - s/t LP

R

RANDY - shadows are falling/the beast 7"
RAW ENERGY - white stallion MLP
RENEGADE - total armageddon LP
RESISTENCIA - hecho en venezuela LP
RISING FORCE - "the white album" MLP
ROLLERBALL - outlast the game 12" EP

S

SAD IRON - total damnation MLP
SAVAGERS - preacher of steel MLP
SECOND HELL/SKULL CRUSHER - metal deadness Split-LP
SHELDER - god of vikings LP
SHOCKSPLIT - under wraps MLP
SINFUL - gonna raise hell MLP
SPECTRAL INCURSION - s/t MLP
STONEFIELD - light of lies LP
STRESS - acélkerek/séta éjfélkor 7"
STRESS - kisértet kastély LP
SYE - wings of change LP

T

TABBASA - 有角神舞踏 LP
TEMPEST - s/t 12"
T.E.R. (TWO EAGLES REQUEST) - out of the dark MLP
THUNDER RIDER - tales of darkness and light MLP
TRIAL - scream for mercy MLP
TROP FEROSS - resürrection MLP
TUDOR - spalovna 7"
TUDOR - ultra black metal (die-hard) 2LP+7"
TURBO - dorosle dzieci LP
TURBO - smak ciszy LP
TURBO - kawaleria szatana LP

U

UNITED - destroy metal 7" EP
UNREAL TERROR - heavy & dangerous MLP

V

VARVAR - zverinaja bezdna ubjot vas LP

W

WAGES OF SIN - s/t LP
WARMATH - gehenna MLP
WHITE HELL - lucifer 7" EP
WHITE NIGHT - death rendez-vous 12" EP
WIKKA - s/t MLP


XYZ

ZONE ZERO - heavy metal 7"

V/A

"Heavy Metal" LP
"Metal Power" 7" EP
"Metal Power II" 7" EP
"Metal Power III" 7" EP
"No Futuro" LP
"Norway Rocks" LP
+ even more rare compilation albums reviewed in this special feature.

(Titles in italics are reissues)

"Hey man, you've got impeccable taste and write like Lester Bangs and James Joyce rolled into one, please review our band!"
No, fuck off. However, if you're in the business of re-releasing old, rare 80's Metal you are welcome to submit your releases for review. Get in
contact
for further details.