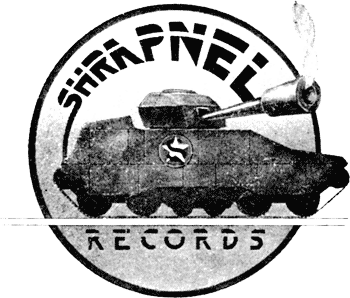 Shrapnel was one of the first labels to promote REAL Heavy Metal in the States and their number of classic records in their early days speak for themselves. Unfortunately, raw and uncompromising, balls-out HM didn't seem to be what Mr. Varney & co held closest at heart. By the second half of the 80's, Shrapnel were slowly starting to phaze out the classic Metal acts in favour of guitar wan.. sorry, "virituosos" and by the end of the decade you could hardly call them a pure Metal label at all. To set a more consistant stop to this list than mere personal tastes, I've included everything up until their very last (?) "traditional " Metal-release (SH-1047). This was also around the time when they stopped releasing their albums on vinyl in the states. Roadrunner licensed their titles on vinyl in Europe for a few more years though.

This page is now updated with a "Versions"-column, were I've listed all known pressings of each release. Since Shrapnel never released any colored vinyls or alternate sleeve designs (unless I've missed out on some small details - let me know if that's the case!) these pressings will differ by label design only. For the record, barcodes were not used on any releases up until the M.A.R.S. "Project: Driver" LP, including represses, and consistently used after that, so they won't work as pressings markers.

Here's a table of the label designs with added info:


Green label

Only used on the 6 first releases.
Black label

Used from the Steeler s/t LP from 1983 up until the end of 1985/beginning of 1986, where some variations of the design appeared.
Silver label

Used from 1985 until their last vinyl releases in 1990, the last couple plus at least one repress of an earlier release with a slightly different design.
This
list at the now defunct Forgotten Steel page provided the basis for this page and goes a few titles further, but I'm sure you can find even more complete discogs out there. Shrapnel are still active and should have around 200 titles in their catalog by now. Check their
home page
for more info.
Cover
Cat#
Artist
Title
Format
Year
Versions
Comment
SH-1001
V/A
U.S. Metal
LP
1981

Green labels
Black labels

More info here.
SH-1002
V/A
U.S. Metal vol. II
LP
1982

Green labels
Black labels

More info here.
SH-1003
Wild Dogs
s/t
LP
1983

Green labels
Black labels

SH-1004
Exciter
Heavy Metal Maniac
LP
1983
SH-1005
The Rods
In The Raw
LP
1983

Green labels
Black labels

SH-1006
V/A
U.S. Metal vol. III
LP
1983

Green labels
Black labels

More info here.
SH-1007
Steeler
s/t
LP
1983

Black labels
Silver labels

SH-1008
Culprit
Guilty As Charged
LP
1983
SH-1009
Hawaii
One Nation Underground
LP
1983

Black labels
Silver labels

SH-1010
Le Mans
On The Streets
LP
1983
SH-1011
Randy Hansen
Astral Projection - Live
LP
1983
SH-1012
Wild Dogs
Man's Best Friend
LP
1984
SH-1013
V/A
U.S. Metal vol. IV
LP
1984
More info here.
SH-1014
Keel
Lay Down The Law
LP
1984

Black labels
Silver labels

SH-1015
Griffin
Flight Of The Griffin
LP
1984
SH-1016
Hexx
No Escape
LP
1984
SH-1017
Trauma
Scratch And Scream
LP
1984
SH-1018
Chastain
Mystery Of Illusion
LP
1985

Black labels
Silver labels

SH-1019
London
Non Stop Rock
LP
1985

Black labels w/ small logo

SH-1020
Vicious Rumors
Soldiers Of The Night
LP
1986

Black labels w/ small logo
Silver labels

SH-1021
Tony Macalpine
Edge Of Insanity
LP
1986

Silver labels
Silver labels w/ small logo

SH-1022
Fifth Angel
s/t
LP
1986
SH-1023
Racer X
Street Lethal
LP
1986

Silver labels
Black labels w/ small logo (and the silver label tank design)

SH-1024
Chastain
Ruler Of The Wasteland
LP
1986
SH-1025
Hexx
Under The Spell
LP
1986
SH-1026
Ravage
Wrecking Ball
LP
1986
SH-1027
Vinnie Moore
Mind's Eye
LP
1986
SH-1028
M.A.R.S.
Project: Driver
LP
1986

The last relese without barcode, represses included.

SH-1029
Dr Mastermind
s/t
LP
1986

From hereon all releases came with barcodes...

SH-1030
Joey Tafolla
Out Of The Sun
LP
1987
SH-1031
Cacophony
Speed Metal Symphony
LP
1987
SH-1032
Racer X
Second Heat
LP
1988
SH-1033
Vicious Rumors
Digital Dictator
LP
1988
Not so much a bullseye into the heart of my own Metal tastes as their impeccable debut, but it's hard not to appreciate their craftmanship of this brand of metallics.
SH-1034
Apocrypha
The Forgotten Scroll
LP
1988
I told you Fates Warning would have worked just as fine with male vocals!
SH-1035
Marty Friedman
Dragon's Kiss
LP/CD
1988
SH-1036
Jason Becker
Perpetual Burn
LP
1988
SH-1037
Greg Howe
s/t
LP
1988
SH-1038
Racer X
Extreme Volume - Live
LP/CD
1988
SH-1039
Apocrypha
The Eyes Of Time
LP
1988
SH-1040
Cacophony
Go Off!
LP/CD
1988
SH-1041
V/A
Fretboard Frenzy
CD
1989
Featuring:
Cacophony, Greg Howe, Jason Becker, Racer X, Apocrypha, Marty Friedman, Joey Tafolla and Dr. Mastermind.
SH-1042
Richie Kotzen
s/t
LP/CD
1989
SH-1043
Phantom Blue
s/t
LP
1989
SH-1044
Howe II
High Gear
LP/CD
1989

Silver labels w/ small logo

SH-1045
Michael Lee Firkins
s/t
LP/CD
1990

Silver labels w/ small logo

SH-1046
Richie Kotzen
Fever Dream
CD
1990
SH-1047
Apocrypha
Area 54
CD
1990
Compiled by Johnny Meert. Additional info by DaN Edman and Avenger.