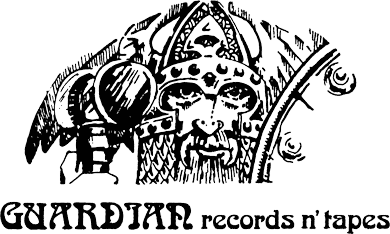 OK, so I never really intended to include "mixed" labels with their Metal-related output in minority, but it wasn't until I had researched Guardian Records for a while that I realized how utterly HUGE their discography must have been. At first I thought it would be fun to aim for the first (?) complete Guardian Rec discography on the web, but I quickly realized the futility of such a venture. Not only did many of their hundreds of titles come in miniscule, sleeveless editions long lost in the cellars and flea markets of Old Britannia, but they also churned out an unknown number of cassettes ("n' tapes", remember?) which in all likelyhood will be even more impossible to locate. The only Metal tape I'm aware of is the debut demo by SATAN. A cover scan + serial# would be very welcomed, as well as info on more possible NWOBHM demos-releases.

The man behind Guardian seem to have been a certain Terry Gavaghan, who ran his own Guardian Studios from his home in Durham county. It's a fair guess that most of his own releases were recored there, though it's been credited as the birthplace of plenty of recordings that turned up on other labels too. The earliest release I've seen mentioned is a 7" EP by The Moat Brothers Country Band (GRMB 1) from 1976, while the latest (last?) would be the Splitcrow LP from 1984 seen below.
Cover
Cat#
Artist
Title
Format
Year
Comment
GRM A16
Mythra
s/t
[a.k.a.]
Death And Destiny
7" EP
1979
One of the top-5 prototypical NWOBHM singles. All songs rip, but "UFO" rips even more... Thanx for co-inventing Metal, guys!
GRH C56
Hellenbach
Out To Get You
7"
1980
GR/HGC 57
Hollow Ground
s/t
[a.k.a.]
Warlord
7" EP
1980
GR C80
V/A
Roksnax
LP
1980
More info here.
GRC 120
Skitzofrenik
U.S.A.
7"
1981
Poor Skitzo.. New Wave fans will find you 'too Metal' and Metal fans will find you 'too shitty' ...until they pick up the release below and kinda forgive you.
GR C130
V/A
Roxcalibur
LP
1982
More info here.
GRC 132
Battleaxe
Burn This Town
7"
1982
GRC 144
Lone Wolf
Leave Me Behind
7"
1982
GRC 145
Satan
Heads Will Roll
7"
1982
GRC 270
Tokyo Rose
Dry Your Eyes
7"
1983
GRC 2162
V/A
Pure Overkill
LP
1983
More info here.
GRC 2163
Millennium
s/t
LP
1984
GRC 2164
Spartan Warrior
Steel'n'Chains
LP
1984
GRC 2165
Incubus
To The Devil A Daughter
LP
1984
GRC 2167
Splitcrow
Rockstorm
LP
1984
Compiled by DaN Edman.