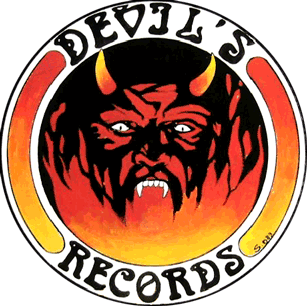 Of all the old French Metal labels, Devil's Records always felt like the "frenchest" - which makes perfect sense considering how many classics they've given us. Also, unlike their domestic competitors they never did any license pressings, but concentrated solely on French Metal acts.

Their name and logo is a T-shirt waiting to happen for sure, but when you think about it, doesn't all Metal albums belong to the Devil?
Cover
Cat#
Artist
Title
Format
Year
Comment
DEVIL'S 11-83

High Power
s/t
LP
1983
Picking up this album in an import shop in '83, the sheer novelty of Metal sung in French (!) must have been enough to bring out the Heavy superlatives. In hinsight, the HP debut won't score any major points on originality, but it did display a fair share of diversity in the songwriting dept. and as far as early French debuts go it's only surpassed by Vulcain, Blaspheme, Killers, Steel Angels, H-Bomb, Sortilége and a few others..

Printable insert scan
DLS284
Attentat Rock
Le Gang Des Saigneurs
LP
1983
DLS.5.84
Sortilège
Métamorphose
LP
1984
Printable insert scan
MAD 2004
Vulcain
Rock'n'Roll Secours
LP
1984
MAD 2005
Der Kaiser
Vautours
LP
1984
Printable insert scan
MAD 2006
Square
Rock Stars
LP
1985
Printable insert scan
MAD 2007
Voodoo Child
Adrénaline
LP
1985
Printable insert scan
MAD 2008
Killers
Fils De La Haine
LP
1985
Seldom has one single track managed to put such a wet, stinky blanket on an album as the aaaawful ballad "Rosalind" does with Killers' otherwise exquisite debut. It kinda feels like you're speeding into the sunset in this hot muscle car and suddenly run into an elephant-sized pudding of snot. Sure, you're out on the other side after a few minutes but you've lost your pace and orientation. Thank doG there's still anthems like "Killers" and "Mercenaire" waiting around the corner..

Printable insert scan
MAD 2009
ADX
Execution
LP
1985
Printable insert scan
MAD 2010
Vulcain
La Dame De Fer
12" EP
1985
MAD 2011
Epsylon
s/t
LP
1985
MAD 2012
Strattson
Ouf Metal
LP
1985
Printable insert scan
MAD 2013
V/A
French Connection vol. 1
LP
1985
More info here.
MAD 2014
Morsure
Acceleration Process
LP
1985
Printable insert scan
MAD 2015
Voie De Fait
Ange Ou Demon
LP
1985
Originally on Arabella Records in 1982.
MAD 2016
Steel Angel
...And The Angels Were Made Of Steel
LP
1985
MAD 2017
V/A
Bonjour l'Enfer
LP
1985
Featuring:
Vulcain, Square, Killers, Epsylon, ADX, Sortilége, Strattson, Der Kaiser och Morsüre.
MAD 2018
Synthèse
Prisoner
LP
1985
Printable insert scan
MAD 2019
Der Kaiser
La Griffe De L'empire
LP
1985
Printable insert scan
MAD 2020
Rozz
Une Autre Vie
MLP
1986
MAD 08
Rozz
Another Life/Cauchemar
promo 7"
1986
Ltd to 300 copies
MAD 2021
Jinx
Stand Up For Rock'n'Roll Power
MLP
1986
MAD 2022
A Bomb
From Memphis To Detroit
LP
1986
Not Metal. Punk rock.
Compiled by Jacques Burgaud and Andrew (Moscow). Additions by Dan Edman and Thomas Bieri.