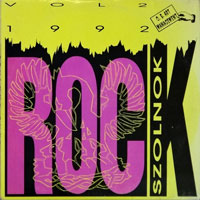 ----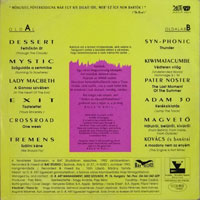 Szolnok Rock Vol 2 LP 1992

Label:
Alt Product/Bat Records
#:
APLP 001
Country:
Hungary
Info:
11 bands from the Szolnok county in central Hungary, compiled by O.B. Art Management, whoever they may be. Includes a 2-sided insert.
If there ever was a Vol. 1 I'm betting it was a long lost tape-only release, seeing as I have found no info whatsoever on it. Feel free to get in touch if you know more.
CONTENT


(

bold = exclusive track

/ normal = non-exclusive track /

italic = non-metal

)

1.
DESSERT -

Felhőkön Át (Through The Clouds)

aor.
2.
MYSTIC -

Száguldás A Semmibe (Running To Nowhere)

Uptempo Glam-HR.
3.
LADY MACBETH -

A Gonosz Szivében (In The Heart Of The Evil)

More of a trad./Power Metal-style than their thrash-light Garazs offering. A neat obscurity for Pokolgep/Ossian/Stress-fans.
4.
EXIT -

Tisztelettel (Yours Sincerely)

I usually frown upon these stale, mid-pace chugga-chugga-chugga thrashers, but this is a particularly mean & harsh piece with lots of 'Eastern X-factor' that won me over after first listen. Definitely tops their Garazs II contribution.
5.
CROSSROAD -

One Week

Instrumental rock w/ lots of boring-arse guitarwankery.
6.
TREMENS -

Szállni Kéne (We Should Fly)

Fast melodic punk/HC which is basically one guitar solo short of Speed/Power Metal.

1.
SYN-PHONIC -

Thunder

Instrumental electronic elevator music.
2.
KIWIMATACUMBE -

Védtelen Világ (Undefended World / Hommage à I.M.)

Fem-fronted alternative pop/rock which tricks you with an almost-HM-sounding break in the middle.
3.
PATER NOSTER -

The Last Moment Of The Summer

Jazzy instrumental fluff.
4.
ADAM 30 -

Keréksiklatás (Jump The Track)

Goth rock.
| | |
| --- | --- |
| 5. | MAGVETŐ - Hátulról, Belülről, Kívülről (From Behind, From Inside, From Outside) |
| | Alternative rock. |
6.
KOVÁCS ÉS BARÁTAI -

A Mozdony Nem Az Enyém (The Engine Is Not Mine)

Bluesy slide guitar jam featuring a selection of artists from the featured bands.
Submitted by DaN

Corrections and additional info go

here

. Thank you!