----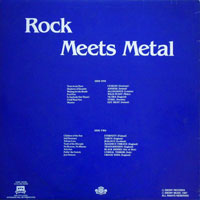 Rock Meets Metal - Volume II LP 1987

Label:
Ebony Records
#:
EBON S105
Country:
England
Info:
The volume with the largest amount of familiar names + for once we're blessed with a minimum of band info: the country of origin. "Volume II" is printed on the spine only.
CONTENT


(

bold = exclusive track

/ normal = non-exclusive track /

italic = non-metal

)

1.
CZAKAN -

Tears In My Eyes

Americanized guitar-driven melodic Hard Rock in the style of Icon.
2.
ANNEXE -

Shadows Of Insanity

Same same, but a tad more youthful and amateurish.
3.
ALLEGIANCE -

Waiting For The Bomb

A great, ballsy HM hit in the vein of Lizzy Borden or CJSS.
4.
WILD PUSSY -

Feel Fire

Same old wild power-Pussys we recognize from their awesome MLP, but here in their sloppy and rough demo-days. Wiggly rhythm section and unpolished vox aside it's still a great Power Metal tune on the inside.
| | |
| --- | --- |
| 5. | 7TH ERA - Is Anybody Out There? |
| | Sounds decievingly mainstream and dull at first bars, yet by the chorus this song blooms into a great, catchy melo-NWOBHM-hit. |
6.
STEEL -

I Still Want You

Oh yes, this sound unmistakedly Swedish alright. The kind of homely amateur-hour stuff like early Gotham City or all those Pang Rec.-bands that the guys in Helvetets Port would worship.
| | |
| --- | --- |
| 7. | EZY MEAT - Warrior |
| | Heavy headbanging crunch that's a bit more Holocaust/Pentagram-flavoured than their album material. |

1.
ETERNITY -

Children Of The Sun

Åland's greatest son Lars Eric Mattsson impresses with slick Scandinavian guitar & keys and a fists-in-the-air feel.
2.
TARYN -

Self Destruct

Bwaahahaha!! Completely lobotomized 'Special Needs'-Thrash like a spastic mix of Torn Flesh and Bombarder. Must - be - heard!
3.
JEALOUS -

Tell Me Lies

Behind the generic band name hides a surprisingly solid piece of good'n'ready, riff-powered Steel.
4.
MAXIMUS THRAXX -

Vault Of The Disciple

Automaton-Thrash wrapped in barbed wire. So generic it almost turns back into original (..and maybe even ejoyable?) Same band who had 2 other tracks featured on The Bailey Brothers Present: Diminished Responsibility comp from the same year.
5.
TRANSMISSION -

No Reason, No Rhyme

...and so we're back in mundane keyboard-HR land. Good thing I'm a sucker for a little melancholy.
6.
BLACK RIDERS -

Adiction [sic]

Simple, upbeat riff-rock that does the trick.
7.
UNREAL TERROR -

Pullin' The Switch

I still can't believe they managed to make such an underproduced and dreary full-length album (including this song) after having produced such a stellar Mini-LP one year before. Sloppy dime-a-dozen HM.
8.
CREAM SODA -

Just Sixteen

Feel-good mellow HR nonsense.
Submitted by DaN

Corrections and additional info go

here

. Thank you!