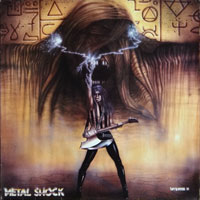 ----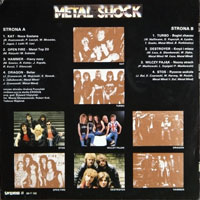 Metal Shock LP 1987

Label:
Tonpress
#:
SX-T 132
Country:
Poland
Info:
Recorded live at the Metalmania '87 festival. All featured non-exclusive versions can be found on a series of 3 live split-LPs released by Pronit the same year. Continued as a series the following 2 years under the name Metalmania '88 and Metalmania '89.
CONTENT


(

bold = exclusive track

/ normal = non-exclusive track /

italic = non-metal

)

1.
KAT -

Noce Szatana

Awesome, totally destructive version of this Dark Speed Metal-tribute to Tank!
2.
OPEN FIRE -

Metal Top 20

The Polish answer to "Heavy Metal Is The Law"? Another of the Great Polish Classics. A Speed Metal hymn that reigns despite the corny lyrics.
3.
HAMMER -

Hieny Nocy

The kind of exquisite technical Power-Thrash that always suffers the most from a rough live performance and mix.
4.
DRAGON -

Beliar

Proto-Death Metal/technical & brutal Thrash that suffers from the same ailment as its predecessor. Luckily we can enjoy a studio version on their excellent debut LP - something that's unfortunately not the case with many of the other tracks featured here.

1.
TURBO -

Bogini Chaosu

One of my faves from the "Ostatni Wojownik" LP. Dark & menacing PowerSpeedThrash and an excellent version to boot. It's obvious from the tightness of the performance that these guys had been around for a while.
2.
DESTROYER -

Krzyż I Miecz

More mid-pace Power/Heavy than the Destruction-worship we know from their albums, this song reminds me a lot of Agent Steel's "144000 Gone".
3.
WILCZY PAJĄK -

Nocny Strach

Before they translated/changed their name to WOLF SPIDER and became ultra-generic Bay-Area-style Thrash, these guys started out as KAT's 'kid brothers' and of course we likes it. A heavy "Noce Szatana"-influence in this song.
4.
STOS -

Rycerze Szakala

Decent female-fronted slow/mid/fast techno-thrash. Unlike the rest of the tracks here an obvious studio recording with added crowd noise loop.
Submitted by DaN

Corrections and additional info go

here

. Thank you!