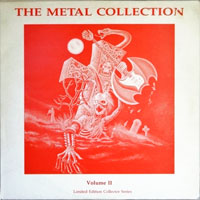 ----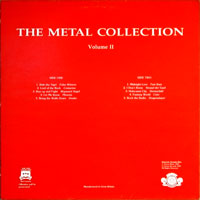 The Metal Collection Volume II LP 1987

Label:
Ebony Records
#:
EBON S101
Country:
UK
Info:
An unusually low amount of featured bands for a later-period Ebony comp. Still a pretty good selection I'd say.
CONTENT


(

bold = exclusive track

/ normal = non-exclusive track /

italic = non-metal

)

1.
FALSE WITNESS -

Ride The Tiger

Heavy boogie-Metal a.k.a. "NWOBHM" to some, though their nationality is a mystery. Surely not the Canadians.
2.
CENTURION -

Lord Of The Rock

Top-notch galloping US(?) Steel sounding very much like the less SpeedThrashy, more PowerEpic parts of Agent Steel, or possibly Helstar's brighter moments. Doesn't sound like it's their Cleveland ("Cross And Black") namesakes..
3.
WAYWARD ANGEL -

Rise Up And Fight

Extremely catchy yet solemn Metal you'd really want to hear more of!
| | |
| --- | --- |
| 4. | PHOENIX - Let Me Know |
| | What sounds like sturdy JP-"Screaming For Vengeance" rockmetal is ruined by an effeminate chorus. |
5.
DEALER -

Bring The Walls Down

My doG what did they put in those bass drums?! C4?? POUNDING heavy Street Metal like Leather Nunn or Judas Priest when they're in that mood.

1.
FAST KUTZ -

Midnight Love

Metal-plated 70's style Hard Rock.
2.
STRAND DER VARD -

I Don't Know

Severely misplaced good-time boogie rock.
3.
STORMCHILD -

Holocaust City

Not the "Rockin' Steady" 7" guys, this is way heavier and crude Metal sludge with crazy Cronos-vocals. Kewl.
4.
CRIER -

Fantasy World

A sour, nasal and heavily accented Plant-style falsetto messes up an otherwise decent, rather original melodic hardrocker. Post-SACRIFICE(Swe).
5.
DRAGONSLAYER -

Rock The Radio

The chorus really grabs you and saves an otherwise pedestrian J.Priest metalrocker. No, not as heavy as their earlier stuff but still carrying that gold stamp of quality. Strangely enough it's not featured on Shadow Kingdom's outstanding 2LP compilation with the band from 2008.
Submitted by DaN

Corrections and additional info go

here

. Thank you!