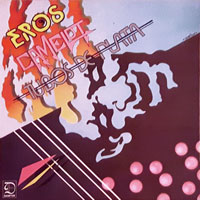 ----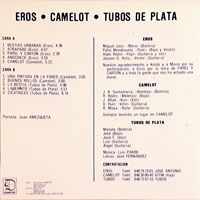 Eros / Camelot / Tubos De Plata LP 1985

Label:
Damitor
#:
EPE-150
Country:
Spain
Info:
TDP released two 7"s in the years before this 3-way split, otherwise none of the featured acts seem to have made much of a mark in Metal history. All 3 bands were from Pamplona, in the northern Spanish region of Navarra.
CONTENT


(

bold = exclusive track

/ normal = non-exclusive track /

italic = non-metal

)

1.
EROS -

Bestias Urbanas

The tune goes back and forth between nwobhm'y riffing and heavier powerpop but basically we're off to a good start, despite a bit of whining from the vocalist.
2.
EROS -

Atrapado

Nice twin leads - and flutes! - in this straight-up NWOBHM-worshipper.
3.
EROS -

Papel Y Cartón

I guess this is the way Iron Maiden must have sounded like in the 70's... A faster, snappy number also reminding me of Hyksos.
4.
EROS -

Anochece

The limitations of the vocalist becomes a bit too clear on this otherwise promising, more anthemic track.
5.
CAMELOT -

Camelot

The wonky, deadpan, almost-spoken vocals takes this one inch away from the edge of pure comedy, which is a shame because musically this had potential to be a True Epic.

1.
CAMELOT -

Una Pintada En La Pared

The vocals aren't nearly as weird here and this NotB-Maiden-meets-Berserks piece is one of the best tracks of the LP.
2.
CAMELOT -

Buenos Rollos

Some great riff-lego in the intro leads to another nod to the best part of Maiden's 80's mixed up with Motörhead in a boogie-mood.
3.
TUBOS DE PLATA -

La Bestia

AC/DC with a touch of Judas Priest ...which doesn't sound too original but here this mix turned out really successful.
4.
TUBOS DE PLATA -

Laberinto

The crazy vocals of José Miguel Fernández is the single most outstanding feature about this LP and turns this basic, crunchy Blitzkrieg/Holocaust-style song into something quite unique.
5.
TUBOS DE PLATA -

Cicatrices

TdP continues to dominate with this great, epic semi-ballad closer.
Submitted by DaN

Corrections and additional info go

here

. Thank you!