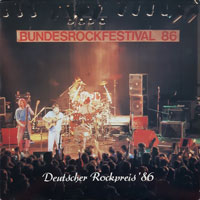 ----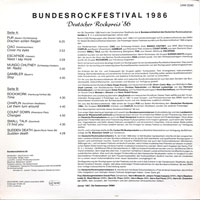 Bundesrockfestival 86 / Deutscher Rockpreis '86 LP 1987

Label:
Rockwerk
#:
UAM 0090
Country:
Germany
Info:
The first in a series of 3 compilations presenting the runner-ups of the national Bundesrockfestival, recorded live. The second volume included no HR/HM whatsoever and the 3rd one doesn't look too promising either...
(If the Rockwerk label sounds familiar it's because they were also behind the albums by KYMERA, EXPLODER, RESCUE and EVENSTORM.)
CONTENT


(

bold = exclusive track

/ normal = non-exclusive track /

italic = non-metal

)

| | |
| --- | --- |
| 1. | PUR - Drachen Sollen Fliegen |
| | Rock ballad. |
| | |
| --- | --- |
| 2. | CIAO - Close My Eyes |
| | Smooth rock. |
| | |
| --- | --- |
| 3. | ESCAPADE - Need I Say More |
| | Jazz ballad. |
| | |
| --- | --- |
| 4. | MUNGO CHUTNEY - Mr. Radio |
| | Disco-pop. |
| | |
| --- | --- |
| 5. | GAMBLER - Stop |
| | Mainstream pop-rock. |

| | |
| --- | --- |
| 1. | ROCKWORK - Time |
| | Melodic, semi-hard rock. |
| | |
| --- | --- |
| 2. | CHAPLIN - Let Them Turn Around |
| | Jazzy, upbeat pop-rock. |
| | |
| --- | --- |
| 3. | COUNT DOWN - Changes |
| | Melodic rock/westcoast w/ sax. |
| | |
| --- | --- |
| 4. | SMALL TALK - I'll Find You |
| | Funky mainstream rock. |
5.

SUDDEN DEATH - Loaded Brain

[song title listed as "Sudden Death" on the sleeve and label]

I quite like their classic Kraut-Metal "All Or Nothing" LP, so I was at least semi-stoked to check out their 'unreleased' theme song on this album. Unfortunately that turned out to be a false alarm and what we get instead is a live take of "Loaded Brain", agreably with a bit more kick than the LP version but hardly a fave. Foottappingly decent Heavy HR stock.
Submitted by DaN

Corrections and additional info go

here

. Thank you!